In a Nutshell:
The 2xhome Ergonomic Saddle Stool is one part task chair, one part saddle style stool. 100% awesome. Recommended for anyone, but it's of particular value to those suffering from hip pain, leg pain, or arthritis.
* Brand Reliability is a measure of the strength and longevity of the brand, which by extension, is a measure of the level of support you can expect.
** While aesthetics is a matter of taste, Aesthetic Flexibility is a measure of how easily a given design would fit into a wide range of home or office décor schemes.
Has your productivity suffered in recent weeks or months because you just can't get comfortable? Is your pain making it impossible to focus on the task at hand?
If you answered yes to either of those questions, know that you're not alone. Chronic pain can be brutal, and it can make it virtually impossible to stay productive throughout an entire workday. Worse, most office chairs aren't up to the task of helping mitigate that pain.
But what if there was a chair that could be of substantial benefit on that front? Well, depending on the kind of pain you're suffering, there is!
We'll be quick to point out that as an unconventional form of office seating, the 2xhome ergonomic saddle stool isn't for everyone, but if you've tried several office chairs and none of them seem to make much of a difference, maybe it's time to start thinking outside the box and looking beyond the conventional office chair.
If that's where you find yourself, then you're going to like what you see in this review. In the sections that follow, we'll tell you who this chair was designed for and what it can do to help alleviate your pain. Even if you ultimately decide this isn't what you're looking for, we think you'll agree; this is a great product!
An Overview of the 2xhome Ergonomic Saddle Stool Chair
The 2xHome saddle chair is interesting because it occupies a curious middle ground. It's one part task chair and one part office stool. If you're curious about exploring the world of unconventional office furniture, but you don't know if you're ready to fully commit to the idea of a work stool rather than an office chair, this is a great option to consider.
If you haven't heard of 2xHome, you're not alone. It's one of the dozens of small, off-brand companies plying their trade in the unconventional office seating segment of the market. The chair is designed and made in China, which is essential in terms of the company's ability to keep the price low.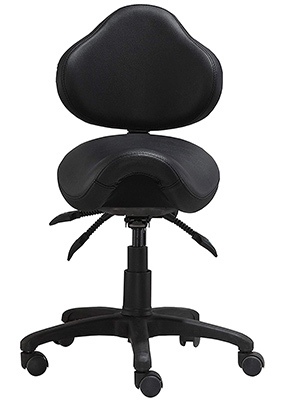 Although Chinese manufacturing quality has increased in recent years, it's still not quite up to par with the production quality found in Western manufacturers. As such, this stool/chair hybrid can't be considered world-class. Then again, it doesn't come with a world-class price tag, either.
In any case, the production quality is better than you might think, save for the upholstery, which is simple PU. There's nothing inherently wrong with PU; it's just not known for its longevity or durability.
If you use the chair lightly to moderately every day, you can expect the upholstery to hold up for about two years. If you use it 8+ hours a day, it'll start showing its age after about a year, and you'll begin to see signs of peeling and cracking.
The good news is that there's not a ton of upholstery to contend with, which means that (assuming the frame is holding up well), it'll be cheaper to have it reupholstered than it will be to buy a replacement, which will dramatically extend its useful life.
Chair Specifications
Here are the basic stats of the chair:
As with most office furniture of this type, the big limiting factor is the weight limit. While there are bariatric stools or chair/stool hybrids on the market, you'll pay a premium to get them. Still, if the weight limit here isn't enough for you, that's your only other option. Just be aware that they do exist, and you should have no trouble finding one that will suit your needs.
The only other thing to mention here is the height adjustment range; it's huge! You can use this chair at a conventional desk, low worktable, or drafting table, making it incredibly versatile.
Adjustability and Comfort
One other limitation to be mindful of when using this type of seating solution is the fact that there's not really much you can adjust. In this case, other than being able to set the seat height, the chair reclines back to a maximum angle of 135 degrees, giving you the freedom to change your seating position throughout the day as you need to in order to stay comfortable.
It's worth noting that the seatback is an optional piece of equipment, and this stool can be ordered without it if that's your preference.
Comfort-wise, the PU upholstery is stretched over a moderate amount of conventional block foam, providing a reasonable level of comfort. Bear in mind, however, that this type of seating isn't really optimized for people who plan on staying at their computers for 8+ hours a day. It can work for those folks, but even with the seatback, by the end of the day, you'll probably start getting a bit uncomfortable.
On the other hand, if you have a more active job that sees you sitting for short periods, and then up and moving around before returning to your perch, this could be a great choice!
The saddle style shape of the seat provides the key ergonomic benefit of this chair. It's especially helpful for those who suffer chronic hip pain, including hip pain caused by arthritis. It's also of use to anyone who suffers from chronic leg pain or has poor leg circulation.
Although the chair doesn't offer lumbar support, if you order the variant we're talking about here, with the seatback, then it does provide solid mid-back support, which is of value and enhances the overall comfort of the chair.
Does Not Come Assembled
It's almost not fair to say that this chair/stool doesn't come assembled. While technically true, there are only four things to do when it arrives at your doorstep:
That's it. That's the entire assembly process. The instructions provided are clear enough, but it's doubtful that you'll need them, and the production quality is high enough that these pieces together smoothly. You shouldn't have any issues on that front.
Pros and Cons of 2xhome Saddle Chair
The only issue we have with this model is the upholstery. Anything but PU or bonded leather. If the company had gone with a durable fabric, it wouldn't have increased the price much at all and would have boosted both the chair's breathability and longevity.
Other than that, the only thing to note here is that this type of seating is almost entirely self-selecting. You're either interested in exploring the world of unconventional office seating or you're not. If you are, then this one belongs on your shortlist of options to consider, especially if you suffer hip or leg pain.
If you're not, you will probably pass this one by without a second thought.
2xHome Ergonomic Saddle Stool Chair Review Conclusion
We like the 2xHome ergonomic saddle stool. If you're not especially brand conscious and take the brand weight metric out of our ranking, this one clocks in at an impressive 4.33 stars out of five. That speaks volumes about its overall quality. The only thing holding it back is the fact that it's offered by a relatively unknown brand. We recommend it. It's a great way to dip your toe into the waters of unconventional office seating without having to commit fully.
---
REFERENCES & RESOURCES