In a Nutshell:
Handcrafted, custom-made goodness. This AJ's Beach Cruzr is a solid, versatile design, offered by a group of people who are both passionate about what they do and committed to giving you their best. Recommended for anyone looking for a robust, one of a kind motorized beach wheelchair, as opposed to a mass produced, mass marketed product.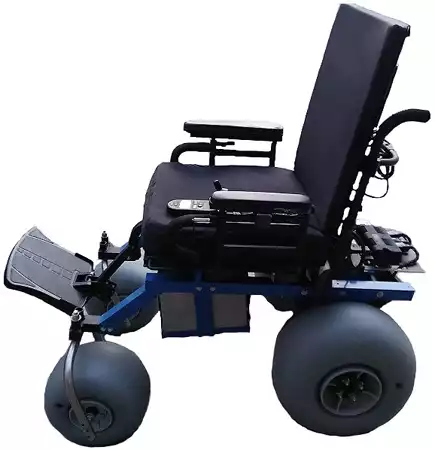 Is your mobility issue getting in your way and preventing from enjoying activities you once took for granted?
It can be both painful and annoying. Bad enough that you can't move around as well as you once did, but then, to add insult to injury, feeling as though life is just leaving you behind?
Not good, and if that describes you, then you've probably been looking for something… some kind of technology to help you get out of the house and start living life to the fullest again. Preferably something you can use on your own, without help, so you don't have to rely on an assistant to go where you want to go.
With fond memories of the beach on your mind, you may have hit the internet in search of a great, motorized beach chair. The problem is that few big-name brands make such things, and they tend to be really expensive. Fortunately, there's an answer for that!
Since the big-name brands have mostly steered clear of the motorized beach wheelchair market, a raft of small, hungry companies have moved in and started making these kinds of products. Buying from a tiny company can be a bit scary, and carries certain risks and uncertainties, but our goal here is to help you cut through the clutter and find the chair that's right for you.
If you're in the market for a unique, highly customizable, go-anywhere motorized beach chair, we think you're going to love AJs Beach Cruzr. No, it's not perfect, but it placed a respectable fourth in our list of finalists for the best motorized beach chair for sale today, and for the right kind of user, this chair is close to perfect.
Are you the right kind of user? The perfect match for this particular chair? Read on, and let's find out!
An Overview of AJ's Beach Cruzr
Homespun. Homemade. Those are the first words that will probably pop into your head when you see the Cruzr, and that's accurate. Hotshot Products (the makers of AJ's Cruzr) is a tiny company based in California. These products are literally handcrafted, one at a time in the owner's garage.
Reading that will put some people off right away — and that's understandable. But, we hope you'll stick with us and finish reading this AJs Beach Cruzr review, because even though these chairs don't come rolling out of a robotic assembly plant — and in some respects, specifically because of that — there's a lot to like here.
The guys at Hotshot Products are really passionate about what they do, and their craftsmanship is exceptional. Sure, these chairs don't have the same level of polish as a mass-produced line does, and each one is different from all the others that they make, but then, they're making your chair for you, to your exact specifications. What's not to like about that?
Given that, although there are a few baseline stats for the Cruzr that we'll be giving below, bear in mind that nothing is set in stone here. If you need a wider or deeper seat, or any other perk or extra added to the design, these guys are willing to try to accommodate you. Treat the chair's basic stats below then, as more of a general guideline.
Chair Basic Specifications
The Cruzr is made from T6 aircraft-grade aluminum and can support a maximum user weight of 300 pounds. All the hardware is stainless steel which is as good or better than you'd get if you bought a mass-produced product.
A Few Notes
We'll have more to say about the features and functionality in the next two sections, but for the moment, we want to focus your attention on a few things here:
Adjustability & Comfort
In addition to being a rugged and capable little machine, it's also highly adjustable, and that's before we talk about any custom features you may want to add.
It comes with a safety belt standard, the armrests are independently adjustable and removable for easy transfer into and out of the chair, and the leg rests (or footplate, as you prefer) are adjustable and removable, too.
It gets better. The Cruzr's standard configuration has a manually reclining seat, although this can be motorized if you prefer, giving you an automatic, controller-driven recline function. Sweet! If you want even more options and adjustability, we'll talk about that in the next section!
On-Board Storage & Extras
This section is a bit of a surprise, and we made mention of that fact in another product review we did for the same company, on the Beach Cruzr 4 2. On the face of it, there's not much to see here, because the company doesn't offer a standard collection of extras and add-ons.
Having said that, since they hand build each machine, they really work with their customers to identify their wants, needs, and preferences and try to incorporate just about anything you're looking for into the design.
Some of the more common requests they get are:
This, however, is far from an exhaustive list. If there's something you want to see added to your perfect motorized outdoor wheelchair, they'll do everything they can to make that happen!
Color Options
In addition to that, the chair is offered in pretty much any color you want. The ones specifically listed on the site's product page are:
But again, they're totally up for doing a custom paint job for you. The same thing holds true for upholstery and padding. If you want a hydrophobic seat cushion, memory foam, or anything else, they can generally make it happen.
Wheels
As for the wheels, Hotshot Products made a very savvy move here, using standard Rolleez beach tires, which makes replacing them when it's time a simple proposition. All that to say, this chair is as comfortable and adjustable as you want to make it.
Not Terribly Portable
As awesome as the company is when it comes to working with you and accommodating your requests, there's one thing they don't do so well, and that's portability.
As we mentioned at the start, this is a brutishly heavy chair, and it doesn't collapse at all, so getting it from Point A to Point B is going to be a bit of a challenge and will require one of the following:
This isn't the chair you want if you have a little hatchback or an SUV (unless you also buy a lift, which will add to your total costs), because it's just not going to fit in those kinds of vehicles. It's a weakness, to be sure, but it's not a deal breaker for most people.
A Slight Learning Curve
The learning curve of the Cruzr depends on what extras and options you add to it. The controls of the baseline model are simple and intuitive, and if you've used a riding lawn mower with a zero-point turn radius, you'll feel right at home in the Cruzr. If not, it'll take a few minutes' practice to master. Once you do, you'll be all set!
Not for Indoor Use
Given the weight and width of the chair, even with the zero-point turning radius, this just isn't a chair that's good for indoor use, especially with those comically large beach tires.
Get yourself a spare set of wheels (all-terrain) though, and you'll find that the "Beach Cruzr" can actually go almost anywhere you'd care to take it. Bring a few solar panels with you for on-the-go charging, and you could easily take this chair camping.
Pros & Cons of AJs Beach Cruzr
We really like this chair. Not only did it place a respectable fourth in our recent roundup review, but it also won best overall value, and we stand by that. What it lacks in polished aesthetic, it makes up for in quality craftsmanship and almost infinite customization possibilities.
Having said that, there are a few reasons you might opt for some other model or brand:
We don't regard any of those as deal breakers, but some might.
As to what you'll like best about the model, that's easy. You can get exactly the outdoor beach chair you've always wanted, with just about every extra bell and whistle you can imagine. And, since each chair is hand-built, when you take delivery, you'll have a truly one of a kind creation. How cool is that?
AJ's Beach Cruzr Conclusion
AJs Beach Cruzr is a great chair, no matter how you slice it. While it may look a bit unpolished, looks can be deceiving. The guys at Hotshot products are exceptional craftsmen, and they're passionate about what they do.
The only people we can imagine who might balk at buying the Cruzr are those who are put off by the homemade aesthetic, or who would struggle to deal with its lack of portability. For everyone else, we highly recommend it. A tremendous value.
---
References & Resources