In a Nutshell:
The Monarch Backpacking Chair from Alite Designs is the ideal hiking chair solution. It combines sturdy materials with an extremely lightweight design and comes in at a price point fair for what it offers. It's our top pick for a backpacking chair.
Unfortunately, this product has been discontinued. Check out other Backpacking Chairs we've reviewed.
The great outdoors beckons to us all at some point in our lives. We answer the call by going hiking, planning a camping trip, or just taking a walk outside on a nice day. For those longer journeys, you'll need a place to sit and rest.
Our Alite Designs Monarch Chair review will help you decide if this is the place you want to sit and rest. Join us as we look at this chair's unique story, features, and a breakdown of its pros and cons so you can find out if it's a good fit for your needs.
Alite Designs Monarch Chair Overview
The team at Alite Designs is focused on the concept that spending time outside is good for the human soul. This brand wants to help as many people as possible find their perfect trip into the great outdoors, but the options are numerous and daunting.
That's why Alite Designs struck out to make buying gear and getting out there easier. Not only do they have a wide selection of products, but they also offer free guides and information for users and customers alike.
Despite being located in San Francisco, the team behind this chair has an ongoing focus and obsession with the outdoors. They often help promote events in their local area and practice ethical manufacturing processes.
The Monarch chair is a backpacking seat that features a durable and lightweight design, along with plenty of unique features that make it both comfortable and portable. It's our top pick for a backpacking chair, so let's break down the features and find out why we love it so much in the next section of our Alite Monarch Chair review.
Monarch Chair Features List
When we're looking at backpacking chair options, we like to see durable materials and easy portability. Take a look below at all of the features you can expect from the Monarch chair:
Classic and Compact Design
The Alite Monarch chair packs down into a size small enough to fit in a stuff sack. This miniature size will fit in most backpacks, which makes it an easy-going travel companion.
Breathable Nylon Sling
The chair's material is made from breathable 210D ripstop nylon that allows for airflow while also remaining durable for long trips and a variety of weather conditions.
Color-Coded Aluminum
When deploying the chair, the 7075 aluminum supports all have color coding on them, which makes it easier to set up and break down the chair quickly.
Stuff Sack With Assembly Instructions
The included stuff sack can carry the chair while it's not deployed. The sack itself also contains assembly instructions for easy reference when you need to set the chair up or break it down.
Durable Structure
The chair's structure affords it a higher than normal weight capacity. This particular chair can support up to 250 pounds.
Ultra Lightweight
The Monarch chair weighs a mere 1.3 pounds, making it one of the most lightweight camping chairs on the market.
Rocking Legs
The chair's legs are designed to allow the user to rock back and forth, which is a soothing way to enjoy a beautiful outdoor setting.
Alite Designs Monarch Camp Chair Specifications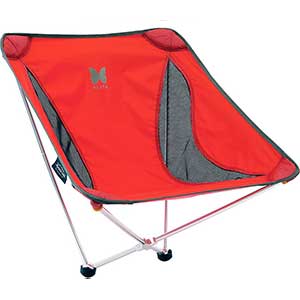 Pros and Cons of Alite Monarch Chairs
While this is our favorite backpacking chair, the Monarch Chair has a few small details that we would tweak if we could. Here's a breakdown of the pros and cons:
You'll be hard-pressed to find any camping chair that weighs as little as this one. The lightweight design is further enhanced by the portable nature of the chair. When you fold it up, the size goes down significantly, and the included stuff sack makes it easy to store and carry in a larger bag.
The nylon and aluminum make for excellent materials that keep the chair from feeling bulky. A great selection of colors also lets you choose whichever option suits your style. The nylon remains breathable as well, despite being dense and taut.
The only downsides to this chair are a higher price and some comments from customers regarding the stability of the chair on certain surfaces. It only has two legs, which can be used for rocking, but this results in some situations where the chair can feel wobbly.
In general, however, this is an excellent camping chair that many customers have been using for numerous trips, and it's still going strong.
Alite Designs Monarch Chair Review Final Verdict
Our Alite Designs Monarch Chair review pinpoints the exact reasons why this chair is our recommended pick for a backpacking seat. Anyone who wants a lightweight camping chair will find a lot to love about this option.
---
REFERENCES & RESOURCES