In a Nutshell:
A big, brawny mesh office chair with basic ergonomic supports. AmazonBasics Big & Tall Mesh Swivel Chair is recommended for big and tall folks who are specifically in the market for a mesh chair.
* Brand Reliability is a measure of the strength and longevity of the brand, which by extension, is a measure of the level of support you can expect.
** While aesthetics is a matter of taste, Aesthetic Flexibility is a measure of how easily a given design would fit into a wide range of home or office décor schemes.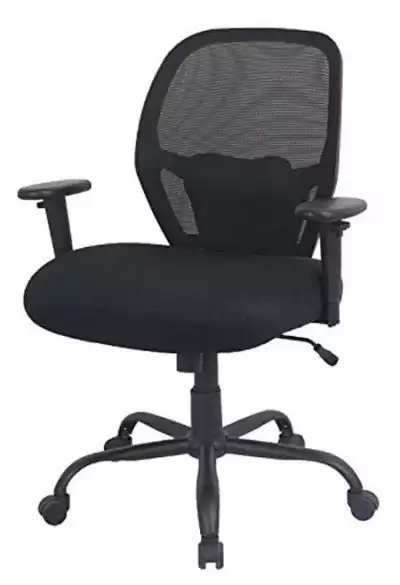 Are you on a bit of a budget? Have you been frustrated so far in your quest to find a good quality mesh office chair that can support you properly and has the basics covered where ergonomic features are concerned?
If so, you're going to like what you read in this review.
While we readily admit that the AmazonBasics Big & Tall mesh swivel chair isn't perfect, it's a very good chair, offered by a respected company known for delivering both quality and value.
In the sections that follow, we'll go over every aspect of the chair in detail, letting you know the things it does best, and not pulling any punches where its shortcomings are concerned. Armed with that information, you'll have everything you need to decide if this is the model you've been looking for.
​Amazon Basics Big & Tall Mesh Swivel Chair: An Overview
Let's start with aesthetics since the look of the chair is going to inform first impressions. Mesh chairs aren't known for their attractiveness, but the AmazonBasics Big & Tall Mesh Swivel chair is surprisingly good looking as mesh chairs go, mostly because it uses a thicker fabric-like mesh for the seat cover, which allows it to move into unobtrusive territory.
It's not a chair that will win any beauty contests, but it is designed along conventional lines. ​​Despite its impressive size, it manages to be unobtrusive enough that it will blend seamlessly into whatever room you put it in, which isn't a bad thing at all. ​
​The design team didn't take any chances here. This is purely a conventional design that puts function over form, and that's okay by us.
Chair Specifications
In terms of the basic stats that define the chair, here's a quick overview:
​There are a couple of things to talk about here, most notably being the impressive seat width of 23". There aren't many big and tall office chairs on the market that match Amazon on this front, so if you've been struggling to find a good, sturdy chair that's wide enough for you, this one belongs on your short list.
Combine that with the other stats of the chair, and it's easy to see that just about every aspect of this model's design is geared specifically for big and tall folks. That's very good to see.
What often happens is that a company will try to design big and tall chairs that also cater to smaller folks, which is great if you have a busy household with several different people of various shapes and sizes all using the same chair, but unfortunately, it has the unavoidable impact of not appealing to as broad a swath of the big and tall segment of the market.
This isn't that chair. From top to bottom, this is a big and tall chair, and shorter people simply aren't going to fit very well into it. That's okay though; they can get their own chair, right?
If you're buying online, be aware that the images don't do its impressive size justice. Since this is notably wider than most other chairs sold today, it's going to fill up whatever space you put it in. Yes, it's got an unobtrusive design, but once you set your eyes firmly on it, you'll realize just how big and imposing this piece of furniture is!
That, combined with its 450-pound maximum supported weight limit makes it an excellent choice for the biggest and tallest in the market, a group that doesn't get a lot of attention from most of the companies making and selling office furniture today. 450-pounds isn't best in class, and there are a few companies that offer more on that front, but it's far above average, and kudos to Amazon for that.
Features of the Amazon Basics Mesh Swivel Chair
Adjustability and Comfort
The Amazon Basics mesh doesn't win any awards for adjustability or comfort, but it does have the basics well covered. You'll find the mesh back to be delightfully breathable, and the seat to be nearly as breathable. It's also mesh, but of a thicker, more tightly woven variety, and it's stretched over a generous amount of conventional block foam padding which provides a comfortable, but not luxuriant seating experience, even if you find yourself spending several hours a day in the chair.
You'll find a simple lever on the bottom of the chair for controlling the lift mechanism, and the chair's height can be adjusted from 18" to 22" in height, which is pretty well the standard range for big and tall chairs.
This model also features a tilt limiter control, allowing you to recline in a range from 90 to 120 degrees. Again, that's not the best in class, but it's certainly acceptable.
One of the things we liked best about the non-ergonomic features of the model is the fact that the chair arms are height adjustable. We do wish they had been ergonomically designed, and the arms themselves could stand to be a bit longer, but overall, the value and versatility of height adjustable arms make that aspect of the chair shine, even with the other shortcomings of the arms.
Ergonomic Features
Where ergonomic features are concerned, there's really only one thing to talk about here in our AmazonBasics Big & Tall Mesh Swivel Chair review: Lumbar support.
In our view, that's the single most important ergonomic feature an office chair can provide, and Amazon really gets it right. Not only does the chair provide excellent lumbar support, but it's also height adjustable, allowing you to tweak it to ensure it provides exactly the support you need, exactly where you need it.
The seat design gamely tries to emulate a waterfall-edge design but doesn't quite live up to it. It does provide good support, and there may be some ergonomic value to it in that it curves down slightly at the edge, which will probably help your leg circulation some, but it's not quite the same as a waterfall-edge design. We'd still rate it as a good try though, that does add some ergonomic value to the overall design.
While we'd love to have seen a few additional ergonomic features on offer, given the modest price of the chair, we're not at all dissatisfied.
Assembly Required, Of Course
As with almost all office furniture, when the AmazonBasics Big & Tall​ Swivel chair arrives at your doorstep, it's going to come unassembled and in a giant box. Fortunately, Amazon's assembly instructions are quite clear, and the production quality is good, so the assembly process itself is pretty painless and straightforward.
Two things to note here, however:
First, again, this is a big chair. Because of that, wrestling the seat back into position and attaching it to the seat is not a trivial task if you're doing it by yourself.
Second, while the production quality is good, it falls short of being great, so some of the screw holes may be a bit rough. Be mindful of that as you're putting it together, so you don't scrape or cut yourself!
Once the chair is fully assembled, that won't be a problem, but it could be a pain (literally) while you're wrestling the pieces into position initially.
Expect the process to take about 40 minutes if you're putting it together on your own. If you have a trusty assistant to lend a hand, you'll shave ten to fifteen minutes off of that time, and once the chair is ready for first use, you're all set except for occasional re-tightening as needed, so don't lose track of the included Hex wrench.
Amazon Basics Big & Tall Pros and Cons
Overall, this is a good, impressively sized chair. The AmazonBasics Big & Tall Mesh Chair is not best in class, and it isn't brimming with cutting edge features, but it's got the basics covered. It does everything you want, and expect an office chair to do, and it provides excellent lumbar support. That, plus the presence of height adjustable arms count as its two most impressive features.
If we could make any changes to the chair we wanted, we'd add three things:
This would give the chair three additional ergonomic support features, and if they were all as well implemented as the lumbar support, it would make this a powerful force in the market indeed, without adding a crazy amount to the cost. Even without those things though, it's still a solid value for the money.
AmazonBasics Big & Tall Mesh Swivel Chair Review Conclusion
We like the design and recommend the AmazonBasics Big & Tall Mesh Swivel Chair without reservation. It's a good chair, offered at a great price, and there's not a thing in the world wrong with that. If you're on a budget and in the market for a wide, sturdy office chair, this is an excellent choice.
---
References & Resources