In a Nutshell:
This chair looks amazing and is rock solid in its construction. A tremendous value for the money. The Amish Heavy Duty Rocking Chair is recommended for anyone weighing up to 600 pounds who's looking for a well-made rocker for indoor or outdoor use.
* Brand Reliability is a measure of the strength and longevity of the brand, which by extension, is a measure of the level of support you can expect.
** While aesthetics is a matter of taste, Aesthetic Flexibility is a measure of how easily a given design would fit into a wide range of home or office décor schemes.
Are you a bigger, taller, or heavier person? Do you love rocking chairs?
Have you been frustrated in your search to find one that was big enough and robust enough to support you properly? If you answered yes to those questions, then you're going to absolutely love what you read in this review.
Honestly, we regard the Amish Heavy Duty Rocking Chair as the final word in high weight capacity rocking chairs. This is the gold standard that every other heavy-duty rocker on the market has to beat. So far, we haven't found any that can.
In the sections that follow, we'll tell you everything about this chair so you can decide for yourself if it's the one you've been looking for. Even if you opt to go with some other model, we think you'll be impressed. If your interest is piqued, read on and let's see what this one can do.
Amish Heavy Duty Mission Pressure Treated Rocking Chair Overview
The Amish Heavy Duty Rocking Chair looks like a rocking chair made for giants, so basically, it looks like what it is. Amish Casual takes great pride in their furniture, and with good reason. They make great stuff, solidly constructed with simple, clean lines, and this chair is an excellent example of their work. There's nothing fancy about this design, and that's the point. Mission-style furniture is simple and functional. That's what you're getting here.
The chair is constructed with pressure-treated pine, which is the same material used to create a great many outdoor decks. If you decide you want one, you can order yours in any of the following finishes:
The bottom line is, no matter what finish you choose, it's a simple, handsome design you'll be proud to own.
Chair Specifications
Moving on from the look of the piece, let's turn now to the basic statistics that define the model:
Note that big and tall office chairs have a seat height adjustment range that typically starts at 18" and goes to 22", which puts the seat height of this chair in the big and tall range. At the low end, true, but that still counts.
Overall, we like these numbers. The chair is certainly big enough to support a big and tall person. The one thing we'd point out is the fact that although this chair will support up to six-hundred pounds if you weigh something close to that, you'll probably need a chair with a wider seat. For the vast majority of people, though, we feel that these numbers will work very well indeed.
Adjustability and Comfort
There's nothing about the Amish Heavy Duty 600 lb Mission Pressure Treated Rocking chair that's adjustable, and you wouldn't think it would be all that comfortable, but it really is. If you're not happy sitting on the wooden seat or leaning back against the wooden seatback, it's easy enough to add a padded seat or seatback cushion. If you opt to go that route, you can make the chair as comfortable as you like.
Assembly is Required
As is the case with most of the furniture sold online today, the Amish Heavy Duty 600 lb Rocking chair will arrive at your door in a large box and about a dozen pieces. Fortunately, the assembly instructions are quite clear, and the process is straightforward. Expect it to take about 30 minutes, plus another 10-15 minutes to unpack everything and organize the pieces.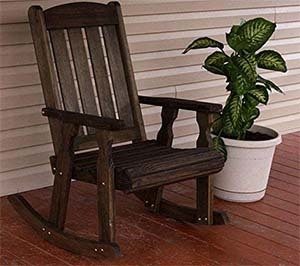 If you have an aversion to assembling your own furniture, this product does come with an expert assembly option. Unfortunately, if you opt for it, you'll wind up adding about 50% to the total cost of the chair, which is a bit too much for us, but some people might find it of value.
Pros and Cons of Amish Heavy Duty Rocking Chair
We like everything about this chair. It looks great. It's solidly built. It's as comfortable as you want to make it, and it comes in a modest selection of finishes. If you want to do your own thing, or just leave it in its unfinished state, you can do that too.
The only potential snags we see that may be off-putting to some potential buyers are these:
If you're pushing close to the 600-pound weight limit that this chair supports, the seat width may not be enough for you.
And if you're not a fan of putting your own furniture together, the expert assembly fee makes this chair a less spectacular value, but still a fairly good deal.
It's as close to the perfect high weight capacity rocking chair that we've found, and we've sifted through a lot of different options.
Amish Heavy Duty Rocking Chair Review Conclusion
The Amish Heavy Duty Rocking Chair is a superb chair that will look great in just about any home, although the simple, Mission aesthetic is skewed more toward home décor schemes that tend toward the rustic. Even so, with a coat of stain, this beauty will fit in almost anywhere, and it's built to last. We highly recommend it.
---
References & Resources: