In a Nutshell:
Much cheaper than most budget options, the Apex iCozy Massage Chair offers an astonishingly good massage experience despite its limitations – an excellent choice for anyone on a budget. Plus, its built-in speakers make it an exceptional gaming chair.
* Brand Reliability is a measure of the strength and longevity of the brand, which by extension, is a measure of the level of support you can expect.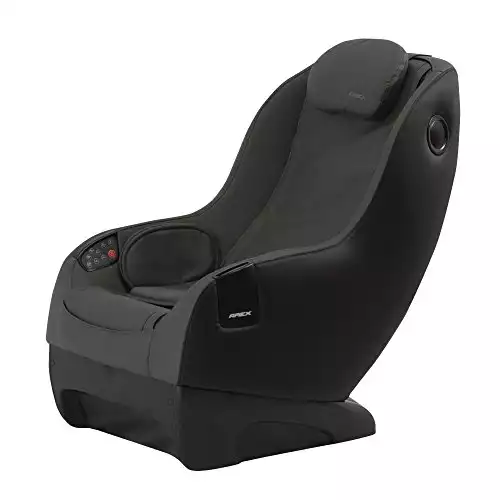 Unfortunately, this product has been discontinued. Check out other Apex massage chair reviews.
So, you're interested in getting a massage chair but just don't have a lot of money to spend?
Are you concerned that you may have to sacrifice quality unless you'd spend thousands of dollars on it?
Well… Stop worrying.
If this describes your current situation, then the Apex iCozy Massage Chair is exactly what you've been looking for—a chair that delivers a good basic massage experience but easy on the pocket.
Sure, the iCozy may not have all the bells and whistles that more expensive massage chairs boast or may be short of a few functions, but we'll get into all of that in our Apex iCozy review below.
Apex iCozy Massage Chair Overview
The first thing to note about this chair is how stylish and attractive it is. That's not a "feature" per se, but aesthetics matter and the Apex iCozy Massage Chair will not just blend in with your existing décor, it'll serve as a stylish addition to any room you put it in.
Even better, since it is extremely lightweight as massage chairs go (weighing in at just 55 pounds), it's easy to move around the house should you decide to have it some place else.
Features of the Apex iCozy Leisure Chair
As you might suspect, budget massage chairs are usually light on features, so we're not going to have dozens of different things to talk about here. But even though the Apex iCozy leisure chair doesn't have tons to offer, the ones it has are well-thought-out and add a lot of value to the chair and the overall massage experience.
Combination L/S Track Design
This is the iCozy's standout feature. Virtually every chair in the sub-one-thousand-dollar range of the market uses a standard L-Track for the rollers to deliver a decent massage.
The iCozy chair, on the other hand, utilizes a hybrid L/S track which enables it to deliver a higher quality massage than any other chair in its price range, and that's a huge point.
Dual Rollers
Mid-range and high-end massage chairs tend to use quad rollers exclusively to provide users a massage experience that is almost indistinguishable from a massage delivered by human hands.
However, at the low end of the price spectrum that would be a luxury and one not offered by the Apex iCozy massage chair. Even so, the chair's dual rollers are capable of delivering a solid, consistent massage. At the end of the day, that is all that matters to most people.
Easy To Use Control Console
The iCozy doesn't come with a remote control, but instead has a console conveniently located on the inside of the right chair arm, providing easy access to all the features the chair offers.
Smartphone Holder
In the place where you'd normally find a cup holder in a movie theater seat, the iCozy massage chair has cleverly designed a slot where you can put your smartphone while having your massage, which is a great factor than it might first appear due to the next feature we will mention.
Bluetooth Speakers
Such an incredible feat for a chair in the sub-one-thousand-dollar price range, the iCozy has a pair of Bluetooth compatible speakers located in the headrest which you can easily sync your smartphone to so you can enjoy your favorite music and experience total relaxation.
Thigh Air Massage
The fact that a massage chair in this price range features airbags is amazing in and of itself—the iCozy Leisure Chair even has two airbags in the lower part of the chair arms, which inflate and vibrate when in Air Massage mode, offering an incredibly good thigh air massage.
Extra Cushion
The chair has an extra cushion that can either be set down to provide greater comfort or detached to deliver a stronger massage, at the user's option.
More Customization Options
The Apex iCozy massage chair comes with a remarkable number of massage options for a chair in its price range. Users can select from:
Pros & Cons of the Apex iCozy Massage Chair
As you can see, the iCozy leisure chair manages to pack a good number of features at a budget price, which is astonishing and serves as the single biggest selling point of the chair.
We cannot consider our Apex iCozy review to be complete, however, until we talk about what's missing—and it's missing a lot—which is understandable, given its price point. Still, we have to mention them here so you can decide whether the lack of these features are deal breaker for you.
What the Apex iCozy is Missing
Basically, the folks at Apex conceptualized this chair by finding out which features are not essential to delivering a good basic massage. Any feature that didn't meet that criterion was stripped off so that they can bring in a chair the offers the best basic chair massage at the lowest price possible, with the iCozy as a result.
Apex iCozy Massage Chair Conclusion
To sum up our Apex iCozy massage chair review, this chair is far from being a perfect massage chair. If you're looking for something with heat therapy, Zero-G, or leg massage features, the iCozy is clearly a let-down.
But, if you want a sharp-looking, bargain-priced massage chair that's capable of delivering a solid, basic massage, then you should definitely get the Apex iCozy at Amazon. It's pure gold, and highly recommended.
Oh, and gamers take note: it also makes for an awesome gaming chair!
---
References & Resources