In a Nutshell:
As our Apex Lotus Massage Chair review reveals, the Lotus offers a little something for everyone, making it an ideal choice for the general, casual user.
What truly sets the Apex AP-Lotus apart is the incredible synergy of features so users can enjoy a high-end massage experience at a mid-range price.
* Brand Reliability is a measure of the strength and longevity of the brand, which by extension, is a measure of the level of support you can expect.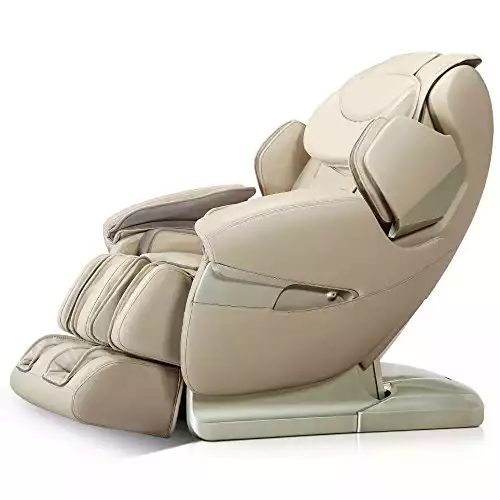 Do you have a need or desire for a top-quality, deep tissue massage chair, but don't have a lot of space?
If this describes your situation, then you should definitely consider this massage chair from Apex.
Packed with features that are hard to find—even on cutting-edge, top-end massage chairs—the Apex AP-Lotus makes a stellar addition to the Apex lineup.
In our detailed Apex Lotus Massage Chair review that follows, we'll take an in-depth look at everything this chair has to offer to give you a complete picture of what this chair is (and isn't), and help you make an informed purchasing decision.
Apex AP-Lotus Overview
While the Apex AP-Lotus is well-designed and feature-rich, let's start with the features that truly set the Lotus apart from the competition.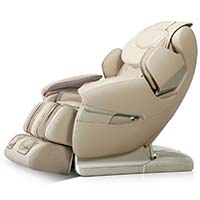 Space-Saving Technology
One of the biggest drawbacks of massage chairs in general is that they tend to take up quite a lot of room. Good thing, there are a few that incorporate space-saving technology, and the Apex Lotus is one of these.
The chair pivots on its base as it reclines, which means that you will only need about 4" of space between the back of the chair and your wall in order to make full use of it.
While you can, of course, find other models that utilize space-saving technology, the AP-Lotus is one of the very few that come with this feature and offer deep tissue massage at the same time. Note that if you suffer from chronic back pain, a deep tissue massage capability should be on the top of your "must-have" list, so you can get a massage that's intense enough to meet your needs.
S-Track
The S-Track is considered to be the standard roller track of massage chairs today. It allows the rollers to move in three directions and follow the natural curvature of the spine.
Despite not having the more innovative "L-Track", which is basically just an extended S-Track, the roller length of the Apex Lotus is still animpressive 32" long that can reach the base of the skull all the way to the tailbone.
Heat Therapy
Going hand in hand with the Lotus' deep tissue massage capabilities, the two heating elements located in the lumbar area of the chair will be much appreciated by chronic pain sufferers. The combination of deep tissue massage plus soothing heat offers maximum pain relief and therapeutic benefit to users.
Quad Rollers
Some low-end massage chairs still use a dual roller system today. Although these rollers can deliver an adequate massage, quad rollers more closely mimic the feeling of human hands, offering a massage experience that is virtually indistinguishable from one you'd receive from a massage therapist.
3D Massage Rollers
The ability to adjust roller speed as well as the innovative roller design, which allows the rollers to protrude up from the S-Track by an additional 3 ¼", enable the Apex Lotus to deliver a true, deep tissue massage experience.
While there are other massage chairs that also offer deep tissue massage, the massage experience provided by those are only second-rate to what the Apex Lotus can offer with its state-of-the-art 3D roller technology.
Zero Gravity Function
Though not unique to the Lotus, this is another feature added to the chair to enhance the overall massage experience it provides.
By shifting the chair to one of its two zero-G positions, the knees are positioned comfortably above the heart, which causes the user's own body weight to press the back more firmly against the rollers. As a result, one can enjoy an intense, massage experience with less stress and compression along the back and spine.
​Body Scan Technology
Yet another feature that offers a high degree of synergy and integration is the computer body scan offered by the Lotus. Once the user is seated and just before a massage begins, the body scan will automatically kick in to identify the user's body shape and pressure points.
Based on the scan's results, the chair will make subtle adjustments to the position of the rollers, so that they align with the user's pressure points, once again resulting in a better overall massage experience.
Plenty of Customization Options
While you can certainly find other massage chairs that offer loads of customization options, the Apex AP-Lotus surprisingly offers a good variety of options at its price point.
There are six different massage techniques on offer, including:
Plus, seven pre-programmed massage options:
​When you mix these up with the five speed levels and five different intensity settings, then factor in the timer, which can be set at five-minute increments ranging from 5 to 40 minutes, the Apex Lotus can give enough flexibility and customization to make even the most discerning of customers smile.
​Easy To Use
There are two ways to control the chair: using the wireless remote or via an app that Apex has designed, which is compatible with both Apple and Android smart devices. There aren't many massage chairs, even at the top-end that come with their own app, making this feature a pleasant surprise indeed.
Plus, the chair's built-in Bluetooth connectivity allows access to the on-board sound system, so users can enjoy their favorite music while getting a massage.
​Leg Extension Feature
A fairly minor point, but certainly worth mentioning, is the fact that the chair features a leg extension, enabling it to support users up to 6'4" tall.
Taller people may have difficulty finding a chair that fits them, but Apex has made a conscious decision to cater to that segment of the market as well.
Don't miss or review in search for the best massage chair for tall and big users: click here.
​Negative Oxygen Ionization
Our Apex Lotus Massage Chair review would not be complete without mentioning this feature. Highly popular in most of Asia, but seldom seen in the West, this is essentially an air purification system built into the chair, which makes clean, refreshing air blow gently across the face while enjoying a massage.
It's a small thing, but again, extremely uncommon to see such unique features offered in a mid-range chair, and another point that sets it apart from its competition.
​Air Massage Mode
The Apex AP-Lotus features 28 airbags, strategically placed throughout the chair, to deliver air compression massage to the Arm, Calf, Foot, Hand, Hip and Thigh, Upper Arm and Shoulder.
The number of airbags is average for chairs in the mid-range, as higher end chairs can have in excess of fifty.
Notably absent from the Apex Lotus is a head air massage, although this is somewhat offset by the adjustable shoulder massage that features three adjustment settings to accommodate different body shapes.
​Pros & Cons of the Apex AP-Lotus
There's so much to like about the Apex AP-Lotus that it's hard to know where to begin.
First, the masterful synergy among the chair's various features is certainly a major selling point, allowing the Apex Lotus to give a massage that is well above its weight class.
Another huge positive is the fact that it combines deep tissue massage with space saving technology, which makes it a rarity in the massage chair world.
​Finally, there are features like the custom app and the ionization function that you just don't typically find in a mid-range chair. Put all of these together, and it's hard to find a reason not to buy it.
Neither of the chair's two potential negatives is necessarily a deal breaker.
One is that it only offers an average number of airbags. This is actually surprising, given that the Apex Lotus excels in literally every other category. The air massage it delivers is certainly acceptable, but is not quite up to the standards of the rest of the features the chair offers.
​Secondly, some people may find the deep tissue massage too intense for their liking. If you're a casual user, and in the market for a light to medium strength massage chair, this one probably isn't for you.
Having said that, it should be pointed out that you can mitigate this negative by operating the chair on one of the lower intensity settings. Even so, if you don't need the other features this chair offers, you can probably find a less expensive option that will serve you just as well.
​Apex Lotus Massage Chair Review Conclusion
Our Apex Lotus Massage Chair review covered a lot of ground, so let's summarize.
Truly, there's a lot to like about this chair because it just gets so many things right. The synergy offered by its feature-set provides a massage that is equal or better of the chairs twice its price. On top of that, it successfully delivers a rare combination of functions such as deep tissue massage, space-saving technology, ionization, and more in one chair, making it hard not to like the Apex Lotus.
If you describe yourself as a casual user and just want a chair that offers light to medium strength general massage, consider looking at lower cost options as you will seldom use some of the more advanced features of this chair.
But, if you have a therapeutic need for regular deep tissue massage, have limited space, and don't want to spend a fortune, then the Apex AP-Lotus would be a great choice for you.
---
References & Resources