Do you suffer from chronic pain, or are you a hobbyist who's just looking for a decent massage chair on a budget?
If you fall into either of these categories, then you'll be both pleased and intrigued by our roundup review of the Beautyhealth line of massage chairs.
While the components of the chairs all come from China, Beautyhealth's models are proudly made in the USA.
The company has an interesting product lineup, characterized by impressive functionality, coupled with modest cost. A big part of this is because the company utilizes older technology, blended with new.
This is always a bit of a risky strategy. If not done well and carefully, it can lead to a product that's an absolute disaster. Fortunately, the company has proven itself to be quite adept at threading that particular needle, as evidenced by other Beautyhealth massage chair reviews on the web.
While it's true that their products have certain limitations, we think you'll be pleasantly surprised by their capabilities.
You'll find a lot of confusion in various Beautyhealth massage chair reviews around the web because third party marketers have made a mess of defining and describing the different models the company has available.
After an exhaustive search, we've uncovered these five, and per our latest and best information, this is the complete lineup at this point.
Here's a top-level look at all the chairs in the lineup. Later on, we'll drill down and take a deeper look at each model individually.
Massage Technology:

Hybrid L/S Track and Quad Rollers

Massage Technology:

Hybrid L/S-Track and Quad Rollers

Extras:

MP3 Support
Body Stretch

Heat:

Jade Heat Stick, Lumbar, Foot
An Overview of Beautyhealth Massage Chairs
A few interesting things to note about all of the chairs, collectively. First, as you can see, the company does occasionally make use of the long, Hybrid L/S-Track, but for the most part, sticks with the cheaper S-Track, which is the current industry standard.
Heat is a very big deal to Beautyhealth, and all their models feature it in one form or another. The company makes much of their "Jade Heat" technology, which even allows you to control the precise temperature.
That's a big win on the surface. Unfortunately, however, we find the Jade Heat Technology to be lacking, even given the fact that it allows for precise temperature control.
It's basically a heating pad on steroids that you can manually position where you want or need it. That's all well and good. But since most people already own a heating pad, there's just not much value in paying for that feature. It would be better by far if the elements were built directly into the chair itself. Sure enough, in most of the company's models, that's how they do it.
A final note that we'll get into in more detail in specific models, but this line makes regular use of paired massage balls for the foot massage, and sometimes, to augment the calf massage too!
That's unusual. In fact, you won't find any mainstream brands that do so, mostly because rollers simply do a better job. Nonetheless, it's a cost-saving measure, and it doesn't degrade the quality of the massage experience by much – certainly not to the point where you'll have a poor experience.
All in all, the thing that makes the brand appealing and unique is the blending of older tech with new, and they do it successfully enough that they've carved out a niche for themselves in the market. So next, let's take a closer, look at each of their five models to get a better feel for each chair.
Revive! Beauty Health Massage Chair
The Revive! is a relatively new Beautyhealth massage chair, and also the least expensive in their lineup. Don't make the mistake of thinking that inexpensive equals low value, however – this chair manages to punch well above its weight class, delivering a mid-range massage experience at a budget price.
Hybrid L/S Track and Quad Rollers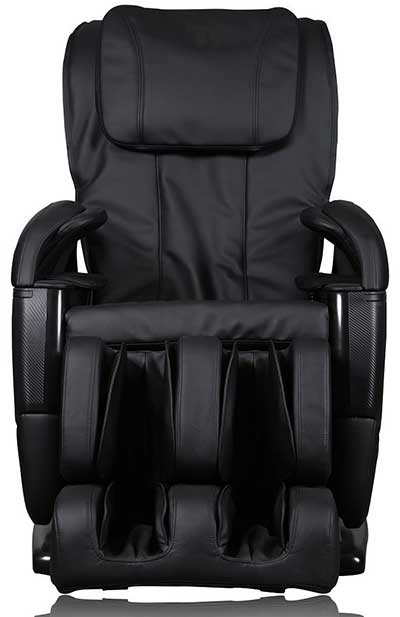 The chair gets off to a strong start by being built around great bones. The Hybrid Track isn't the longest we've ever seen (45" in total length), but it starts at your neck and travels under the seat to massage your glutes and the backs of your thighs, giving its quad rollers plenty of space to work in.
The quad rollers are the current industry standard, and closely mimic the feel of human hands, so you're not getting a bargain basement massage experience in the least!
Body Scanning Technology
Of course, if the rollers aren't hitting the sore spots on your back, your massage isn't going to be very good, even with quads. Beautyhealth has two different solutions to ensure perfect roller position, the first of which is Body Scanning Tech.
Before your massage begins, the chair takes a scan and makes incremental adjustments to both the width of the massage field and the position of the rollers to ensure a world-class experience.
If that fails, you'll also find buttons on the touch screen controller that allow you to make those same adjustments manually. The two-pronged solution isn't quite an industry standard, but it is becoming increasingly common and is very good to see here.
Sometimes, especially in lower-priced chairs, a company will only choose to offer one or the other, so this is a nice touch!
Basic Massage Options
It's not unusual for a low-priced chair to have a relatively limited number of options and massage techniques on offer, and that's what you find here. You get:
Note that while some of the company's other models allow for speed and intensity adjustments, this one does not. You get the one, default speed/strength. That's not necessarily a bad thing, but if you're looking for a chair that allows you more control over your massage experience, this one's not it.
You'll also find for pre-programmed massage options available at the touch of a button, enabling you to sit down and start enjoying your purchase almost immediately.
The air massage is a bit better, rendered by 32 First Generation Airbags, and adjustable via the touch screen through two different intensity levels (high and low).
A Surprisingly Good Calf and Foot Massage
The calf and foot massage is better than you might expect. More than half the chair's airbags are located in the leg massage ports, and the massage they deliver feels remarkably like a roller-based Shiatsu massage for your calves and feet, which is exceptional.
In addition to that, the airbags are augmented by four mated pairs of massage balls that orbit around each other as they massage you (two pairs in each foot well).
These take the place of rollers and do a surprisingly good job massaging the soles of your feet. We rate this a superior feature implementation, and if you spend several hours a day standing or walking, this will probably be your favorite aspect of the model.
Zero-G Seating & Body Stretching
Another pleasant surprise is the fact that the Revive! Features three Zero-G seating options that not only feel great and create the sensation of weightlessness during your massage but also allow the rollers to deliver a more penetrating massage experience.
It would be unfair to call this a deep tissue massage, but it does serve as an indirect way to increase the intensity of the roller action if you need to.
Beautyhealth's body stretch is acceptable, but not especially noteworthy, offering the same basic benefit as a chiropractic adjustment. It provides welcome pain relief to chronic pain sufferersby taking pressure off the compressed discs in your spine, and if you suffer from chronic back pain, you'll be hard-pressed to choose between this and the calf and foot massage as your favorite feature.
Therapeutic Heat
The Revive! has a heating element in the lumbar region, which offers soothing relief to those who suffer from chronic lower back pain. We'd prefer to see an enlarged heating element that covers more of the back, but the fact that it is present at all is a nice surprise in a modestly priced chair.
An Adjustable Timer
Another very nice touch is the presence of a highly adjustable massage timer, which allows you to set the duration of your experience from 5-30 minutes, as it suits you. Again, this is a feature you don't find with any regularity even on chairs that cost twice as much, and is well-deserving of praise!
Some Limitations
This isn't a great chair if you suffer from chronic neck, shoulder, or arm pain. While there are airbags located in the arm ports, these only cover your forearms and hands, giving you a somewhat limited experience on that front.
The other big drawback is the fact that you can't adjust the massage speed or intensity, but that's not deal breaking if all you want is a basic chair that has a few strong therapeutic features. For the price, the Revive! Is an exceptional value. It obviously can't do everything, but what it does, it does very well.
Note: There's no remote, so you'll have to control everything from the touch pad located on the swing arm. Again, not a deal-breaker, but something to be mindful of.
Beautyhealth BC 11D Massage Chair
The Beautyhealth BC-11D massage chair is functionally similar to the Revive! but has a few key differences worth mentioning.
First and foremost, this one was designed with taller users in mind. It features a highly extendable Ottoman, allowing it to accommodate users up to 6'5" in height. That's fantastic because there are a depressingly small number of chairs designed for taller people.
Having said that, although this model offers a few enhancements over the Revive!, the designers also stripped out some important features, starting with the massage track.
The 11D is built around a standard S-Track, so it massages from your neck to your tailbone. Unfortunately, if you're looking for a chair with a nice, long massage track, this one's not for you. It retains its quad rollers, so the quality of the massage is every bit as good, it just doesn't reach as much of your body.
Features & Highlights of the BC-11D Massage Chair
An Average Calf and Foot Massage
Another downgrade from the Revive! to the 11D is that the massage balls were removed from the equation, and replaced with a simple vibration plate at the bottom of each foot well.
The result just isn't as good as you get with the massage balls, downgrading this feature implementation from superior to average.
No Massage Timer
All massage programs default to a fifteen-minute duration, with no option to extend them. You get your massage; then the machine shuts off.
More Options
On the plus side, the 11D offers more options than the Revive!, featuring:
The inclusion of "Vibration" does help to inflate the option count, but this isn't a true massage technique. Some people like it, claiming that it helps improve blood flow and circulation, but just as many, if not more, steer clear of it. It's worth experimenting with to see if it helps you, but don't be surprised if it doesn't.
Additionally, you'll find the following four pre-programmed options:
As before, however, there's no way to adjust roller speed or intensity, so you get the default setting, and that's it.
Where the chair's air massage is concerned, the 11-D utilizes the same number of First Generation Airbags as the Revive! and offers an identical air massage experience, including the retention of two intensity levels (high and low).
One remarkable improvement worth talking about where the air massage is concerned is the fact that the cuffs holding the airbags are on sliders so that when you recline, the arm cuffs follow you as you lay back, maintaining optimal position.
You'll see some reviews refer to this model as a "Beautyhealth Shiatsu arm hand massage chair," placing particular emphasis on the strength of the hand and arm air massage, and this "Following Arm Technology" is the reason why.
It's an unusual feature. In fact, the only other time we've ever run across it was in our review of the Apex Pro Regent, which was one of the few chairs to earn a perfect five-star rating from us.
Zero-G Seating & Body Stretching Retained
The 11D does provide three Zero-G seating positions, which as mentioned earlier, is an indirect way you can influence roller intensity, which is something to keep in mind if you're looking for a more intense massage.
This model also retains the company's body stretching routine, which as mentioned, is certainly acceptable, though not exceptional.
Expanded Heat Function
The Beautyhealth 11D massage chair offers the same lumbar heat you find in the Revive!, but takes things a step further by also incorporating their Jade Heat Stick, which we mentioned earlier.
The best advice we can offer on this front is to try it and see what you think. Maybe you'll love it, but we were underwhelmed. The nice thing is that you can control the heat stick's temperature precisely, and place it anywhere you need heat, but you can do that with the heating pad you probably already own, too, making it feel a bit redundant.
Our View on the BC-11D
Honestly, although we like the fact that the 11-D was designed with tall users in mind, we simply regard this as an inferior model to the Revive!.
Had the company retained the full feature set of that model, and simply added an extendable Ottoman and more massage options, it would have been fine, but given all the things they took out, this feels like a small step backward.
Beauty Health Massage Chair BC 07D
The Beauty Health massage chair BC 07D is an interesting, almost retro model that reminds us quite a lot of the Merax. It's a shockingly good massage chair that blends old and new technology in just the right way and somehow manages to be far better than it ought to be.
Before we get into everything this chair does well, let's first talk about its limitations.
There's no remote, and it doesn't use a touchscreen LCD panel. Instead, you get a Star Trek (original series) looking control panel mounted on a swing arm with buttons controlling the various functions.
This panel contains a small LCD screen which gives you a basic graphic representation of the chair's status, but that's it. The whole thing feels like something from the late 80's or early 90's but manages a certain retro-cool factor at the same time.
The Beautyhealth BC-07D massage chair also offers lumbar heat, and that crazy Jade Heat Stick technology the company seems fond of, which again, has an old-school, retro feel, and then things get interesting.
Features & Highlights of the BC-07DH Massage Chair
S-Track and Quad Rollers
Despite its old-school outward appearance, the chair has great bones, being built around an industry-standard S-Track that allows its quad rollers to massage from your neck to your tailbone. If you're looking for something with a longer track, then this model isn't for you.
3D Body Scanning and Manual Roller Adjustment
The 7D uses the same two-pronged approach to roller and massage field adjustments that you find in most well-known name brands, featuring both an automated method (the Body Scan) and buttons on the control panel allowing for manual adjustment as needed.
A Surprising Number of Options
Given the low cost of the chair, you'll be impressed by the number of massage options and combinations it has, which include the following techniques:
Additionally, the following pre-programmed routines are offered:
Even better, where other models offer only a single speed and intensity, the 7D allows you to customize the experiencing by offering five different speed and intensity settings, opening up a world of customization just not available in some of the company's other models. We rate this as a superb feature implementation.
To round out the collection of options, the 7D also offers vibration plates in both the seat back and the seat itself, which can be independently controlled and activated. This feature isn't' for everyone, but if you're a fan of vibration-style massage, you'll love its inclusion here.
Air Massage
Featuring 69 First Generation Airbags, this is also an exceptional implementation, and the massage you get via the airbags is superior to just about every other chair at the 7D's price point. It's also customizable, with four different intensity levels on offer.
Extensive Heat
Beautyhealth pulled out all the stops here, providing heat in the lumbar area of your back and both foot wells. The real win, though, is the fact that the temperature can be fine-tuned via the control panel to taste. This is also exceptional, and something you only rarely find, even in chairs at the top of the price spectrum.
We could do without the inclusion of the Jade Heat Stick, but try it out and see how you feel about it. Based on customer reviews, most people are somewhat lukewarm to the feature, but even if you opt not to use it, the built-in heating elements are outstanding.
Splendid Foot and Calf Massage
Once again, the company makes good use of older technology, combining the model's generous number of First Gen Airbags with mated pairs of massage balls, which work with the airbags to render an extraordinarily good calf and foot massage.
Note that the massage balls are not limited to the soles of the feet, but are also used to help render the calf massage, resulting in an extraordinary experience that's far beyond what you'd expect from such a modestly priced chair. All that, plus heat too? What could be better?
We regard this as the stand-out feature of the design, and no matter how much time you spend on your feet each day, will probably be your favorite aspect of the chair.
Adjustable Massage Timer
All massage options default to a fifteen-minute duration, but you can adjust this up to a max of thirty minutes or down to a minimum of five, depending on your preference.
Again, this is the kind of feature you expect to find in a chair at the high mid-range or the top-end. You just don't see this kind of thing in value-priced chairs, making it all the more extraordinary.
MP3 Support
A highly popular feature that's always a welcome addition to any design, it's details like these that make the 7D feel polished and refined.
The implementation, in this case, is a USB port, which allows you to copy your favorite music to a jump drive, and if you choose to listen to music while enjoying your massage, it opens the door to utilizing the music sync feature, which allows the action of the rollers to be guided by the beat of the music you're listening to.
Model Confusion on the 7D vs 7DH Models
You may have read other Beautyhealth massage chair reviews that refer to both a 7D and a 7DH model. This is inaccurate. They are one and the same. When the 7D was first introduced, the chair had no heat function, and this was added later during a model upgrade.
For a brief period, the 7DH designation was used to differentiate the two variants of the model in inventory, but all 7D's currently being made offer heat.
If you're buying your chair from eBay or some third-party vendor or an individual, it's worth checking to be sure that the chair in question is the most current model that includes heat, however.
Our View on the BH-07DH Massage Chair
This is a truly exceptional design and our favorite Beauty Health massage chair. While it's true that it can't do everything, all of its features are extremely well-implemented, and for the money, you'll be hard-pressed to find a better value.
It's even more compelling if you're a fan of Retro Tech, and are always keen to find products that find new ways to utilize older technology.
Beautyhealth BC-10D Plus Massage Chair
Unfortunately, this product has been discontinued. Check out other Beautyhealth Chairs we've reviewed in this article.
One of Beautyhealth's deluxe models, the BC-10D is a full-featured massage chair that has one surprising innovation. Despite being near the top of the company's lineup, it is still a quite modestly priced chair and can be had for under three thousand bucks, and as you'll see, there's a lot to like about this model.
Features of the BC-10D Plus
S-Track and Six Roller Array
Starting with the fundamentals, the chair uses an industry standard S-Track, but right off the bat, it hits you with a surprise. Instead of using the current industry standard quad rollers, the 10D incorporates a six-roller array.
We've only seen this on one other occasion, on the Kahuna SM7300, making this a rare and exceptional find indeed!
As with the other chairs in Beautyhealth's lineup, it also incorporates the two-pronged approach to handling roller positioning and the width of the massage field, using both an automated Body Scan and providing buttons on the remote and control panel, allowing for manual adjustment if and as needed.
A Number of Options
Regarding techniques, the 10D offers the following:
Additionally, the following pre-programmed massages are available:
Additionally, you can customize any of these via the remote or the control panel through five different speed and intensity settings. While this isn't as good as the total number of combinations you get with the 7D, it's still not bad, and more than you'd expect to find in a chair at its price point.
Note that this model does not offer an adjustable timer. All massage options default to a twenty-minute duration.
A Breathtaking Air Massage
Featuring a staggering 116 First Generation Airbags, the air massage this chair is capable of is one of the best in the business. Despite having a higher number of airbags than the Inada Dreamwave, Inada's chair still out-performs this one, because it utilizes Second Generation Technology, but you will be impressed at the results you get with this chair.
MP3 Support
While there are no speakers built into this model, it does have music support and a headphone jack. That might not be the best implementation, but it's not bad, and always great to see such an attractive feature.
Zero-G Seating
This is a feature that Beautyhealth is consistently good at, delivering three Zero-G seating positions in every model in their lineup. One curiosity is the space required to recline fully.
Some chairs are designed with Space-Saving technology. When they recline, they pivot on their base and wind up only requiring 3-4" of clearance between the back of the chair and whatever wall you set it near to fully recline.
Chairs without this technology can require up to 18" to fully recline.
The 10D falls somewhere in the middle. It's like they gave it a try, couldn't quite master it but ran with it anyway. Their chair requires about 7" of clearance, so not quite what we've come to expect from Space-Saving Tech, but less than chairs without it.
Heat
This model does offer heat, but it is limited to the lumbar region of the chair. We'd love to have seen the company adopt the 7D's heat map, but it wasn't meant to be.
A Superior Calf and Foot Massage
This is another area that Beautyhealth does a consistently good job at, and surprisingly, they do it while employing old technology.
In this case, 40 of the chair's First Gen airbags are deployed in the leg massage ports to render the air massage.
These are supported by several mated pairs of massage balls, not only in the bottoms of the foot wells, but also along the length of the calf port itself, rendering a massage that's one part airbag, one part massage ball, and pure excellence.
The only way we can think to improve this feature would be to include heating elements in the foot wells (again, like the company's 7D model), but even without that, this is one of the best features of the chair.
Almost Inversion?
If you've never used an inversion table, you should give it a try. It's a therapeutic device that suspends you at an extreme angle, with your feet higher than your head, which helps decompress your spine and fosters better circulation of your body's lymphatic fluids.
The 10D almost qualifies, but not really. It's maximum recline angle is 185 degrees, which meets the technical definition of an inversion chair, since your feet are higher than your head at that point, but that's where it stops.
A true inversion chair will allow you to recline at angles much steeper than this, but we have to admit that it was a good try by the company, and Inversion is a feature you don't find in many massage chairs. We'd call this "Inversion Lite." By itself, it's not a reason to purchase the model, but it's intriguing.
Body Stretching
This model does offer a body stretch, but it's not obvious at first glance. Body stretching is hidden under one of the pre-programmed massage options ("Extend" – Called "Extent" on the control panel, which we're assuming is a language barrier issue).
As with the body stretch feature in other Beautyhealth models, this one gets the job done, but isn't exceptional. Still, if you suffer from chronic back pain, it will probably be your go-to feature of the chair.
Memory Slots!
In our opinion, there aren't nearly enough chairs on the market today that offer memory slots, and thankfully, the 10D does. That's outright shocking for a chair as modestly priced as it is, but we're incredibly pleased to see it.
You get four slots, labeled A-D. Program your favorite settings, save them here, and recall them at the touch of a button. What could be better?
Our Thoughts on the BC-10D
While we don't like this model quite as much as the 7D, it's an undeniably good chair. It does break the mold a bit. What we've seen from Beautyhealth so far is that their products don't try to do too much, but instead, focus on doing a few things well.
The inclusion of their pseudo-inversion feature goes a bit against this grain but still, manages to be a good (if not especially compelling) feature. It's a good value for the money, but we regard it as a slightly weaker design than the 7D, even if it offers a few additional features.
Beautyhealth BC Supreme-I Zero Gravity Chair
Beautyhealth's top of the line model, the BC Supreme-I is a sleek, modern looking chair that does a splendid job at combining the best elements of the company's design ethos in a single product.
The first thing you'll note is the presence of that late 80's, early 90's, push-button control panel on the swing arm, where most chairs would have a modern touchscreen LCD panel.
Its appearance is an odd juxtaposition on the chair, given its sleek, modern styling, but the more you look at it, the more it grows on you.
Features of the BC Supreme Massage Chair
Hybrid L/S-Track Design, Paired With Quad Rollers
This is exactly what you'd expect from the flagship model of any company. An ultra-long massage track with quad rollers, and that's precisely what the Beautyhealth Supreme offers.
In addition to that, a world-class core massage experience is assured, thanks to the combination of Body Scanning Technology and manual roller and massage field adjustment via the control panel as a fallback. The rollers will always hit where you need them to, and you'll always get a great massage.
A Generous Number of Options
Where massage techniques are concerned, the Supreme offers:
In addition to these, you'll find the following pre-programmed routines at your fingertips: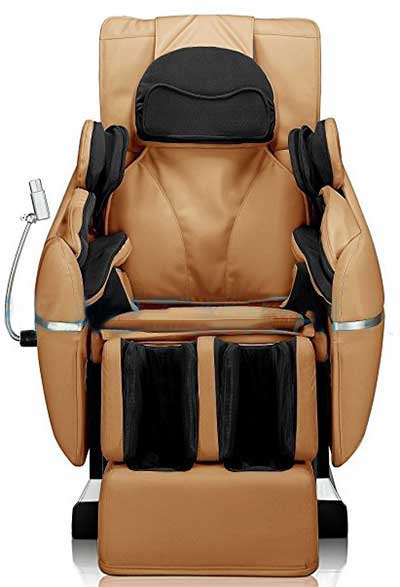 All of these can be modified via the control panel through five different speed and intensity settings, giving you a lot of options and possible combinations to play with.
Magnificent Air Massage
The air massage isn't quite as robust as the one offered by the 10D, but it utilizes an impressive 116 First Generation Airbags, and your massage experience can be customized via the control panel through three different intensity levels.
Back Heat
The company's description indicates that the heat offered by the Supreme is limited to the lumbar region of your back, but in practice, the oversized heating element provides relief to about the lower half of your back, which is superb.
Even better, you can precisely control the temperature via the retro control panel, which is something only rarely found on massage chairs at any price, so this is a job well done by Beautyhealth!
Zero-G Seating
It should come as no surprise, given that every other Beautyhealth model we've talked about to this point offered Zero-G seating positions. This one has multi-posture Zero Gravity Electric Reclining, where you can recline the chair up to 185 degrees with just 20 inches against the wall.
MP3 Support
There is a built-in MP3 player, with integrated flash memory stick and a headphone jack. We're not thrilled with this implementation, but it's always a nice addition, whatever form it takes.
Incredible Body Stretch Functionality
Okay, so we're on record as saying that there's nothing special about the Beautyhealth body stretch, and that continues to be true here. What's different though is that the company has made the decision to do this really well by offering lots of options.
If you suffer from chronic pain, you know firsthand that your pain level can vary from one day to the next. Some days, body stretching might be too intense for you to use, and if that happens, the Supreme has the answer.
It offers Body Stretch, Waist Twist, and Hip Swing, all at the touch of a button.
These all basically do the same thing but are increasingly less aggressive (body stretch itself being the most aggressive, waist twist being less aggressive than that, and hip swing being quite mild).
At first glance, it might seem that offering all three in the same model is a lesson in redundancy, and therefore unnecessary, but when you think about it, those three features have amazing synergy, allowing you to choose the perfect therapeutic option based on your pain level that day.
It's brilliant, and we'd love to see every chair in the industry offer that combination of features. If you suffer from chronic pain, you're going to love it.
An Equally Amazing Calf and Foot Massage
Almost a third of the chair's airbags (38 airbags) are located in the leg massage ports. Combine that with several mated pairs of massage balls to help render the calf massage, and both foot rollers and magnetic therapy for the soles of your feet, and you get a truly sublime experience!
An Extendable Ottoman
If you're a taller user, you'll be thrilled to know that this model also features an extension module on the ottoman, allowing it to accommodate users up to 6'5" in height. Actually, the module extends the ottoman by as much as 10", so it will probably accommodate users even taller than that!
---
Beauty Health Massage Chair Reviews Conclusion
As you've seen by our Beauty Health Massage Chair reviews above, these chairs have a lot to offer. They're surprisingly robust, given the fact that they rely heavily on older technology. We admire what the company has been able to do, and regard their products as hidden gems of the massage chair world.
They're certainly not perfect chairs, and they have their share of limitations, but the thing that will amaze you is how well these chairs fare against models that rely exclusively on cutting-edge technology.
Take, for instance, their use of First Generation airbags and Massage Balls in the leg massage ports.
These are both older (and significantly less expensive) technologies that do as good a job, if not better than Second Generation Airbags alone, and/or dual rollers (which is the current industry standard).
Beautyhealth has quietly made a name for themselves by designing chairs that don't try to do too much but focus on doing a handful of things really well, and that makes them, and all their products, striking.
---
References & Resources