In a Nutshell:
The Belava Elevate is the Gold Standard of pedicure chairs. A simply phenomenal model. Recommended for anyone who can afford it. Pricey, but since it's designed to be modular makes it ideal for salons and spas of all sizes.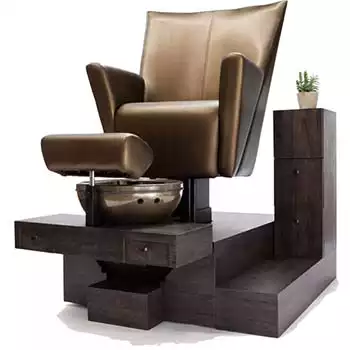 Unfortunately, this product has been discontinued. Check some of the Pedicure Chair we've reviewed.
Are you thinking about opening a spa or salon? Or perhaps you've already got one but are looking to update your pedicure chairs?
In either case, you're going to love our review of the Belava Elevate pedicure chair. It's got an amazing feature set with lots to love, both on the client- and technician-side. Best of all, it's not "just" a pedicure chair, but a modular system you can scale to your hearts' content to keep a unified theme in your spa or salon.
In the sections that follow, we'll look at everything this chair has to offer. Even if you ultimately decide it's more than you want to spend on a pedicure chair, we think you'll agree; this model sets the standard. Let's jump right in and take a closer look!
An Overview of the Belava Elevate Pedicure Chair and Modular System
Footprint and Aesthetic
When considering the Elevate's footprint, we'll just be looking at the chair and base itself, and not counting the dimensions of any of the add-ons or extras that go with the modular system. The chair (with one step to help clients take their seat) measures 52.25" x 40" x 52".
The chair itself boasts a sleek, modern look, and comes in a variety of colors (you can specify when you place your order). The styling will give your shop a look of sophistication, although the overall aesthetic may not be to everyone's liking. We find it quite beautiful, but of course, opinions will vary.
Technician-Centered Features
The Belava Elevate pedicure modular system is a pipeless chair, which has two key advantages. First, you won't have to spend time connecting it to your shop's plumbing system, which makes setup fast and convenient. Second, and the reason pipeless chairs are so popular is that cleanup is a snap.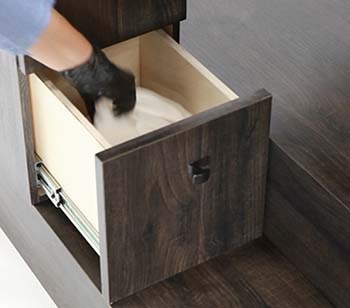 The height of the client's chair can be raised or lowered up to 9", under the control of the technician, minimizing the amount of stooping and bending they'll have to do — a convenient way to minimize back strain for your employees.
The chair's platform also has two drawers for storage, so your technicians will have everything they need to do their jobs, right at their fingertips.
It gets better though, because the optional equipment you can purchase as part of the modular system–which we'll talk more about in its own section–includes a compartment tower.
This compartment tower offers more storage for the technician, and serves as a side table for the client, complete with a compartment your customers can use to store their belongings while they're getting their pedicure.
The client's footrest is also well-designed, and a little higher than average, which also helps to minimize the amount of bending your employees will have to do.
It's worth mentioning that when you purchase the basic chair, you get the chair itself, a matching technician's chair, the single step, the foot spa, and fifty disposable liners.
Note that the technician's chair is an actual (wheeled) chair with a back, as opposed to a simple stool. The back support is something your employees will thank you for!
Client-Centered Features
Just as there's a lot to like on the technician-side of the equation, the Belava Elevate doesn't skimp on customer comforts, either!
We already mentioned the customer storage in the section above, but there's more. The Elevate also offers both heat and massage, which can be controlled by your customers at the touch of a button.
Note that the heat and massage are operated independently of each other, so your customers can either enjoy luxurious back heat on its own, massage on its own, or both together.
While we love the fact that the Elevate offers massage, we should point out that it's a simple vibration massage. This was a bit of a disappointment, but given how many pedicure chairs don't offer the feature at all, the fact that massage is present in any form has to be counted as a big win.
Even so, if Belava were to swap the vibrating nodes out for quad or even dual rollers, we'd like it even more than we already do.
Modular System
In our view, this is hands down the best feature of the chair. Belava did a masterful job of engineering it so that the extra components you can purchase can be used to create a row of pedicure chairs, fitting as many of them as you'd like (or have space for) next to each other seamlessly.
If you want to offer couples pedicures, it's easy to set two together to make a couple's bench. If you're looking to maximize the number of chairs in your shop, this system will allow you to create a "bench" with as many chairs right next to one another as your shop's floor space will allow for. Kudos to Belava for this approach!
Belava Pedicure Chair Elevate Pros and Cons
We like almost everything about the pedicure chair Elevate by Belava. It's a splendid mixing of form and function, and the modular system makes it a great fit for shops of all sizes.
If it had one drawback, it's the fact that it's on the expensive side. This is a case of getting what you pay for though, and discerning shop owners will recognize that they can draw in more customers and attract high-end clientele by spending a bit more on a chair like this.
Although, we readily admit that it might be priced out of reach for some owners.
Belava Elevate Pedicure Chair Review Conclusion
The Belava Elevate pedicure chair is the Gold Standard, in our view, only narrowly missing a perfect five-star rating. If the manufacturer improves the quality of the client massage, we would absolutely give this model a perfect rating.
Issues of cost aside, this is the chair you want. It's the chair that every other company should aspire to match.
---
References & Resources