In a Nutshell:
There's no denying the style that the Belleze Indoor Chaise Lounger brings to the table, but this chair fails to provide any compelling features or adjustable options, which makes it a slightly above average contemporary seating solution.
Indoor lounge chairs aren't something you see every day, but contemporary options have been steadily filling the market with chairs that combine style and comfort in surprising ways.
The Belleze Chaise Lounge Chair absolutely nails the contemporary look, but does it have the right feel?
Join us as we look at this chair in deeper detail, diving into the brand, the features, and the pros and cons that it presents to your living room.
Belleze Indoor Chaise Lounge Chair Overview
The Belleze brand focuses on modern furniture designs that value simplicity above all else. They hope to earn a lifelong customer in every sale that they make. They sell their furniture online, through Amazon, and keep up with social media and a blog as well.
The founder of Belleze, Raymond Pang, graduated from Cal Poly Pomona in 2012. He was planning on earning his MBA when he became interested in entrepreneurship. After attending a furniture trade show in China, he decided he wanted to start his own brand of furniture.
The Belleze website also offers fun facts about each of their members. Raymond, for example, is intrigued by first-class experiences when flying and always tries out the different options when he's traveling internationally.
Other members of the team, such as the customer service specialist, enjoy hobbies like powerlifting. These human touches represent the diverse team members that are employed by the brand.
Our focus here is the Belleze Lounger, which is a beautiful example of contemporary design. The curved shape is designed to support the back and neck, while also keeping you in a posture that is ideal for reading, relaxing, or napping.
The simple assembly also ensures that you'll be relaxing in your new chair in no time. A microfiber upholstery offers a smooth and simple cushion, while hardwood legs keep the chair stable.
It's a beautiful and well-designed chair, but it doesn't offer a lot of unique or high-end features. What's more, you won't be able to adjust the recline or support of the chair. Let's take a look at the features it does include in more detail here in our Belleze Chaise Lounge review.
Belleze Indoor Chaise Lounge Chair Features
While this chair doesn't have some contemporary features like zero-gravity seating or heated massage, that doesn't stop it from providing several compelling options in a simple design.
Contemporary Design
A sleek and contoured design ensures both a luxurious look and a relaxing experience in the same piece of furniture. The smooth upholstery, accent pillow, and soft microfiber material give the Belleze Chaise living room chair plenty of modern appeal without sacrificing an ounce of style.
Hardwood Legs
The bottom of the chair is adorned with hardwood legs that have a dark espresso finish. They act as a beautiful contrast to the rest of the chair, especially if you choose the gray option.
Easy Assembly
Both Belleze and customer alike have praised the assembly process for this indoor lounge chair. Everyone says that this piece of furniture is quick and easy to assemble.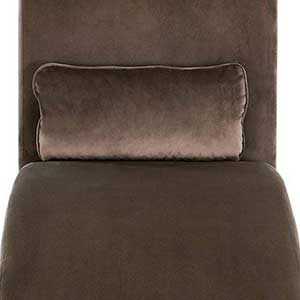 Matching Accent Pillow
An accent pillow is included with every purchase of the Belleze indoor lounge chair. Use the pillow for decoration, as a simple form of lumbar support, or as a cushion for your head.
Sinuous Springs
Sinuous springs are fairly common in sofas. These are large zig-zagging rows that run across the front of the sofa in a perpendicular fashion. In this chaise lounger, this results in a firm, yet comfortable feel.
Product Specifications
Pros & Cons of Belleze Chaise Lounge
Not all lounge chairs are created equal. While many people would assume that the term applies to outdoor furniture, this Belleze chaise lounge chair is meant to grace your living room. Below you will find a look at the pros and cons:
The Belleze lounger creates an excellent first impression with a design that combines timeless luxury with contemporary twists. The size and shape of the chair demand attention, while the materials and colors fit perfectly into any modern living room.
A sturdy set of coils promises firm support when you're sitting, laying down, or simply relaxing on the chair. Customers are also very pleased with how easy the chair is to assemble. Unfortunately, there are some downsides.
For starters, the chair has no adjustable features to speak of. The angle of the recline cannot be adjusted, nor is there any option for armrests or lumbar support. While this chair's approach is indeed simple and stylish, these kinds of modern options are always welcome.
With only three colors to choose from, the chair is also lacking in options for how you want to incorporate it into the design of your living room. While the available colors can work well for a variety of interior designs, a larger selection would be more gratifying.
Finally, the firm support in the chair may be a little too firm for some users. There's nothing wrong with sturdy support, but when it comes to the point that it's too hard on some people's backs, it could result to more problems than support.
While this is largely a personal preference, it's something to consider when you're looking at indoor lounge chairs like this one.
Our Verdict – Belleze Chaise Lounge Review
The Belleze Chaise Lounge Chair is an undeniably beautiful piece of furniture, but in this case, beauty is only skin deep. The chair looks great, it's easy to assemble, and it has some nice features, but it fails to truly impress beyond the basics.
Even so, if you're looking for a stylish indoor lounge chair to complete your living room decor, this is one of our top picks for an indoor lounge chair.
---
REFERENCES & RESOURCES: