In a Nutshell:
While the BCP Modern Accent Chair does come with a lovely ottoman, this chair's size and firm feel make it difficult to use for extended periods. Tall users will also find themselves uncomfortable in this small chair.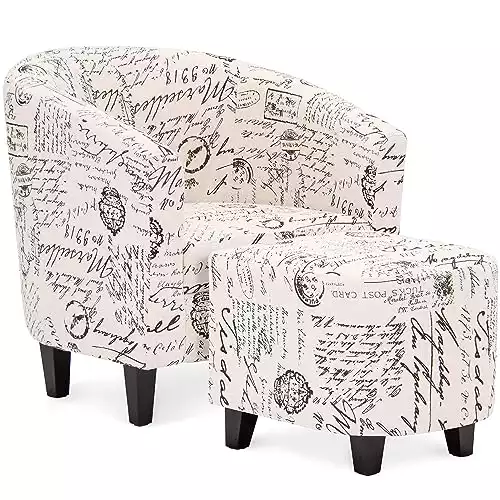 If you have ever tried to find a matching ottoman for your living room furniture, you know how difficult it can be. That's why the Best Choice Products Modern Barrel Accent Chair with Ottoman is such a great package deal. With both pieces included for under $150, there's certainly a great deal to be had here.
Of course, first impressions aren't everything. Let's take a look at the BCP brand and this chair in greater detail, including the features and pros/cons it offers, to find out if this accent chair would make a good addition to your living room.
Best Choice Products Modern Barrel Accent Chair with Ottoman Overview
Best Choice Products, often stylized as "BCP," is a furniture brand built from a very simple start. It all began in 2002 when the co-founders were playing a game of pool. They got to discussing the difficulty in trying to compare both in-store and online products.
They also complained about the insane shipping fees and the difficulty with getting furniture delivered if you bought it in person. Like so many other entrepreneur stories, this led them to create their own solution.
Almost two decades later, BCP is a brand that spans across multiple categories. These include home, outdoor, toys, furniture, and even fitness. True to the original vision, the company also offers free shipping on every purchase.
The brand also has a quality assurance team that hand-picks every product and meets with the manufacturers before selling the items online. Top this off with a dedicated customer service staff, and you have a very capable brand.
The Best Choice Products modern contemporary barrel accent chair with ottoman offers a quaint design with a beautiful French script across the upholstery. The convenience of a matching ottoman shouldn't be discounted either.
Next, we'll take a deeper look into the features this armchair offers.
Best Choice Products French Script Chair and Ottoman Features
While you may not have expected a chair like this, modern designs are pushing the limits of what fashionable furniture can achieve both visually and ergonomically. Here is a detailed look at the features the Best Choice Products French Accent Chair with Ottoman offers:
Matching Ottoman Footrest
A chair like this begs for a footrest where you can put your feet up and relax. While a reclining option would have been nice, the inclusion of an ottoman is the next best thing. The ottoman does not have a storage function, but it does have enough size and space to support your feet.
Contemporary Design
A chair with French print across the upholstery? Why not! The off-white base combines well with the unique design, and a second color option lets you decide which will fit better into your interior design.
Removable Cushion
A chair like this one is bound to get dirty, but you won't need to worry about cleaning. The removable cushion gives you the ability to quickly clean the chair from top to bottom.
Ergonomic Backrest
A tall and curved backrest combines with a firm cushion to give you proper lower back support. It's not lumbar support specifically, but it does offer some ergonomic value.
Solid Wood Legs
The chair and ottoman legs are made from solid birch wood, which gives the chair an elegant and beautiful look at the bottom.
Product Specifications
Pros & Cons of BCP Modern Accent Chairs
Best Choice Products accent chairs are certainly striking from a visual perspective, but are they perfect? No chair is, unfortunately, but there are plenty of reasons to give the Best Choice Products Modern Accent Chair with ottoman a second look. Here is a detailed breakdown of the pros and cons:
The quaint and curved chair shape make this an attractive piece of furniture at-a-glance. The French print on the material is certainly unique, but in the right space, it can really pop from an interior design standpoint.
The option to remove the cushions when you need to clean the chair and ottoman or wash the fabric is extremely convenient, and not something you would normally miss until it's gone. While the backrest doesn't have lumbar support, it does offer enough height and firmness to support your lower back.
Top things off with a matching ottoman and easy assembly, and it's easy to see why the BCP brand enjoys such positive reviews on Amazon. While these are certainly nice features, the chair only has two colors to choose from, which limits its usefulness in certain living rooms.
The firm design can be a con as well, as some customers feel it is so firm that the BCP French Accent Chair lacks comfort as a result. The tall backrest is sufficient for average heights, but tall users won't find the same level of support.
Finally, the ottoman itself doesn't open for easy storage. This isn't a deal-breaker, but many modern ottomans have this feature for keeping toys, remotes, or other living room items.
Our Verdict: Best Choice Products Modern Barrel Accent Chair
The Best Choice Products Modern Barrel Accent Chair with Ottoman is a striking piece of furniture that offers a great value for the price. While the design limits it to certain user heights, and the ottoman doesn't offer storage, the unique visual appearance is certainly enough to give this chair a place on your radar.
---
REFERENCES & RESOURCES