In a Nutshell:
The Best-selling Davis Club Chair is a beautiful choice for any living room, with plenty of colors to choose from. While it's a little expensive for what you're getting, the chair itself is very stylish and durable.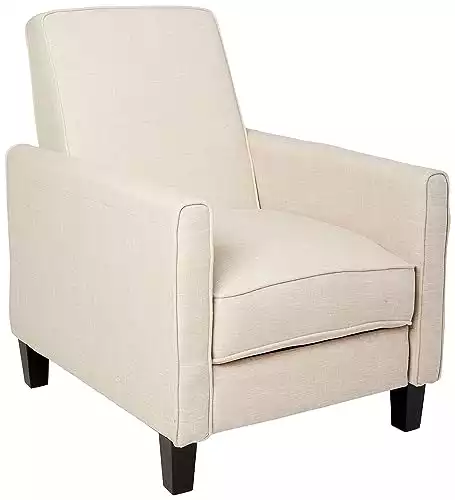 Furniture tastes and styles have changed a lot over the last several decades. Club chairs, while older in their origins, still have contemporary options to choose from. This Bestselling Davis Recliner Club Chair review takes a look at one of these modern options.
Join us as we explore the design, features, pros, and cons of this particular club chair to find out if it would make a wonderful addition to your living room.
Best Selling Davis Recliner Club Chair Overview
Club chairs have origins dating back to the early 20th century. It is a type of French armchair typically found in gentlemen clubs. Today, they are usually upholstered in leather or fabric and retain many of the same shapes from the Art Deco era.
These chairs are known for having clean shapes and very comfortable seating that provides support without as much depth as other types of armchairs. The Best-selling brand on Amazon includes a lot of different furniture pieces like this one that has a focus on elegance.
The Best selling Davis Recliner Club Chair comes as both a fabric and leather option. The fabric chair features reclining with a footrest, which is why it's our top pick among the choices. The wood frame and feet on the chair help it feel sturdy and durable.
Assembly is fairly simple, and the finished chair looks stunning in any living room, especially if you choose a color that matches the rest of your interior design.
Best Selling Davis Fabric Recliner Club Chair Features
Club chairs don't often include a lot of features, but this Davis Recliner Club Chair has a few hidden options under the exterior that help it stand out as one of our top lounge chairs for lower-back pain.
Reclining and Extending Footrest
You'll need about ten inches from the wall to utilize the recline feature, but the chair includes a footrest as well. There are two positions to choose from in total, and the chair goes back up to 35 degrees total.
Solid Frame and Feet
We would like to emphasize here in our Bestselling Davis Recliner Club Chair review that the wood frame and feet offer a luxurious and stable feeling when you're sitting in the chair. The sturdy design is one of the most highly praised features of this club chair.
Fabric and Leather Options
When you look at this chair, you'll notice that there are options for both fabric and leather upholstery. The leather option is indeed more expensive, so it's important to consider this when making your choice.
Chair Specifications
---
Pros and Cons of the Davis Recliner Club Chair
Club chairs like this one from the Best-selling brand on Amazon are typically more expensive than other living room chairs, but they do come with some useful features to accompany their excellent look and feel.
Here is a look at the pros and cons of this chair:
PROS
CONS
It all starts with the classic club chair design. A thick cushion, high back, rounded arms, and solid wood frame are all wonderful elements that we love to see in our living room chairs. It's not every day that you find a chair with a wood frame as sturdy as this one, along with polished wood feet.
The option to recline up to 35 degrees with a footrest also elevates this above other club chairs on the market. While the price does change depending on your choice, you can also opt for leather or fabric.
Being a luxury chair, this Bestselling Davis Fabric Recliner Club Chair does come at a higher price than others. The thick cushion and reclining back work well for relieving lower back pain, but the lack of lumbar support or adjustable features removes some of the ergonomic value.
Finally, the fact that the chair only reclines up to 35 degrees means that you won't be able to lay back fully while sitting in the chair. Despite these things, the Best-Selling Davis Fabric Club Chair is one that we recommend as a top living room chair for lower-back pain.
Our Verdict
Plenty of customers have written their own Bestselling Davis Recliner Club Chair reviews, and many of them have loved this club chair. While it's a little on the pricey side, we do love the design, reclining features, and overall comfort level of this chair.
If you're looking for a chair that offers a combination of comfort and luxurious design, this is an excellent option.
---
References & Resources: