In a Nutshell:
A surprisingly good budget-priced massage chair with a (kind of!) therapeutic feature! The BestMassage curved video gaming shiatsu massage chair is recommended for hobbyist users and gamers.
* Brand Reliability is a measure of the strength and longevity of the brand, which by extension, is a measure of the level of support you can expect.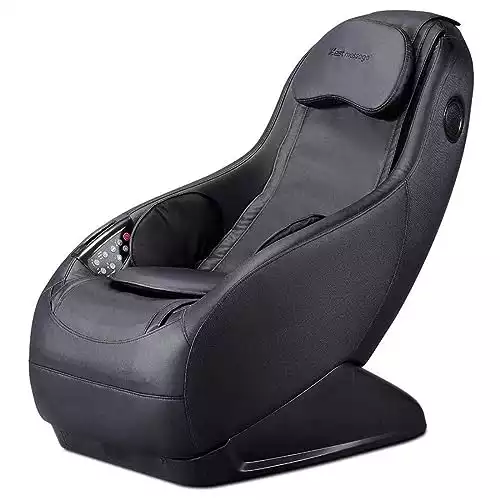 Are you on a super tight budget but want a massage chair that can give a decent, if basic massage?
Are you also a gamer?
If so, then you're in luck, and the Bestmassage curved video gaming shiatsu massage chair might be exactly what you're looking for.
Granted, given this model's rock bottom price, it's got some serious limitations. But if you're a gamer (specifically a console gamer) and are looking for a great chair to compliment your gaming system that can also pull double duty as a decent massage chair, this one will probably be on your short list.
In the sections that follow, we'll go over everything this chair has to offer. We'll also lay out the numerous things it can't do so that you've got all the information you need to make an informed decision.
Before we start talking about its massage-oriented features, let's talk a bit more about its status as a gaming chair.
Given its low-slung design, this is not a PC Gaming chair… not even close. It leans way too far back and sits too low to the ground for you to sit comfortably at your desk and manipulate the keyboard.
For console gamers, though, with a control pad in your lap, it's perfect! You'll find it very much to your liking. In fact, the massage rollers will serve as a secret weapon, allowing you to game for longer periods of time in comfort as they go to work on your back, glutes, and thighs.
BestMassage Curved Video Gaming Shiatsu Massage Chair Features
Track Design And Rollers
Shockingly, this model is built around a Hybrid S/L track. That's practically unheard of for a massage chair at this price range, making this the standout feature of the design. You just don't expect to see a roller-based massage chair with a long track like this for such a modest price.
Yes, it's true that the track only utilizes dual rollers instead of quad. A cost-saving move to be sure, but not one that detracts horribly from the overall quality of the experience. Given that this segment of the market is overrun with fixed-frame chairs utilizing stationary massage heads, we were impressed.
No Roller Positioning Tech
This is the gotcha. The equalizer. Remember before, when we mentioned the limitations of chairs at this price range? Well, here's the first of them.
Most massage chairs utilize either 3D Body Scanning Tech or buttons on the remote that allow you to manually position the rollers so that they hit where you need them to.
That's not the case here. The rollers follow the track and their position cannot be modified. The width of the massage field cannot be changed. If your body shape doesn't align with where the rollers are, tough. About the only thing you can do about it is wiggle around in the chair and hope for the best.
That's not the worst thing in the world, but it is a limitation to be aware of.
More Options Than You Might Expect
Again, we were pleasantly surprised with the number of options available. Where techniques are concerned, you get:
And in addition to that, you can select from three different intensities and two different speed settings. That's honestly not bad for such a modestly priced chair.
Hip Twist!
Here's the only therapeutic feature the BestMassage chair offers. Hip Twist is a milder, less aggressive substitute for body stretching.
It's useful for people who suffer from chronic pain because it has the same basic benefits as a chiropractic adjustment. Pain relief is almost immediate as the twisting action takes pressure off compressed discs in your spine.
However, the implementation is a bit on the weak side as the chair only has two airbags. Though it offers a firm grip, the two airbags are only capable of providing a relatively modest twist. So, this may or may not offer you much in the way of therapeutic value. It's something you'll want to try before you buy.
It's not that therapeutic benefit will make you purchase this particular model, but if you suffer from chronic pain, this feature can be a nice, unexpected perk.
Semi-Adjustable Massage Timer
We were genuinely surprised to see a time-adjustment feature on such a low-priced model. All massage options default to a 20-minute duration, and you can adjust this to either 15 or 30-minutes, at your preference. A very nice touch that gives the model a feeling of polish and refinement.
Bluetooth Compatible
As you'd expect from a gaming chair, there are speakers built into the headrest, and they are Bluetooth compatible, which is another unexpected feature in a chair at this price point.
No Remote, But A Simple Control Panel
Although this model doesn't come with a remote, the few buttons you need to control it are built into one of the chair arms, and everything is well positioned, making using it a snap. You won't have any difficulty at all in that department.
Pros & Cons of the BestMassage Shiatsu Massage Chair
When we started looking at this chair, we didn't have high hopes. Almost every model in this price range is a disappointment, so we have to admit that we were pleasantly surprised at its capabilities.
Sure, there are severe limitations. The biggest one being the lack of body scanning tech or some ability to manually position the rollers. Plus, the speakers could stand an upgrade to give them a bit more bass. But all things considered, this chair performs surprisingly well and has more features than you'd expect.
Other than shoring up these areas, we can't say we'd want to see anything added. Anything we'd recommend would take it out of its current price range. If anything, we'd recommend getting rid of the two airbags and using the savings to pay for the upgrades mentioned above.
BestMassage Gaming Shiatsu Massage Chair Review Conclusion
Low-end chairs like this are hard to rate fairly. If you could spend just a little more money, you'd wind up getting a much better massage chair. But for what this is, we were impressed, and you will be too.
Don't make the mistake of thinking this is a therapeutic chair, even with the existence of the Waist Twist feature. It isn't. At best, it is a hobbyist/gamer chair with a therapeutic-like feature that may be helpful to some users.
Given the price, though, you won't be disappointed in its performance.
---
References & Resources