In a Nutshell:
A solid, but unexceptional budget-priced chair with just enough features to make it interesting. The BestMassage EC 06C Massage Chair is a great option for hobbyist and casual users.
* Brand Reliability is a measure of the strength and longevity of the brand, which by extension, is a measure of the level of support you can expect.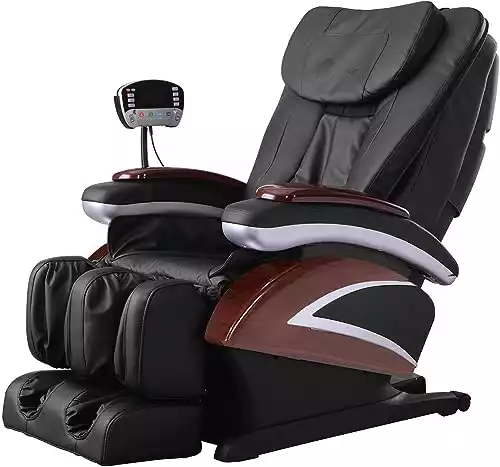 Are you tight on your budget?
Looking for a basic massage chair with just enough features and surprises to make it a delight to use?
If so, you may be intrigued by the BestMassage EC 06C massage chair.
As an entry-level chair, the EC 06C is by no means perfect, but it is well-priced and does have some intriguing features.
In the BestMassage EC 06C review that follows, we'll take a closer look at these features to help you decide if it's the one you've been looking for.
BestMassage EC 06C Massage Chair Overview
The BestMassage BM EC 06C is something of a departure from others we have reviewed. It is off-brand, manufactured in China, and sold by a number of vendors under a variety of labels. The one consistency you'll see, however, is that it maintains the model designation "EC 06C."
BestMassage Shiatsu Massage Chair BM EC06C Features
S-Track Design
The BestMassage EC 06C gets off to a strong start, offering an extended S-Track that the rest of the chair is built around. This allows the quad rollers to travel quite far down the length of your back to your tailbone.
Since the chair uses quad rollers, you're getting a quality massage; much better than you might expect from such a low-priced chair.
Neck Massage Function
Apart from the main track and rollers, there are additional rollers in the head rest, which is described to deliver a "Tsubo point" neck and shoulder massage. It's unclear what, if any therapeutic value this has, but it feels nice, and is an intriguing addition.
Automatic Body Scan
In order to ensure that our BestMassage EC 06C review is as comprehensive as possible, we need to go into some detail about the body scan feature of this chair.
In fairness to BestMassage, they don't describe this feature to be 3D Body Scan Technology, but it's clear that this is what they are attempting to emulate. Unfortunately, their scanning function falls a bit short of the mark.
While not as good or as accurate as the body scanning technology offered by mainstream brands, it's not awful. It can, however, miss the mark at times, causing the rollers to be slightly out of position.
Unfortunately, there's no manual way to correct for such errors. Thus, you're left having to adjust your position in the seat so that the rollers can hit the spots you need them to. Although this doesn't happen always, don't be surprised when it does.
Slightly Heated Rollers
The BestMassage EC 06C offers one surprise feature not found in the chairs of mainstream brands, and it's one we hope to see widely adopted.
The rollers are slightly heated, adding a touch of warmth to the massage you're getting.
A real mark of distinction, this is in addition to the heating elements in the chair we'll talk about later. The heat is very mild, so it's doubtful that it adds much in the way of therapeutic value. Nevertheless, the rollers are warm enough that you notice, adding a nice dimension to the overall massage experience.
More Options Than You Might Think
Given that this is an entry-level chair, you're probably not expecting much in the way of choices. But in this regard, the BestMassage EC 06C will exceed your expectations by offering the following massage options:
4 Massage Techniques
3 Automatic Massage Programs
So it's got the basics covered, and delivers a fairly good Shiatsu massage too, which is the surprise entry on this list. You can also customize the intensity of your massage across three different levels.
Some users have reported that the massage quality is slightly inferior to that of mainstream chairs, however it's not something that most users would notice.
Vibration Style Seat Massage
This is a relatively minor feature that isn't especially well rendered in the BestMassage EC 06C. If your experience is similar to most people, you'll feel as though it's trying to shake you out of the seat. Plus, many users have reported that when in this mode, the chair is unusually loud.
It may be useful in some situations, but if there's one feature you find yourself not using often, this will probably be it.
Lumbar & Foot Heat
Many other BestMassage EC 06C massage chair reviews on the web make much of this feature, and with good reason.
It's rare enough to find lumbar heat in an entry-level massage chair. But to find heat in both the lumbar area and the leg ports is practically unheard of—an excellent addition, to be sure.
There are some limitations, of course. First, you can't adjust the temperature, and if you activate heat, you activate it for both regions. There's no way to have lumbar heat without leg heat or vice versa. Even so, it's a great feature addition.
A quick note about the heat in the leg ports. Most massage chairs that offer this feature see the heat applied to the calves of the user. In this case, the heat is applied to the soles of the feet. It's unexpected, but not at all unpleasant, although with the heat in this location, there's obviously no therapeutic value to the user's calves.
Air Massage Mode
Our BestMassage BM-EC-06C review would not be complete without giving a special nod of approval to the air massage. It's one of the best features the chair has to offer.
Utilizing 30 First Generation Airbags, the massage quality you get is comparable to mainstream, name brand chairs, and it has more airbags than many chairs that are significantly more expensive.
Even better, you can customize the massage you get from it via three different intensity settings, making it surprisingly robust for such a low-priced chair.
Calf and Foot Massage
The BestMassage EC 06C's calf and foot massage is a bit unusual, as it utilizes only airbags. There are no foot rollers present. The real surprise though, is that the foot massage is surprisingly good, even in the absence of foot rollers. Something mainstream brands would do well to at least consider.
Granted, minus the rollers, the quality of the foot massage suffers somewhat, but it's an interesting idea worth exploring further.
Slightly Extendable Ottoman
The BestMassage EC 06C's ottoman has an extension module, but the specifications seem off. Even at full extension, the chair isn't a good fit for anyone much taller than 6'1".
It was an excellent attempt, but they missed the mark a bit here. Most mainstream brands will support users of this height, even without an extendable ottoman.
Easy to Use Control Panel
Unfortunately, the BestMassage EC 06C doesn't have a remote, but the control panel on the chair arm is clearly marked and easy to use. Since the chair doesn't come with an overwhelming number of features, there's not much of a learning curve, so you'll be able to master it in no time.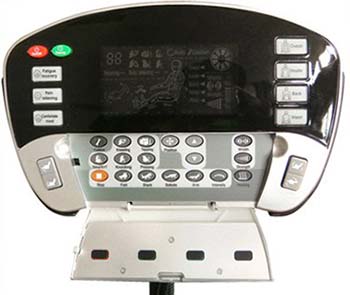 BestMassage EC 06C Massage Chair Pros & Cons
For the money, the BestMassage EC 06C massage chair has a lot of features, but you have to understand what you're getting yourself. This is an off-brand chair, manufactured in China. It only has a 1-year warranty. So, should something go wrong, you're going to have a difficult time getting it repaired.
The EC 06C is also a beast to move; it's incredibly heavy. So, once you get it where you want it, you're probably not going to move it without help. Setup instructions can be a little cryptic and hard to follow, but that's mostly a language barrier issue, and something you only have to deal with once.
A lot of the features the chair has, attempted to mimic features in more expensive chairs, such as body scan and extendable ottoman, but with mixed results.
Then there are features it just doesn't have at all. Granted, you wouldn't expect an entry-level chair to have advanced features like Zero-G seating. But, things like MP3 support and a remote are so common that their absence here is both notable and unfortunate.
It's not that this is a bad chair, but for the right person, it could even be a very good chair. If you're on a budget and need a massage chair right now, this one will serve you well enough. But if you can afford to wait, you're probably better off saving your money and getting something more robust and with better support.
BestMassage EC 06C Review Conclusion
The BestMassage EC 06C massage chair is far from perfect. There aren't just enough features offering therapeutic benefits to make it anything other than a hobbyist chair. Besides, as heavy as it is, someone with chronic back pain would probably throw their back out attempting to move it.
Even with its various caveats and limitations, though, given the low price it sells for, it's a decent massage chair and worth considering.
---
References & Resources