In a Nutshell:
For under $100, The BestOffice Ergonomic Office Chair doesn't offer a lot of ergonomic features, but it does have a higher back height than most, along with plenty of padding and an adjustable height.
* Brand Reliability is a measure of the strength and longevity of the brand, which by extension, is a measure of the level of support you can expect.
** While aesthetics is a matter of taste, Aesthetic Flexibility is a measure of how easily a given design would fit into a wide range of home or office décor schemes.
Ergonomics is a primary focus in today's office chair designs. As we begin to understand the human body, and the effects of sitting for long periods of time are discovered, chair manufacturers are making smarter designs to meet the needs of the human body.
Of course, not everyone has the budget for a high-end ergonomic office chair. Join us for our BestOffice Ergonomic Office Chair review, to find out if this sub-$100 solution is right for your needs!
BestOffice Ergonomic PU Leather High Back Office Chair Overview
The BestOffice brand of office chairs covers a wide selection of different styles and purposes, but all of them come in at affordable prices. It is a brand that is highly regarded online, with plenty of positive reviews for their furniture.
The BestOffice Ergonomic Office Chair is a simple, but functional design that includes padded armrests, tilt tension control, ample padding, and a PU leather upholstery. With three color options and a price that falls beneath $100, this is a chair that can quickly fill a gap in your office furniture needs.
Let's take a look at the features it offers for this extremely affordable price point.
BestOffice Ergonomic Office Chair Features
While our expectations were tempered going into an office chair under $100, this option from BestOffice left us pleasantly surprised. Here is a look at everything it offers: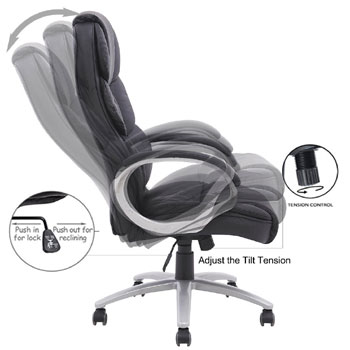 High Seat Back
The back of the seat has a more considerable height than other chairs on the market. This makes it ideal for taller people who need the extra height. The back side is 20 inches wide by 28 inches high, to give you an idea of the additional space.
Adjustable Height
Like any office chair worth its upholstery, this BestOffice Ergonomic Office Chair offers flexible height options between 19 and 23 inches. This is handled by a hydraulic mechanism beneath the chair.
360-Degree Swivel
Flexibility is paramount in these types of office furniture. The 360-degree swivel allows you to move around freely in any direction, all without leaving the chair.
High Weight Capacity
This BestOffice Ergonomic PU Leather High Back Office Chair has a weight capacity of 250 pounds, which is lower than Big & Tall chairs, but it is a sufficient amount for most users.
Oil and Water Resistant
If you happen to spill something on the chair, you can relax. The PU leather used to upholster it is both oil and water-resistant.
PU Leather Upholstery
The chair is upholstered in PU leather to give it the look and feel of genuine leather without the price typically associated with it.
BestOffice Ergonomic Office Chair Specifications
Pros and Cons of BestOffice Ergonomic Chairs
Perhaps the best reason to consider this chair is the price. For under $100, you are getting a lot of great features, but it does tend to lack in a few areas. Take a look below for a breakdown of the pros and cons:
An excellent price combines here with ample padding across the chair. This also includes padding on the armrests to keep your arms from getting sore. The high back makes the chair ideal for taller users as well.
For shorter users, it simply allows them to use the extra space as a headrest. Unfortunately, for the price point, you aren't going to see a lot of ergonomic features. We would have liked to see things like lumbar support, adjustable armrests, and other common features.
Customers have reported that PU leather, while a nice alternative to genuine leather, does not have long-term durability. After a year or more, it will begin to crack and tear, based on some customers' experiences.
Final Verdict: BestOffice Ergonomic Office Chair Review
You're not going to find much more for a $100 than you'll find here in our BestOffice Ergonomic Office Chair review. The chair combines comfort with several different features that enhance the overall quality.
While it is missing some vital ergonomic elements, this chair will give you plenty of things to love about it, starting with the price point.
---
Official Manufacturer Support​
REFERENCES & RESOURCES