In a Nutshell:
The Catnapper Omni Power Lift Recliner is a big, burly, comfortable lift chair for sitting and/or sleeping. Great for anyone up to 450 pounds who's in the market for a chair they can spend serious amounts of time in, and even get a decent night's sleep in IF you don't mind not having infinite seating positions.
* Brand Reliability is a measure of the strength and longevity of the brand, which by extension, is a measure of the level of support you can expect.
** While aesthetics is a matter of taste, Aesthetic Flexibility is a measure of how easily a given design would fit into a wide range of home or office décor schemes.
Do you have trouble sleeping in a bed?
Do you suffer from some type of mobility issue?
If you answered yes to either of those questions, then you're probably looking for a good recliner that's comfortable enough to sleep in, and if you have some type of mobility issue, it would probably be nice if that chair came with lift functionality to give you a boost, right?
If that describes your situation, then you'll be intrigued by the Catnapper Omni Power Lift Recliner. It's a basic, rugged lift chair that's more than comfortable enough to nap, or even sleep through the night in. It is not, however, a perfect chair. It's got one significant drawback that might be considered a deal-breaker for some.
Not to worry. In the sections that follow, we'll go over everything this chair can do, and we won't be shy about pointing out its shortcomings. That way, you'll have all the information you need to decide for yourself if this is the chair you've been looking for.
Our goal is to help cut through the clutter because there are so many different models and options available that finding the "right" chair for you can be a daunting task indeed. It can lead to a kind of analysis paralysis. If you've been feeling overwhelmed in your search so far, let's dive in and see what this model has to offer!
Overview of the Catnapper Omni Power Lift Recliner
First impressions are important, and the Catnapper Omni 4827 motorized lift chair makes a good one. It's a big, comfy-looking chair that almost calls out for you to come have a seat in it. Unfortunately, it might be a little too big for some households. Since it wasn't built with space-saving technology, it's going to require at least two feet of clearance between the seatback and whatever wall you plan to put it near.
Before we go any further into details of its various capabilities, let's take a quick look at the core stats that define this model:
As you can see from these numbers, this is definitely a chair built with bigger, taller folks in mind. If you're shorter than, say 5'4", this chair will likely swallow you whole. It's just not a great fit for shorter people, so before you buy, be sure to take careful measurements, so you don't wind up spending money on something that's not going to fit you like a glove.
Assuming your measurements and the chair's are a good match, you'll find quite a lot to like about this model, including the fact that it's available in a modest number of colors. You can select from:
The chair is somewhat more lightly constructed than others in its class, so it's only got a 1-year warranty standard, but a 5-year warranty is available for a nominal additional fee.
Features of Catnapper Omni Lift Chair
Adjustability & Comfort
We were impressed by the Omni's comfort. It utilizes generous amounts of conventional block foam, augmented by comfort coils, just like you find in many top-quality mattresses. Not only do these provide a more comfortable seating experience, when you fully recline the chair, the experience is surprisingly similar to laying down in a proper bed.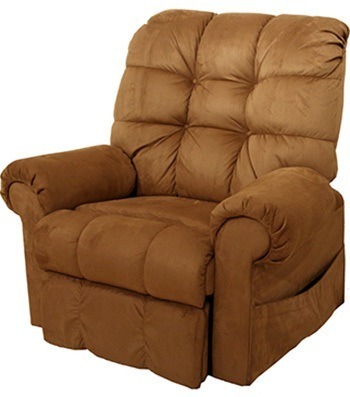 Unfortunately, as we mentioned previously, the Catnapper Omni does have one significant shortcoming, and depending on your needs, it might be a deal-breaker. This is a standard three-position recliner. You can select from Upright, Reading, or Sleeping. There is no mechanism to exert fine-grained control over the angle of recline. If you're unhappy with the three presets, you're out of luck.
Of course, if you're a committed DIYer, you could probably reconfigure the motors to allow yourself unlimited recline flexibility, but if you're going to go through all that trouble, you may as well just get a different chair.
Related to the drawback above, the footrest cannot be reclined independently of the seatback. The presets move them together. Again, depending on your particular needs, that may be fine, but if you're looking for a chair with more flexibility, this one isn't the model you want.
In any case, the seating option of your choice and the lift function can be selected from the simple wired remote that comes with the chair.
Storage & Extras
This is a basic chair, so there's not much on offer where storage and extras are concerned. There is one modestly sized storage pocket available. It's a bit undersized for our liking, but it is big enough to store your favorite magazines, newspapers, and a few essential supplies.
The only extra on offer is a simple, effective battery backup system. We hope that you'll never need it, but if you find yourself home alone and sitting in the chair when the power fails, you'll be very glad the battery backup is there. It will activate the lift function and help you get out of the chair and back on your feet. Even better, it's powered by a simple nine-volt battery.
Our recommendation is to invest in a pack of rechargeable 9-volts and a little recharging station, and you'll never have to worry about it again.
No Assembly Required
The chair will arrive fully assembled at your door. All you'll have to do is attach the power cord to the back of the chair and plug it in. Even so, if you have serious mobility issues, that, and maneuvering this hefty piece of furniture into place might be more than you're willing or able to tackle on your own. In that case, the company offers White Glove service for a nominal additional fee.
---
Pros & Cons of the Catnapper Omni 4827
There's a lot to like about the Catnapper Omni, but it does have its drawbacks. On the plus side, it's a comfortable chair for sitting, napping, and sleeping. It's reasonably well made and easy to use, and it comes with a simple, effective battery backup system that will serve you well when the lights go out.
It's even offered with White Glove service, which makes setup a breeze. All of those are very good things.
On the flip side though, it's a three-position recliner, and that's a serious, but not necessarily fatal limitation.
---
Final Thoughts on Catnapper Omni 4827 Motorized Lift Chair
Ultimately, the Catnapper Omni Power Lift Recliner is a self-selecting chair. Aside from comparing your measurements with the chair's the big deciding factor that will determine whether this is the right chair for you or not comes down to whether or not you can live with the fact that this is a simple, three-position sleeper recliner with a good lift function.
If you're fine with that, this is a great option. If you're looking for a chair with an infinite number of recline possibilities and advanced seating options like Zero-G or Trendelenburg seating positions, give this one a pass. On that basis, we provisionally recommend it.
---
References & Resources: