In a Nutshell:
The Cleo GX Pedicure Chair is an exceptionally engineered chair focusing more on technician-side features than client-side. A striking design and a solid value for the money. Great for small to medium-sized spas and salons.
If you're considering opening a spa or salon, the number of pedicure chairs on the market today can leave you with analysis paralysis, which may leave you wondering which pedicure chair is "right" for you.
It's a tough call, because every manufacturer claims that their products are the best. Obviously, they can't all be the best, so ultimately, it comes down to exactly what you want and are looking for.
The Cleo GX pedicure chair has a great mix of features but is more focused on features that make the technician's job easier and more efficient, which means you can handle a greater number of clients per day. It doesn't completely ignore creature comforts for your clients, but that's not where the main emphasis is.
If you're looking for a well-priced, exceptionally-engineered pedicure chair that will make your operation more efficient, this is a solid choice. There's a reason it placed a strong second in our roundup review, and you won't be disappointed.
An Overview of the Cleo Pedicure Chair
Footprint and Aesthetic
The Cleo GX pedicure chair is a sizable piece of equipment, measuring 55.25" x 27.75" x 55" and weighing in at a healthy 225 pounds, making it the second heaviest chair in our roundup review.
Aesthetically, it boasts a sleek, modern design, yet manages to remain understated, which is no easy feat. As such, if you're planning to open a spa with classical or Old World styling, this isn't your best bet, but that will only apply to a tiny minority of potential customers. For everyone else, it'll fit in with your planned décor scheme just fine.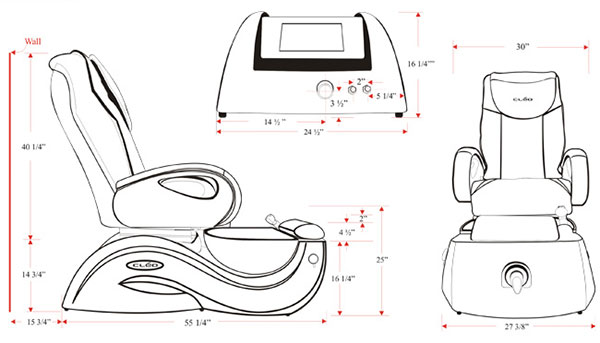 Note that when you order the chair, you do have several options that will allow you to tailor the chair to better fit the look and feel of your establishment, including:
The spa bowl color, which is available in black nickel, crystal reflections and gold reflections.
The chair base, which is offered in bone, gray, and white.
And the chair itself, which can be ordered in:
Technician-Centered Features
This is where the J&A Cleo GX really shines. It's packed with features your technicians will love, including a three-stage adjustable footrest, which means your technicians won't break their backs while they go about their work, and the exceptional DuraJet foot massager, which utilizes disposable liners, making cleanup a snap.
Arguably, both of these are also client-side features, since the footrest can be adjusted to maximize client comfort and the foot massager has obvious client benefits, but the main reason for their inclusion was to make your technicians' lives easier.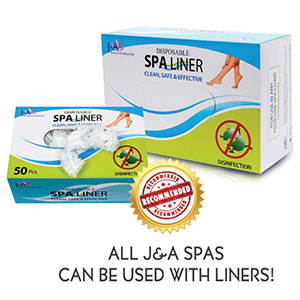 The chair is also a pipeless design, which makes long-term maintenance a snap, and the auto-fill sensor makes the operation of the Cleo GX a breeze.
Note that although the chair and base are not modularly designed, which means that they won't stack seamlessly against each other, their pipeless design does play a role here, in that it enables you to put them quite close together.
Client-Centered Features
Despite being engineered with more technician-centered features, the Cleo GX pedicure spa does offer some attractive client-centric features as well, not the least of which is the comfort of the chair itself. We'd like it better if it offered heat and/or massage, but even without these things, the chair is quite comfortable (and comes with a pillow) making it easy to relax into.
There's also a convenience tray with a cup holder that can be folded out of the way, to the side of the chair when it's not needed.
As we mentioned, the footrest is adjustable and although that's mostly for the benefit of the technician, it can certainly be adjusted to enhance client comfort.
The foot bowl is generously-sized and offers a great massage, courtesy of the DuraJets, and it includes a shower head too, which is even better.
Pros and Cons of the Cleo GX Pedicure Spa
There's a lot to like about the Cleo pedicure chair, but again, most of the "extras" included in its design are technician-centric. That's not necessarily a bad thing, because in practice, your clients aren't going to be spending hours on end in the chair in any case, and it's certainly comfortable enough to satisfy for the time they will be spending in it.
We like almost everything about the model, but in terms of improvements, we'd love to see more attention paid to client-side features, including a heated backrest, a massage function, or both. In an ideal world, there'd be even more color customization options, and perhaps even material options as well.
Cleo GX Pedicure Chair Review Conclusion
The Cleo GX pedicure chair is exceptionally well-built and offered by one of the leaders in the industry. Although this model did not take top honors in our roundup review, when you look at J&A's lineup as a whole, you'd be hard-pressed to find a company with a better overall product line. Even if the Cleo GX isn't the "right" chair for you, the company offers a variety of strong models, and one of those is sure to be a match for you.
On its own, the Cleo GX came close to capturing top honors on our roundup review. In fact, it was only the absence of a more complete set of client-centric features and its lack of a truly modular design that caused it to place second, behind the Belava Elevate.
On the flip-side, the Cleo GX is less expensive than the Elevate, so if those things aren't as important to you, then this is a superb choice indeed. Highly recommended.
---
References & Resources