In a Nutshell:
Comfort Products Commodore II is a surprisingly good, basic big and tall chair. It is recommended for taller users, and most bigger users who are on a budget and in need of something functional and comfortable for light to moderate daily use.
* Brand Reliability is a measure of the strength and longevity of the brand, which by extension, is a measure of the level of support you can expect.
** While aesthetics is a matter of taste, Aesthetic Flexibility is a measure of how easily a given design would fit into a wide range of home or office décor schemes.
Are you a taller or bigger user, looking for a new office chair to replace your aging one? Are you on a budget and looking for something that won't break the bank? If you answered yes to either of those questions, then the Comfort Products Commodore II might be precisely what you're looking for.
Haven't heard of Comfort Products? Although the company has been in the business since 1919, surprisingly few people have. They make a lot of B2B sales and don't have a massive footprint in the consumer market, but they certainly know their way around the office furniture market and this chair is an excellent example of their work.
Sure, it's got its limitations, but then, that's true of even the best chairs on the market today, and for the money, this model brings solid value to the table.
In the sections that follow, we'll tell you everything the Commodore II gets right and be quick to point out the chair's shortcomings. That way, you'll have all the information you need at your fingertips to decide for yourself if this is the chair you've been looking for. If that sounds good to you, let's jump in and take a closer look!
An Overview of the Comfort Products Commodore II Big and Tall Leather Chair
It's got flair. That's the first thing we thought when we saw the Comfort Products Commodore II Big and Tall Leather chair for the first time. There's something about the design of the upper back that gives the chair a certain vaguely futuristic, or at the very least, artistic look to it. It probably won't be for everyone, but we find it to be quite a handsome model that blends in well with most home or office décor schemes. It's only offered in black, but that's a pretty universal color, and as we said, it works in most settings.
Before we take a closer look at specific features, let's press pause and do a quick review of the core stats that drive and define the model:
The big thing that jumps out at us here is that there's a great deal of synergy between the various numbers. The seat height adjustment range is definitely in big and tall territory. And although the maximum supported weight isn't as impressive as some big and tall chairs, this model definitely belongs in that part of the market, and the seat width and depth are good fits as well.
Features of the Commodore II Big & Tall Leather Executive Chair
Comfortability
Aside from being a fairly attractive chair and possessing stats that make it well-positioned for the big and tall segment of the market, the Comfort Products 60-5800t Commodore II is also more comfortable than we expected it to be. It's generously padded with conventional block foam padding. There's nothing fancy about block foam, but it's incredibly widely used, and in sufficient quantity, it is delightfully comfortable.
Of course, comfort is about more than just padding, and the Commodore II has a trio of ergonomic features that enhance it. These are:
All three of these features are decent, but all have their limitations. As we mentioned, the lumbar support isn't adjustable at all, and the headrest, while decent, works a lot like the headrests you find in car seats. It moves up and down, but is not articulated, so it doesn't provide as much support as it could.
We really like the waterfall-edge style seat and consider it to be this model's best ergonomic feature, but there's a catch and another limitation there as well. The Commodore II Big & Tall Leather Executive chair is clad in bonded leather. That's real leather, but it's made by fusing scraps together, which makes it structurally weaker and less supple than genuine grain leather.
From a practical standpoint, in addition to not being at all pet-friendly, that means that it doesn't age well and will start peeling and cracking after about a year of heavy daily use. If you use the chair lightly to moderately every day, you can expect it to last two years, but even if you're super careful with it, it won't last much beyond that.
The other limitation where the upholstery is concerned is that bonded leather is not at all breathable. If you plan on using the chair for 8+ hours a day, you'll start off sitting comfortably, but by around midday, you'll start getting hot and sweaty, and that will only worsen as the day grinds on.
As much as we like the waterfall-edge style seat here, it's at its most effective when paired with a chair that's optimized for heavy daily use, and this chair simply isn't. It could be, but not with bonded leather upholstery.
Adjustability
In terms of adjustability, the Commodore II doesn't stray far from the basics. You get the usual 360-degree swivel, tilt, and lock (with a maximum recline angle of 120 degrees), and the height adjustment bar under the seat.
Also, as mentioned earlier, the headrest is somewhat (height) adjustable, but limited in this regard for not being fully articulated. The armrests, while padded and comfortable, are fixed in their position and are not ergonomically adjustable.
Assembly is Required
Like the overwhelming majority of office furniture sold today, the Comfort Products Commodore II Oversize Leather chair does not arrive at your door fully assembled and ready to use. You'll have to unbox it, sort the pieces, and put it together yourself.
Although the chair is a Chinese import and made with relatively low-quality materials, the production quality is better than we were expecting and all the pieces aligned properly, which makes the process of putting the chair together relatively straightforward.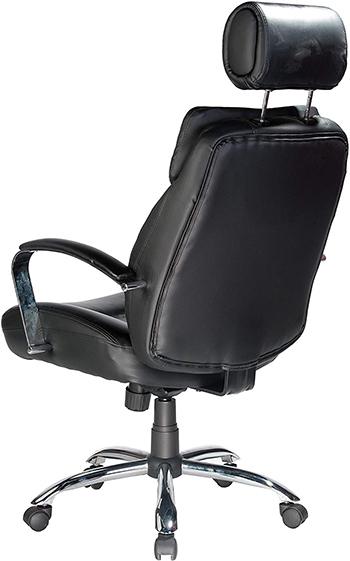 Understand though, that this is a sizeable piece of furniture. The seat and seatback are large enough to be ungainly and worse, the armrests attach to both of those, which can make the process a bit of a headache if you're doing the assembly solo.
Expect it to take about 35 to 40 minutes if you're by yourself, and you can shave 10 to 15 minutes off of that if you have an assistant standing by on the day the chair arrives.
Of interest, this model comes with the option of expert assembly for an added fee. We don't recommend it, even though the assembly process isn't as smooth as we'd like. That's because the assembly fee adds almost 50% to the price of the chair. That's too rich for our blood, but if you're desperate to have someone else put it together for you, know that the option is available.
Pros and Cons of the Comfort Products 60-5800t Commodore II
Here are the things we like best about the Commodore II Oversize Leather Executive Chair:
And here's what we don't like about the chair:
In our view, the pros far outweigh the cons, making this a solid chair that falls short of true excellence.
Final Thoughts on Comfort Products Commodore II
The Comfort Products Commodore II is aimed squarely at the big and tall market. If you're on the short side, this chair simply isn't going to be a good fit for you. In a similar vein, the chair is too lightly constructed to support the heaviest users in this segment of the market. And given the relatively low-end materials used in its construction, it would be unwise to exceed the maximum recommended weight limit by any significant degree.
On that basis, and assuming your weight and measurements are aligned with the chair's, we provisionally recommend it for light to moderate daily use.
---
References & Resources