In a Nutshell:
An excellent entry-level chair for hobbyist use and (some) chronic pain sufferers. The Cozzia 16018 massage chair is recommended for hobbyist users, people who suffer from chronic lower back pain and/or chronic leg pain and no one over 6'2".
* Brand Reliability is a measure of the strength and longevity of the brand, which by extension, is a measure of the level of support you can expect.
Are you on a budget, but looking for a massage chair that can do more than just the basics?
If so, then you're going to be very interested in our review of the Cozzia 16018 massage chair. We'll go over everything the chair can do, and tell you about its limitations so you can make an informed purchasing decision.
The brand may not be well known, but Cozzia has a reputation for offering surprisingly full-featured products for the money.
About the Cozzia 16018 Shiatsu Massage Chair
Bear in mind that this is an entry-level, budget-priced chair, so it's going to have certain limitations. We think you'll agree, though, that for the money, this is an excellent model to consider, and might be just what you've been looking for.
That said, let's take a closer look at what this model has to offer.
Cozzia 16018 Massage Chair Features
S-Track Design & Quad Rollers
These are both current industry standards, so it's no surprise to see them featured here. The S-Track allows the rollers to move in three dimensions: Up/Down, Left/Right, and In/Out, following the natural ​curve of the spine.
The quad rollers are one of the keys to providing a high-quality massage as they closely mimic the feel of human hands.
3D Body Scan
By themselves, an S-Track and quad rollers aren't enough to guarantee a great massage though. If the rollers aren't hitting the sore spots in your back, you're not likely to be satisfied with the results.
To that end, the Cozzia massage chair 16018 features 3D Body Scanning Technology, which conducts a scan of your back before the massage begins, making subtle adjustments to the position of the rollers to ensure your pressure points get attention.
This is generally, but not always effective. Sometimes the technology gets it wrong, and in those cases, Cozzia has included buttons on the remote that enable the user to manually tweak the position of the rollers and make adjustments to the width of the massage field.
Taken together, these two things offer a bullet-proof solution and guarantee a world-class massage, every time.
More Options Than You Might Expect
Obviously, a budget-priced chair is going to have relatively fewer massage options than a top of the line model, but here, you'll be pleasantly surprised. This is one thing that the company does very well, but is often not given the attention it deserves in other Cozzia 16018 massage chair reviews we've seen, so we wanted to call particular attention to it.
Starting with massage styles, the following are available:
There's only one advanced style available (Shiatsu), but that's not a surprise in chairs at this range. In fact, many budget-priced chairs don't offer any advanced massage styles at all.
What's more interesting here, though, is the Dual Action feature, which allows you to combine any two massage styles, which increases the total number of custom combinations increase far beyond what you normally get in chairs in this price range.
In addition to this, the Cozzia 16018 offers four pre-programmed options:
These options make it simple to sit down and start enjoying a massage in seconds, literally at the touch of a button.
It doesn't stop there, though. The 16018 also has three partial massage options, covering your lower, middle and upper back if you don't want a whole-body experience.
All of the massage options available can be further customized via the remote through five different intensity levels, and all default to a fifteen-minute duration.
Air Massage Mode
The Cozzia 16018 Shiatsu massage chair has a total of 20 Second Generation Airbags, which is on par with, and in some cases, slightly superior to comparably priced chairs.
These are strategically located to provide an excellent massage experience that's not quite whole-body, but close. You'll find airbags in the following locations:
Notably absent then, are airbags in the head, neck and shoulder regions. But again, this is not uncommon in entry-level chairs.
Where the 16018 offers airbags, the resulting massage is quite good, and like the roller-based massage, this can be customized via the remote through five different intensity levels.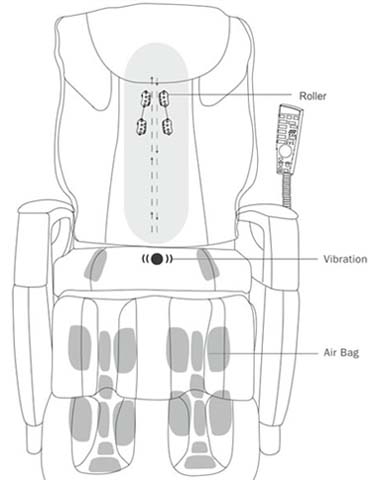 One of the best aspects of the implementation of this feature is the fact that you can selectively activate the airbags in only the regions you want. In many massage chairs (including those in the mid-range), air massage is binary. You can either turn it on, which activates all of the airbags, or not.
Lumbar Heat
Heat is becoming an increasingly common feature in massage chairs, but it's by no means offered by a majority. At the entry level, it's somewhat rare, which makes its addition here welcome indeed.
There are some limitations, of course. The heat function is binary, so you can't set the precise temperature and is limited to the lumbar region only, but it's hard to find fault with that, especially given the chair's price.
Vibration Massage
This is a feature that some people love, and others can't stand. You'll have to try it yourself to see how you feel about it. The people who like it say that it helps improve blood flow in your hips and thighs. Those who don't like it so much say that it's too rough and feels like it's trying to shake you out of the chair.
The vibration feature can be added to any of the other massage options offered by the chair.
Leg Stretch
This is an important characteristic, but one we feel could have been better implemented.
To start with, let's give credit where credit is due. Very few entry-level massage chairs offer any type of body stretching feature, which makes it a plus for the model.
Having said that, the 16018 only offers a leg stretch, as opposed to a full body stretch, and because of that, the therapeutic benefits are less than they could be.
The reason that body stretching is so effective is that it takes pressure off the compressed discs of your spine, which provides almost immediate pain relief. The leg stretch offers similar benefits, but with less intensity and effectiveness.
On the whole, though, we have to count this as a win for the model, and anyone who purchases it.
Calf & Foot Massage
We regard this as a weak spot in the design, although most other Cozzia 16018 Shiatsu massage chair reviews don't seem to agree with us.
The reason we find the implementation to be lacking is the fact that it doesn't provide rollers for the soles of the feet. The entire calf and foot massage is rendered via airbags. The results are acceptable, but certainly not noteworthy.
Simple Remote
Given that this is an entry-level chair, you'd expect that the remote would be easy to operate, and you would not be wrong in this case.
Note that this is true even though the 16018 has more customization options than you'd expect from a chair in its price range. The controls are well-laid-out and organized, and everything is easy to find. There is no significant learning curve at all here, which we count as a job very well done!
A Brief Word About The Cozzia 16018 Manual
We've gotten some questions about this, but unfortunately, we have been unable to find a user manual for this model from its official website. Cozzia has not responded to our inquiry about it.
---
Pros & Cons of the Cozzia 16018 Massage Chair
As you can see, the Cozzia 16018 has a lot to offer and gets a lot right, but there are some things it can't do, and a few places where it stumbles. We'll cover the major shortcomings below:
Cozzia 16018 Massage Chair Conclusion
Our overall assessment of this chair is, at the end of the day, similar to the conclusion reached by other Cozzia 16018 reviews. It's a robust design, and when you consider its price, offers a great value for the money.
There are some things the chair doesn't do well, or can't do at all, but we have no problem recommending this model for general (hobbyist) use, and for users suffering from chronic lower back pain (on the basis of lumbar heat) and chronic leg pain (on the basis of the leg stretch feature), assuming you're no taller than 6'2".
---
References & Resources