In a Nutshell:
The Cozzia 16027 zero-gravity massage chair is a fantastic chair for casual use, with one high-value therapeutic addition. Recommended for casual/hobbyist users, people who suffer from chronic lower back pain, and users up to 6'4" in height.
* Brand Reliability is a measure of the strength and longevity of the brand, which by extension, is a measure of the level of support you can expect.
Unfortunately, this product has been discontinued.
Check out other Cozzia Massage Chairs we've reviewed.
Are you a hobbyist or casual user, looking for a robust, full-featured massage chair that won't bust your budget?
Do you suffer from chronic back pain?
Are you taller, and have, so far, been unable to find the "right" massage chair for you?
If you answered yes to any of those questions, then our detailed review of the Cozzia Model 16027 will give you plenty to smile about. While not as well-known as some other brands, Cozzia has a reputation for building high-quality chairs that are well-priced and filled with attractive features.
In the sections below, we'll outline everything this model has to offer and cover its biggest shortcomings to give you a complete picture so you can decide if it's the right model for you.
Cozzia 16027 Zero Gravity Massage Chair Features
S-Track Design
Most modern massage chairs either use an S-Track or a Hybrid L/S Track design, so this is no surprise. It allows the chair's quad rollers to follow the natural curve of your body's spine, resulting in an excellent massage experience that closely mimics the feel of human hands.
This puts the 16027 on solid ground, and is a very good beginning!
3D Body Scan
The presence of 3D Body Scanning Tech takes the basic massage to the next level. By performing a scan of your body before the massage again, the chair can make subtle adjustments to the position of the rollers to ensure they hit all of your pressure points.
Let's face it, if the rollers aren't hitting where you need them to, then the massage you get from the chair isn't going to be very helpful or satisfying, so this is an important feature.
Cozzia takes it a step further, though, because sometimes, the technology just gets it wrong. If the body scan doesn't position the rollers exactly where you need them, you can make additional adjustments via buttons on the remote.
These allow you to control both the precise positioning and the width of the massage field, ensuring you get a world-class massage every time you use the chair.
Zero-Gravity Seating
This is a very popular feature and another thing that further enhances the overall quality of the massage you can get.
By reclining you to a position where your knees are elevated slightly above your heart, more of your body's weight is pressing down and against the rollers, allowing them to render a deeper and more penetrating massage.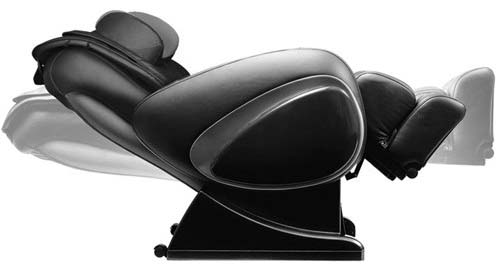 The 16027 offers two different Zero-G seating positions, so you've got options. Some chairs offer a third Zero-G position, but this is rare, and to get access to a third seating option, you'll need to spend significantly more money. A great feature addition, and one of the reasons that this model provides such tremendous value for the money.
An Impressive Array of Options
Our Cozzia 16027 review would not be complete without drawing attention to the number of choices it offers. Let's start by taking a look at the massage styles available. These are:
As you can see, all the basic are covered, and you get two advanced massage techniques (Swedish and Shiatsu).
A couple of notes here: The user manual refers to "Tapping" as "Clapping", but this is likely a language barrier issue. Also of interest is the vibration massage option.
While not a "technique" in the strictest sense of the word, we felt that it was important enough to give it a brief mention.
Ostensibly, a seat vibration massage, which impacts the glutes and thighs helps promote better circulation and provides some therapeutic benefit.
Opinions are divided about the usefulness of the feature, with some people swearing by it, and others saying they seldom use it because it feels as though it's going to shake the teeth out of their heads. If you're a fan, you'll be glad to see it included. Otherwise, it's probably a feature you won't often use, if ever.
In addition to these, the 16027 offers a few pre-programmed massage options, described as Wellness Programs. These include:
Taken together, these two sets of options are on par with what you see in most comparably priced chairs, but even here, the 16027 comes out slightly ahead, because it offers more techniques than other chairs in its price range, which generally only include one advanced technique if any.
It gets even better, though, because on top of all that, this model also features some localized massage options: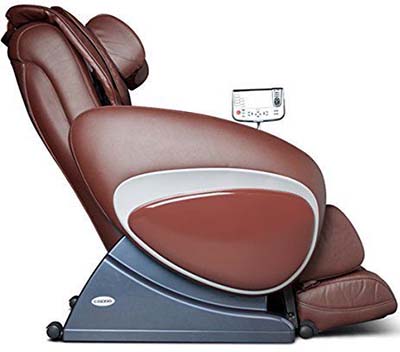 All of these massage options can be further modified via the remote through five different speed and intensity settings.
That's huge because most chairs (including most top-end chairs) only offer three speed and intensity settings. Taken together, this gives the Cozzia 16027 more options overall than any other chair in its price range, and in fact, more options than many top-end chairs.
If we had to single out one feature that makes this model stand out from its competitors, this would be it.
Air Massage Mode
The Cozzia massage chair 16027 features 36 Second Generation Airbags, strategically placed to provide a high-quality air massage, adjustable via the remote through five different intensity levels.
The number of airbags is comparable to, or even slightly higher than the number offered by similarly priced chairs, but the 16027 does not provide a whole-body air massage, which we feel is a weakness.
In this model, the air massage covers the following:
You can activate multiple regions at once for a more comprehensive massage, but there are no airbags for your neck, shoulders, or arms. While this is not a deal breaker for most users, it may be for some, which makes it worth mentioning.
Note that this has an interesting side effect that seldom gets mentioned in other Cozzia 16027 massage chair reviews.
Since the total number of airbags in this model is comparable to, or higher than similarly priced chairs, and many of these chairs offer a full body air massage, the 16027 delivers a superior air massage in the regions where its airbags are deployed, because they are more highly concentrated. It's a small detail, but one that's well worth mentioning.
Lumbar Heat
The Cozzia 16027 massage chair offers one high-value therapeutic benefit: lumbar heat. If you suffer from chronic lower back pain, this will probably be the feature you make most regular use of.
The addition of heat turns a good massage into a great one, providing a deeper, more penetrating, and ultimately a more satisfying massage experience. This is a great feature addition. Our only complaint with its implementation is the fact that there's no way to control the temperature.
Calf & Foot Massage
Unfortunately, we have to count this as a weakness in the design of the Cozzia 16027 Zero-Gravity massage chair.
The calf portion of the massage is excellent, and in fact, superior to most of the models it competes directly with, but this model has no foot rollers, so the foot massage is entirely dependent on airbags.
The result is certainly acceptable, but not exceptional.
Extendable Ottoman
Taller users often have a hard time finding a chair that will properly fit them. Most chairs on the market today can't guarantee an optimal massage for people taller than 6'2". Happily, the Cozzia 16027 Zero Gravity massage chair is an exception.
Note that on the company's website, they rate the chair as being able to accommodate users up to 6'3". However, as far as we can tell, the 16027 uses the same ottoman design utilized by the 16028, which can accommodate users up to 6'4".
Adjustable Timer
This feature is more important than most users first realize. The ability to precisely control the length of your massage is not merely a matter of convenience, either. If you're in the middle of a therapeutic session and have to suddenly stop and restart your massage course, it can diminish the total impact.
All massage courses offered by this chair default to a 30-minute duration, and can be adjusted downward in five-minute increments, allowing you to tailor the length to meet your needs.
A Brief Word About The Cozzia 16027 Manual
Some of Cozzia's other models suffer from manuals that are rather cryptically written and unhelpful. The 16027 is an improvement in this regard. While there's nothing special about the manual, it is at least clear and reasonably well-written. If you have a question or encounter a problem with the chair, the manual will serve as a good starting point.
Easy To Use Remote
Given the number of options this model features, you might expect there to be a learning curve.
While it's true that a learning curve exists, the remote is exceptionally well laid out, and even users who have never seen a massage chair before can be enjoying their first massage in a matter of minutes. By your second or third massage, you'll have effectively mastered the chair.
That's an impressive feat, so hats off to Cozzia for a job very well done!
Pros & Cons of Cozzia Massage Chair 16027
As you can see from our Cozzia 16027 review, the model has a lot to offer. Having said that, we hardly ever award a perfect five-star rating, because most massage chairs have gaps in their designs or things we feel they could do better.
In the case of the 16027, the only feature the chair offers that we wish had been implemented differently is the foot massage. The absence of rollers at the bottom of the foot well is, in our view, a mistake that lessens the effectiveness of the foot massage.
Airbags are fine for most parts of the body, but they just don't the soles of the feet justice.
Also, we feel that the following additions would be an improvement:
Cozzia 16027 Review Conclusion
Even given the chair's flaws and limitations, we rate this model highly and recommend it for anyone. While it only has one feature that provides therapeutic benefit (lumbar heat), it's an excellent one, as many people who purchase a massage chair do so to help them manage back chronic back pain.
---
References & Resources: