In a Nutshell:
A surprisingly full-featured chair at its price point, with two important therapeutic features. The Cozzia 16028 is recommended for hobbyists, chronic back pain sufferers, and users up to 6'4" tall.
* Brand Reliability is a measure of the strength and longevity of the brand, which by extension, is a measure of the level of support you can expect.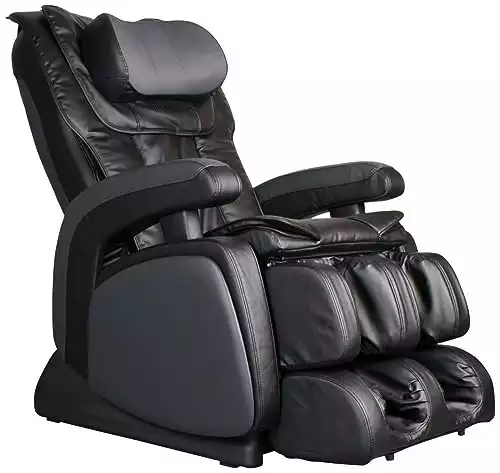 Are you on a budget? Looking for an entry-level massage chair that can do more than just the basics?
If you answered yes to either of those questions, you're going to love our Cozzia 16028 review. It's a brand you may not have heard of, but as you'll see, it's got more features than most massage chairs in its price range, and it could be exactly what you've been looking for.
In the sections that follow, we'll outline everything the 16028 can do, and of course, let you know about its limitations so you can make an informed decision. Let's get to it!
An Overview of the Cozzia 16028 Zero Gravity Shiatsu Massage Chair
Cozzia Model 16028 Massage Chair Features
S-Track Design
This has become the industry standard, so it's no surprise to see it included in any competently designed massage chair. Built around an S-Track frame, the Cozzia's quad rollers can move in three dimensions (X-, Y-, and Z-Axis), following the natural curvature of your body's spine, and ensuring a high-quality massage every time you use the chair.
3D Body Scan
This is also rapidly becoming an industry standard and is an essential piece of technology that helps turn a good massage into a great one. By scanning your body before your massage begins, it allows the chair to make small-but-critical adjustments to the position of the rollers to ensure they hit your pressure points.
Many chairs, particularly in the low-end of the price scale, would simply stop there, but Cozzia borrows from the playbook of much more expensive chairs and takes it a step further, including buttons on the remote that allow the rollers and the width of the massage field to be manually adjusted.
This is critical, and a fantastic feature addition, because sometimes the technology just gets it wrong. If the rollers aren't correctly positioned, they won't hit the places on your back you need them to hit, which results in a sub-optimal massage.
Zero-Gravity Seating
Our Cozzia 16028 massage chair review would not be complete without drawing particular attention to this feature.
Only about a quarter of the massage chairs on the market today offer Zero-G seating, and most of them are mid-range and top-end chairs. It's highly unusual to see it offered in a budget-priced chair, which is one of the things that makes this model shine.
Zero-Gravity seating works by reclining the user so that his knees are elevated slightly above the heart. From that position, more of the body's weight is pressing down against the rollers, which results in a deeper and more penetrating massage.
Combine that with the fact that it just feels good, and you've got a real winner.
It's true. There are some limitations inherent in Cozzia's implementation. Only a single Zero-G seating position is offered, and it's common to see two, or even three seating positions in most of the chars that include this feature.
Even so, the fact that it is present at all, given the price of the 16028, is nothing short of amazing.
A Generous Number of Options
This is the area where most entry-level chairs make sacrifices, offering only a few basic massage options.
The Cozzia takes a different approach. The number of massage options it makes available is a pleasant surprise indeed. The following techniques are on offer: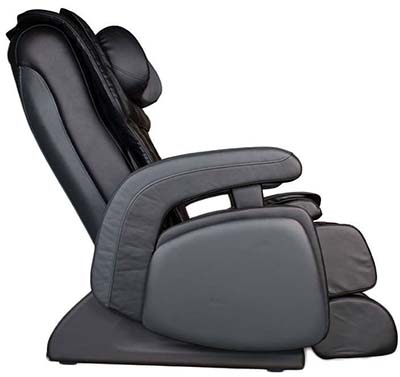 The model only has one advanced technique, but Shiatsu is an excellent choice and delivers an outstanding massage experience.
The addition of a seat vibration massage is interesting, but it's one of those features that people either love or hate.
Some people say that it feels like it's going to vibrate their teeth right out of their heads, while others say that combining seat vibration with other massage options makes the overall experience better.
It does provide some therapeutic value, so if you've got poor circulation in your hips and thighs, you'll likely find yourself making regular use of it.
In addition to the techniques, the Cozzia 16028 massage chair offers a total of five pre-programmed massage routines. Technically, there are only three, but Cozzia counts its Air Massage and Stretch modes pre-programmed massages, so we'll list them here, but cover those two features later in this review.
Even so, having access to three (or five, depending on how you count them) pre-programmed options and numerous techniques gives you plenty of ways to customize your experience.
It gets even better because the Cozzia also allows you to adjust any massage experience you create via the remote through three different speed and intensity settings. Overall then, the sheer number of options on offer will make even a committed Do-It-Yourselfer smile.
Air Massage Mode
To access Air Massage Mode, you just select it as one of the pre-programmed massage options. Additional buttons on the remote also allow you to activate selected airbags only, by body region.
The chair's 22 airbags are located in the following areas:
Note the absence of airbags in the arms of the chair. It cannot be said that this is a whole-body air massage, but it comes close. This is one of the areas where a sacrifice was made to keep the cost of the chair down, and it was a fair trade. Unless you have poor circulation in your arms, most people will not find the absence of an arm air massage to be a deal breaker.
Heat
We'd be happy if every chair on the market offered some form of heat, but sadly this is not the case. The Cozzia 16028 does, and it adds another important benefit to the model.
Massage is great by itself, but heat plus massage simply provides more therapeutic benefit.
Granted, there are some limitations. You only get heat in the lumbar region, and there's no way to control the precise temperature, but if you suffer from chronic lower back pain, this is a feature you'll find yourself using regularly.
Body Stretch
This is another huge win for the Cozzia, even if the feature is imperfectly executed.
The Body Stretch is accessed via the remote as one of the pre-programmed massage options, rather than as a standalone feature.
The airbags in the leg massage ports hold you firmly in place as the chair slowly reclines, which gently stretches your back and gives you the same benefits as a chiropractic adjustment.
The reason that's such a powerful feature is that the #1 cause of chronic back pain is spinal disc compression. The stretch provides almost instant relief by taking pressure off those discs.
We would have preferred it if the feature wasn't part of a pre-programmed massage, and if it allowed the user to zone-activate airbags to vary the stretching, but even without those things, it's an excellent feature addition and one that provides tremendous therapeutic benefit.
Calf Massage
While the Cozzia 16028 massage chair doesn't have a huge number of airbags, it puts them to good use, and the chair renders a very good calf massage. Unfortunately, we can't rate this feature very highly, because what's notably absent are foot rollers.
No foot massage at all is available with this model, so if you spend several hours a day on your feet, and this feature is important to you, this model is not recommended.
Extendable Ottoman
This is a surprisingly rare feature. If you're a taller user, it can be frustrating to find a chair that will accommodate you. Most chairs are only recommended for users up to 6'2". Thanks to the extension module, the Cozzia 16028 can support users up to 6'4". A big win for taller folks!
Don't miss or review in search for the best massage chair for tall and big users:https://chairinstitute.com/massage-chair-for-tall-person/
Simple To Use Remote
The remote is simple and straightforward to use. It's not flashy or elegant, but it is well thought out and well designed, which is a feat in its own right, given the number of features available.
A Brief Word About The Cozzia 16028 Manual
One of the weaknesses of the chair is the user manual. While it's not horribly written, it's clear that it was written by someone who doesn't speak English as their primary language, making the manual somewhat cryptic in certain places.
You get the sense that there's a definite sense of organization to the book, but sometimes, you find yourself scratching your head in an attempt to figure out what it is trying to tell, exactly.
This is certainly not a reason to give the chair a pass, but you should be aware that if you run into a question, the manual may or may not be of any great help.
Pros & Cons of Cozzia 16028 Massage Chair
As you can see from our Cozzia 16028 review to this point, this model offers a staggering number of features for its price. It is by no means a perfect chair, but it provides tremendous value for the money.
Having said that, there are some things it could do better. Here are the major feature changes and additions we'd love to see in a future update:
Cozzia 16028 Review Conclusion
While Cozzia is not a well-known brand, we were impressed by this model's comfort and feature set. We were even more impressed when we found out its price. There aren't many chairs that offer better value for the money, and we recommend the 16028 without reservation for the following groups:
---
References & Resources