As the name suggests, beach chairs are different types of outdoor seating, specifically designed for use at the beach. At first blush, you might not imagine that there would be much variation to be found here, there are many different types of beach chairs than most people realize. We'll cover the major types below.
Types of Beach Chairs
Backpack Beach Chairs
While most beach chairs are designed to collapse for greater portability, backpack beach chairs take this idea to the next level.
They're typically constructed of an ultra-light material, don't usually come with padding of any kind (although there is a wide range of aftermarket cushions available), and tend to be very low to the ground.
As such, these are ideal for short-duration seating but will grow increasingly uncomfortable as the day wears on.
Canopy Chairs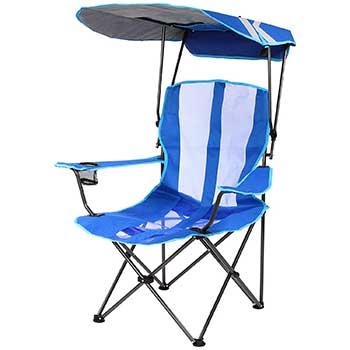 Canopy chairs come in a variety of styles and are distinguished by the fact that they're offered as a set. You get the chair, plus an umbrella or canopy. On some models, the two cannot be separated. On others, the umbrella or canopy can be removed, which makes carrying the set easier and more convenient.
Folding Chairs
The simplest and most ubiquitous type of beach chair. These tend to be very lightweight (most commonly made from aluminum, but you can easily find folding plastic or wooden beach chairs too), and minimally upholstered, and most have mid-range (9"-12" seat heights).
Given that these are basic, bare-bones chairs, most don't come with any sort of adjustment mechanism that allows you to change the angle or position you're sitting in. You get what you get.
Hammocks
Okay, technically this isn't a chair, but hammocks are a common sight at the beach, and they can be used as chairs, so we wanted to give them a mention for the sake of completeness.
While many hammocks are permanent fixtures, beach hammocks come with their own frames and can be set up anywhere, giving you the option to sit and swing, digging your toes in the sand, or stretch out for a luxuriant nap if the mood strikes.
Lounge Chairs
Low to the ground and long, these beach chairs are designed along the same lines as Chaise lounges in living rooms. Most aren't padded, but high-end models do offer padding. Their main advantage is that they're highly adjustable, allowing you to lie flat and work on your tan, or sit up with your legs out to enjoy the sight of the surf.
Note that some high-end lounging models offer ergonomic enhancements, including pillows for your neck to provide additional support, lumbar pillows and even Zero-G seating. This last feature is a rarity and radically increases the cost of the chair, but they allow people with chronic back pain to enjoy a day at the beach (important, because most beach chairs are none too kind to people with back problems).
Padded Beach Chairs
While not technically its own "type" of beach chair, we wanted to include it here for one reason: most beach chairs don't offer padding, although you can buy seat and seat back pads separately on the aftermarket.
A small minority, however, do offer padding at the point of sale. You can find padded variants of every type of beach chair on our list.
Sand Chairs
These are similar to beach loungers but offer a more gracefully curved design. They are both elegant and simple, although where the lounger is a good choice for people who have back and leg problems (and sometimes even offer ergonomic enhancements), that's not the case here.
They are somewhat adjustable, although typically less so than loungers. Their main advantages are that: a) they're more stylish; and b) they tend to be more stable on loose sand than traditional loungers.
Materials Matter
Now that we've talked about the different types of beach chairs, we'll add another element to the equation. For the most part, all of the chairs mentioned above can be found in the following four materials:
The obvious exception here is the hammock. In general, plastic chairs are the least expensive of the lot, with aluminum being a step up in price, and a premium placed on wooden designs. While you'll find a few steel beach chairs, these are usually ergonomic/zero-G models and not widely produced. They are understandably the most expensive, durable, and long-lasting of the lot.
Important Features
Most people don't sit in beach chairs of any type to do anything productive. It's all about enjoying the sun, surf, and sand. As such, you won't find plush padding or ergonomic features on offer, except in the aforementioned Zero-G beach loungers.
Even taking those things off the table though, there are some key features to consider:
​

Seat Height
You can find beach chairs built with a variety of seat heights, but in general they fall into the following categories:
Low (seat height of 8" or less) – best for people who want to stretch out and dig their toes in the sand.
Average (9"-12")
High (13" or more) – The main advantage here is that these chairs tend to be easier to get into and out of, and are kinder to taller users
Upholstery Material & Padding
Most wood and plastic chairs don't come with any kind of upholstery, although you can certainly buy aftermarket cushions for the seat and seat back, made in a variety of weatherproof materials, and padded to varying degrees.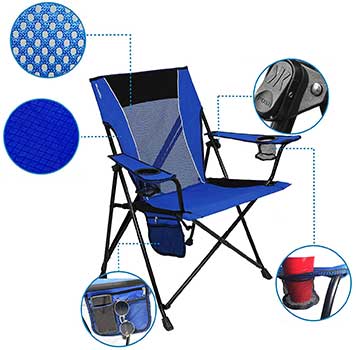 Aluminum chairs tend to offer nylon or some other breathable, synthetic fabric, but again, depending on the price of the chair, the upholstery options can be quite varied and include generous padding (though this is not the norm).
Color
You can find beach chairs in just about any color you can imagine. There's even quite a bit of variance in wooden beach chairs, as these can be stained or painted in any color you like.
Weight & Collapsibility
This is a key feature because most people bring their chairs with them. Sure, some resorts have their own beach chairs set up for your use and convenience, but overwhelmingly, people just bring their own. Given that, the collapsed footprint and the weight of the chair is an important consideration.
A Source of Shade
This is uncommon, but certainly not unheard of. Some chairs (see canopy chairs, above) come with their own umbrella or canopy, providing a source of shade for you, which makes your day at the beach all the more enjoyable. If not, you can buy one separately, to use with whatever type of beach chair you've got.
​Cup Holders
Only found in a minority of beach chairs, which is a bit of a surprise. After a few hours in the hot sun, most people would appreciate a cool, refreshing drink, and you'd think a majority of beach chairs would accommodate this. Interestingly, most don't, although you will find a few models (mostly high-end) that offer the feature.
Final Thoughts on the Different Types of Beach Chairs
There's more variation in the types of beach chairs than you may have first thought or imagined. Mostly, this is because over time, people have developed a range of preferences in terms of how to enjoy the sun, surf, and sand, and furniture designers have developed products to accommodate their preferences.
---