In a Nutshell:
The EcoDecors Serenity Shower Stool is a versatile, attractive handcrafted teak wood stool that looks great in most bathrooms. Recommended for anyone who weighs up to 250 pounds who doesn't have a mobility issue and is looking for a fantastic accent piece for their bathroom.
* Brand Reliability is a measure of the strength and longevity of the brand, which by extension, is a measure of the level of support you can expect.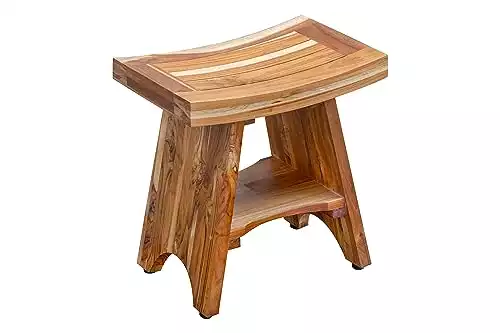 Do you love taking long, luxurious showers?
Have you found yourself wishing that you could just sit back and relax as the hot water cascaded down over you?
If you answered yes to either of those questions, then a high-quality shower stool might be the perfect addition to your bathroom!
Broadly speaking, shower stools come in two basic types: Medical devices with built-in safety features, designed for people with serious mobility issues that make bathing a challenge, and decorative pieces that are designed for convenience.
The EcoDecors Serenity Shower Stool falls into the latter category, so if you have a serious mobility issue, we'll say upfront that this one probably isn't a great fit for you. As an accent piece that looks great and provides you with a convenient perch to enjoy those long showers, though, it's pretty close to ideal.
In the sections that follow, we'll step you through everything this model gets right, and we won't pull any punches when describing the stool's limitations. That way, you'll have all the information you need to decide for yourself if this is the model you've been looking for. If that sounds good to you, read on, and let's take a closer look!
An Overview of the EcoDecors Serenity Shower Stool with Shelf
The first thing we should say about the EcoDecors Serenity shower stool with shelf is that the design bears enormous similarity to the Asian shower stool offered by AquaTeak. This one has some compelling differences that, in our view, makes it an even better fit for most home bathrooms. Still, we also understand that everyone's tastes and preferences are different, and you may prefer the AquaTeak model, even if we didn't rate it quite as highly.
Like the AquaTeak model, this one bears traces of Asian influences in its design, but they're less obvious in this stool, which makes it a better fit, even in bathrooms that don't already sport an Asian décor scheme.
We should also point out that EcoDecors has these hand made by local craftsmen in Indonesia, so even though they are highly standardized, there are some unique flourishes present in each one that gives every product you buy from EcoDecors a unique character.
We flat out love that, and we think you will too!
Before we get into the details, let's press pause long enough to take a closer look at the core stats that define the model. Here are the basics:
These numbers are virtually identical to the AquaTeak stool we mentioned earlier, with the only difference being the weight. It's a bit more sturdily built, although not to the point that EcoDecors increased the recommended weight limit.
In general, these are good numbers. The 18" seat height is right on the edge of the big and tall territory, which starts at 18" and goes up to 22" or higher, making it a versatile piece of furniture, a good fit for taller people while still being useful for all but the shortest users.
The seat width is likewise good for the bulk of the market, and while the depth is nothing to write home about, it's adequate given the amount of time most people will be spending in them.
The only real limiting factor is the weight limit. Most of the furniture on the market today is capable of supporting up to 300 pounds of user weight. This product misses that mark by a significant margin. Even so, it supports enough weight to be of value for some 85% of the market. Just understand that if you're a heavier user, you'll want to look in some other direction.
Adjustability, Comfort, and Extras!
While most of the medical shower stools and chairs have at least one or two adjustable features, most of the decorative ones don't. This still is an exception on that front, featuring adjustable height pads for the feet, which give you at least a modest amount of flexibility. The feet pads also feature a good gripping surface, so you won't have to worry that the EcoDecors Serenity Teak shower stool will slide out from under you as you're attempting to get into or out of it.
Granted, the gripping feet aren't quite on par with what you find on most medical devices, but it's a nice addition that certainly adds value.
Comfort-wise, it's about what you'd expect from a piece of solid wood furniture. It's certainly not something you'd want to spend the whole day in, but given what it was designed for, that's not going to happen in any case.
There are two small but important "extras" to draw your attention to, though. First, there's the fact that this seat has narrow slats that allow the shower water to pass through the seat, so it doesn't puddle.
That's a genuine risk given the bowed shape of the seat, or at least, it would be a risk, but the simple slat solution neatly solves the issue. Even better, they're quite narrow, so there's no risk of pinching while you're sitting on the stool!
The second thing to mention is the 12" wide shelf that sits tucked away under the seat. Most bathrooms have limited storage space, and the ability to keep a few shower items on the shelf underneath you is superb. It's a small detail, but we love it.
No Assembly Required
Unlike most of the furniture sold today, which requires assembly before you can start using it, there is no assembly needed where the EcoDecors ED961 Teak shower stool is concerned. That's awesome because although most people are willing to slog through putting their own furniture together, it's not something many people can honestly say they enjoy.
Here, there's simply no need to. Just take it out of the box when it arrives at your doorstep, put it where you want to store it until you're ready to use it for the first time, and enjoy.
Pros and Cons of EcoDecors Serenity Teak Shower Stool
Here are the things we think you'll like best about this shower stool:
The only real downside to this stool is the disappointingly modest maximum supported weight limit.
We'd love to see some future model upgrade that's capable of supporting at least 300 pounds, and more than that, if it's practical without increasing the price significantly.
EcoDecors ED961 Teak Shower Stool Review Conclusion
The EcoDecors Serenity Shower Stool is a superb, sturdy, versatile, and attractive shower chair. Literally, the only thing that would keep most people from buying one is the 250-pound weight limit. If you weigh more than that, it's simply not going to work for you. For everyone else, though, this one is superb. We recommend it.
---
REFERENCES & RESOURCES