In a Nutshell:
The Ergohuman ME7ERG Chair is a sturdy, capable design with a lifetime warranty and an insane amount of adjustability and customization options. Recommended for anyone. This is a solid chair by any reckoning.
* Brand Reliability is a measure of the strength and longevity of the brand, which by extension, is a measure of the level of support you can expect.
** While aesthetics is a matter of taste, Aesthetic Flexibility is a measure of how easily a given design would fit into a wide range of home or office décor schemes.
Are you in the market for a new office chair?
Have the current options you've been considering all left you wanting?
If you answered yes to either of those questions, then the Ergohuman High Back Swivel Chair might be just what you've been looking for.
At first glance, there doesn't seem to be a whole lot different about it, so you might be wondering why you'd want to pay a premium for a chair that looks a lot like many of the lower-priced contenders you may have already evaluated.
Read this review, however, and you'll change your mind. Sure, the Ergohuman Chair ME7ERG is a more expensive chair, but this is definitely a case of getting what you pay for, and the simple truth is that Ergohuman chairs have two features that few if any other chair on the market can match.
Intrigued? If so, then keep reading! In the review sections that follow, we'll go into everything this fantastic chair can do!
An Overview of the Ergohuman High Back Swivel Chair
The first thing you'll notice about the Ergohuman High Back Swivel Chair is that it looks vaguely futuristic. It's not unattractive, which is a pleasant surprise, given that most mesh chairs struggle where aesthetics are concerned, but its segmented seatback is what gives it that futuristic look, so there's no hiding or disguising it, which may make it a bit harder for this particular model to blend well with some home décor schemes.
Regarding basic stats, here's what you're looking at:
You can also order this chair in a modest selection of colors, including:
The three biggest things to note about the above are as follows:
Adjustability and Comfort
The Ergohuman High Back Swivel Chair is delightfully adjustable and is equipped with a suite of well-implemented ergonomic features which enhances its overall comfort. Here, you'll find:
In addition to that, although the armrests are not ergonomically designed, they do swivel approximately 45 degrees in either direction, in addition to being height adjustable.
The chair also offers a three-position tilt and lock function, reclining to either 110 or 135 degrees (the third position is, of course, its ability to lock at a 90-degree angle).
By themselves, these features would make for an exceptional chair design, but there are two more things you should be aware of.
You can, for instance, order your chair with a standalone ottoman that can pull double duty as a low work table, or with an articulated arm that can be attached to one of the chair arms and contains a platform big enough to hold your laptop.
Both of these enhancements were designed with one goal in mind: To allow you to work your way, and the implementation is brilliant. Those who don't want or need the enhanced features just won't order them.
Does Not Come Assembled
While it's true that none of the chairs Ergohuman makes will arrive at your door assembled, we'd say here in our Ergohuman Chair Me7erg review that the company does an excellent job on this front. The High Back Swivel Chair only consists of a few pieces that can be snapped or screwed together in a matter of minutes.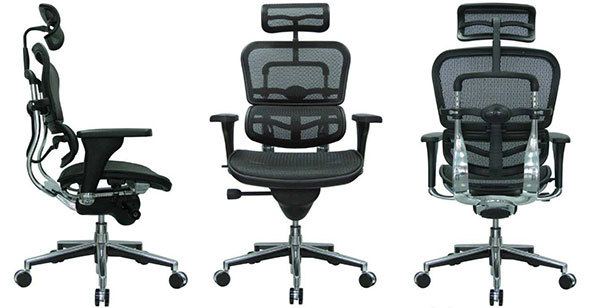 All told, it will probably take you as long to get the chair out of the box and separate and sort the pieces as it will to put the thing together. Expect it to take no more than twenty minutes.
Note that adding a helper to the equation isn't likely to net you much of a decrease – it may shave five minutes off of the total build time, but this is one of the few chairs that's really easy to put together on your own (mostly owing to the segmented design of the seatback).
Pros & Cons of Ergohuman High Back Swivel Chair
We like almost everything about the ME7ERG chair, and although it didn't earn a perfect score from us, we regard it as an incredibly strong design. Granted, it's not what you'd call beautiful, and there are certainly more plush and comfortable chairs available, but if you like mesh chairs and are looking for something that's almost endlessly customizable, it's hard not to fall in love with this model.
Add in the fact that all Ergohuman models come with a lifetime warranty, and this one just might be the last chair you'll ever own.
Yes, it's expensive, but if you factor in the cost of all the office chairs you'd buy over the course of your life (assuming you went with some other brand that didn't offer a lifetime warranty), Ergohuman offers excellent value. You're merely front-loading the costs.
There are two minor tweaks we'd love to see in the design:
The chair is already exceptional where long-duration seating is concerned, but this would make it even better. Best of all, neither of these additions would add tremendously to the total cost of the chair.
Ergohuman Chair ME7ERG Review Conclusion
Ergohuman is a great company, and they make next-level chairs. The Ergohuman Chair ME7ERG is certainly no exception. It's versatile, surprisingly comfortable, and amazingly adjustable.
We highly recommend it to anyone who's looking for a great chair optimized for, and able to withstand the rigors of heavy daily use. This model belongs on your short list.
---
REFERENCES & RESOURCES: