In a Nutshell:
The Ergohuman Mid-Back Mesh Chair is a masterful design that just barely qualifies as a chair for shorter users. Recommended for anyone.
* Brand Reliability is a measure of the strength and longevity of the brand, which by extension, is a measure of the level of support you can expect.
** While aesthetics is a matter of taste, Aesthetic Flexibility is a measure of how easily a given design would fit into a wide range of home or office décor schemes.
Are you tired of having to replace your office chair every couple of years? Have you been on the hunt for one chair that would last a lifetime? Do you consider yourself a DIYer and a tinkerer?
If you answered yes to any of those questions, you're going to love this review.
We'll be quick to admit that given the above, the Ergohuman Mid-Back Mesh Chair isn't going to be the right chair for everyone. It tends to attract a very specific type of user.
In the sections that follow, we'll not only tell you why that is, but we'll provide all the details about the model so you can decide for yourself if you're the right kind of user for this chair. If you are, this may well be the last office chair you'll ever have to buy.
If you're intrigued, keep reading and let's see what this model has to offer!
Ergohuman ME8ERGLO Mid Back Mesh Chair Overview
Most people have surprisingly strong opinions about mesh chairs. They either love them and will only grudgingly consider buying anything else, or they just plain don't like them and would never even consider owning one.
Aesthetics & Design
If you're a fan of the all-mesh chair, the Ergohuman Mid-Back Mesh Chair is going to pique your interest right away. It sports an unusual segmented seatback design that allows Ergohuman to implement its ergonomic support bar completely separate from the rest of the seatback, which is an unexpectedly cool feature that helps the model in more ways than you might imagine, including making the initial assembly process easier since the seatback is broken into smaller and more easily handled pieces.
Lifetime Warranty
On top of that, every chair Ergohuman sells comes with a lifetime warranty. It's a world-class piece of office furniture that's built to last.
Color Options
Even better, the chair can be ordered in a variety of color configurations, including:
This makes it incredibly easy for you to blend the chair seamlessly with whatever home décor or color scheme you have.
Chair Specifications
Before we go any further in talking about the particulars of this model, let's take a moment to review the core stats that define the chair. Here are the basics:
So, right away, a couple of things jump out.
First, the maximum supported weight. While the 250-pound limit makes this chair a good fit for the bulk of the market, this particular chair is unsuitable for use by the big and tall crowd.
That's curious because the seat height adjustment range is a good fit for big and tall folks. Ultimately then, this chair is a match for shorter people with long legs, averaged size folks, and taller people with light to medium builds. If any of those describe you, this chair would probably be a good fit, though, given the price, we'd absolutely encourage you to try one on in a showroom or at the very least, take careful measurements before committing to a purchase.
Breathable Mesh Upholstery
As a mesh chair, the Ergohuman Raynor ME8ERGLO Mesh Chair is wonderfully breathable, which makes it easy to spend extended periods sitting in it. Note though, that this is a pure mesh chair.
Many mesh models take a hybrid approach, utilizing mesh for the seatback and fabric upholstery for the seat so they can add seat padding to the mix. This chair doesn't do that. It's mesh through and through, which means it's not as comfortable (no padding) as hybrid mesh chairs.
Ergonomic Seat Design
Its two expertly implemented features, waterfall edge style seat and superb lumbar support, do help to increase the comfort of this chair, which makes it possible to use it for extended periods every day, but it's not top of the line in that regard, at least not in its default configuration.
Customization & Add-Ons
The good news is that just about every aspect of this chair is either adjustable or customizable. Nobody does customization like Ergohuman.
Do you want a taller backrest? You can buy one. Do you want a different seat? You can buy that too. Add a fully articulated ergonomic headrest? Yep. You can do that too. But the company's customization options extend far beyond simply swapping out parts of the Ergohuman ME8ERGLO Mid Back Mesh chair with different parts.
Articulated Armrest
You can also buy a fully articulated arm that attaches to your chair and is strong enough to support a laptop computer, allowing you to work in entirely new ways. You can use your desktop computer, and your laptop, attached to your chair and angled off to one side, simultaneously if you want to.
Other Accessories
You can add cup holders and ergonomic ottomans that pull double duty as low work tables. The sky's the limit with an Ergohuman. You can buy a base model (any base model), use it in its stock configuration for a while, and then start accessorizing until you have exactly the chair you want.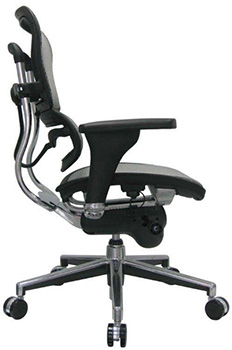 Great for DIYers and Tinkerers
When you pair that with the company's lifetime warranty and the fact that you can add new, or remove accessories as your needs evolve and change, it's easy to see why these chairs are so popular, but there's a catch.
Some people love the idea of near-infinite customization. Others would rather buy something and just have it work. If you fall into that latter category, this is definitely not the chair for you. If you consider yourself to be a do-it-yourselfer and an endless tinkerer, you're probably going to fall madly in love with this model and the brand in general.
This could literally be the last office ​​chair you'll ever own. Sure, you'll pay a premium for it, but once you've got it, you won't ever have to buy another. That's a good thing.
Assembly is Required, But Expert Assembly is Available
The Eurotech Ergohuman Mid-Back Mesh chair won't arrive at your doorstep fully assembled, but the process of putting it together is not overly complicated. Thanks to the seatback's segmented design, you don't have a lot of big, unwieldy pieces to wrestle with, and the production quality is top-notch.
That, combined with clear instructions, makes the process a simple one. You won't spend more than twenty minutes getting the chair ready for first use, and adding a second pair of hands won't really speed things along significantly.
If you'd rather not be bothered, it's worth mentioning that expert assembly for this product is available, although you'll pay an additional fee for it. The fee is only about 10% of the price of the chair, so while we don't really feel it's necessary in this case, it might be a worthwhile addition for some.
---
Pros & Cons of the Ergohuman Raynor ME8ERGLO Mesh Chair
So, where does that leave us?
The Raynor Ergohuman Mid Back Mesh Desk Chair is undeniably a great chair, but it's also almost entirely self-selecting. You either like mesh chairs, or you don't. You either weigh 250 pounds or less, or you don't. You either need the ability to customize your chair endlessly, or that's just not something you're interested in.
There's not a thing wrong with the design per se, so we can't come up with anything we'd change about it, and even if we could, there's probably already an accessory you can buy to change it yourself.
The bottom line is…
​If you like the look of this chair, and love the idea of being able to customize to your heart's content, and assuming the measurements of the chair are a good match for your own measurements, this is an awesome model to consider. The less the above holds true for you, the less interested you're going to be in this chair.
---
Ergohuman Mid-Back Mesh Chair Review Conclusion
The Ergohuman Mid-Back Mesh Chair is a great chair, offered by a great company, but it's not for everyone. In our view, here's a profile of the person for whom this chair would be a perfect fit:
A shorter person with longish legs, or anyone up to about 6'2"
Who weighs 250 pounds or less
Who likes mesh office chairs
And who is looking for a chair that will last a lifetime and has virtually unlimited customization options.
If that describes you, then this chair belongs to your shortlist, and we highly recommend it. Ergohuman is a fabulous company, and this chair is an excellent example of their work.
---
REFERENCES & RESOURCES