In a Nutshell:
The Ezcheer XL Zero Gravity Lounge Chair is a modestly priced, gorgeous, sleek black lounger that's ready for a day of fun any time you are. Recommended for anyone weighing up to 400 pounds who is in the market for a sleek, handsome beach lounger.
* Brand Reliability is a measure of the strength and longevity of the brand, which by extension, is a measure of the level of support you can expect.
** While aesthetics is a matter of taste, Aesthetic Flexibility is a measure of how easily a given design would fit into a wide range of home or office décor schemes.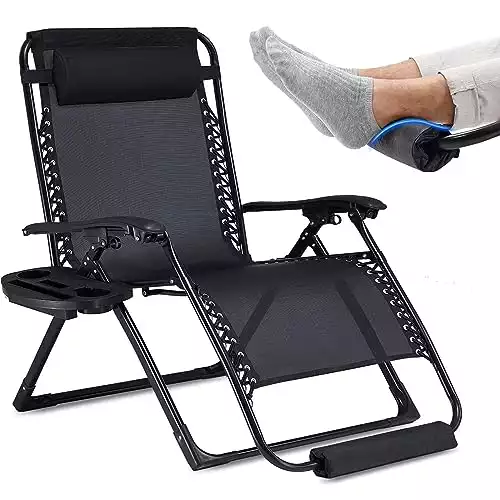 Are you heavier than average? Are aesthetics important to you?
Most importantly, do you love spending time outside, especially at the beach? If you answered yes to those questions, then you're going to love the XL Zero-G Lounger, offered by Ezcheer.
No matter how you slice it, this is a great chair. It's rugged, versatile, and capable of supporting a generous amount of user weight, which sets it apart from most of the beach chairs on the market today, which struggle to support more than 300 pounds. That's great if you weigh 300-pounds or less, but if you weigh more than that, your options are few.
Fortunately, with a chair like the XL Zero-G on the market, your search to find a great beach chair that's right for you doesn't have to be a frustrating one. While this chair falls short of absolute perfection, it's a great design that will serve you well for years. If you're curious to know more, read on, and we'll tell you everything this model has to offer.
An Overview of the Ezcheer XL Zero Gravity Lounger
It makes a statement. That's the first thought that's likely to enter your mind when you see the Ezcheer XL Zero Gravity Lounge chair for the first time. Fashioned from black, powder-coated steel and dressed in black, breathable mesh fabric, it does indeed present a striking profile.
Looks alone, though, only tell a small part of the story. Let's take a look at the numbers that define the model. Here are the basics:
These are good numbers, but the stats do reveal a potential problem that may be off-putting to some. The seat is quite low to the ground. If you suffer from mobility issues, getting into and out of such a low seat may present a challenge.
Also, note that this chair is only available in black. While it certainly looks handsome, if you mean to use it out on the beach and under the hot sun, that black material is going to get hot in a big hurry. To counter that, you'll almost certainly want to invest in a large beach umbrella (sold separately).
Adjustability, Comfort, and Extras
The Ezcheer XL Zero Gravity Lounger is a highly adjustable chair. Although it cannot lay completely flat, it can recline to about 150 degrees, which is fine for most purposes. If you're looking for a lounger that can pull double duty as a cot, be sure to check out either the H.yina​ or the Oversized Lounger.
The mesh material that serves as the "upholstery" for the chair is lashed to the frame via a pair of bungee cords, which makes sitting on it highly similar to sitting on a trampoline. The springiness plays a major role in the comfort of the chair, and the built-in headrest pillow certainly adds to this.
What really takes the comfort of this chair to the next level, though, are the Zero-G seating options available. Zero-G was inspired by NASA and really does leave you with a feeling of weightlessness. More than that, though, is the fact that Zero-G seating options, which place you such that your knees are elevated slightly above your heart, has been documented to provide a variety of benefits, including:
In other words, this is a powerful ergonomic feature, well-implemented here, which is a pleasant surprise indeed.
In addition to that, you'll find a handy cup holder you can optionally attach to one of the arms. The cup holder also has sufficient space to hold a few small miscellaneous items, and there's a handy slot in the plastic frame that could be used as a convenient holder for your smartphone. While it's not swimming in storage space, we find it to be a handy addition indeed.
No Assembly Required
As is the case with most chairs of this type, no assembly is required. If you decide you want one, it will arrive folded up in a large box. Just take it out of the box, put it where you want it, unfold it, and have a seat. About the only thing you'll have to do beyond that is to attach the cup holder if you want to make use of it.
---
Pros and Cons of Ezcheer XL Zero Gravity Lounge Chair
In no particular order, here are the things we think you'll like best about the XL-Zero-G Lounger:
Contrasting this are a couple of minor issues to be aware of. These include:
On the whole, we feel that the pros associated with this model far outweigh its cons.
---
Ezcheer XL Zero Gravity Lounge Chair Review Conclusion
We love the Ezcheer XL Zero Gravity Lounge chair. The only reason it didn't rank even high is the fact that it's offered by a smaller, less well-known brand. If you're not brand conscious and disregard that measure, then this chair clocks in at 4.5, which is top tier. It's a great chair, and we think you'll love it. This one comes highly recommended.
---
REFERENCES & RESOURCES