In a Nutshell:
The BT-7862 Contemporary Recliner is good but not a great one. Reasonable comfort, surprisingly good quality, shockingly low price, and ergonomic features. Recommended for anyone on a budget. Hands down the cheapest ergonomic lounger we could find. No extras but offers solid value for the money.
** While aesthetics is a matter of taste, Aesthetic Flexibility is a measure of how easily a given design would fit into a wide range of home or office décor schemes.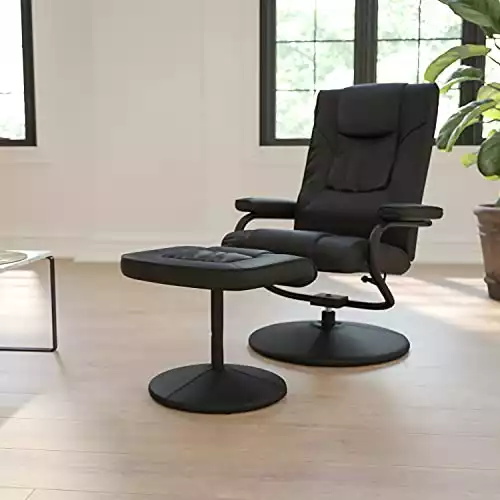 Are you looking for an ergonomic lounge chair to help ease, or even counter chronic back pain? Is money an issue? If you answered yes to both of those questions, then you're going to love our in-depth review of the BT-7862-BK-GG, offered by Flash Furniture.
Haven't heard of Flash Furniture? We'd be surprised if you had. It's an off-brand, but don't let that fool you. As you'll see, this is a surprisingly good little chair for the money. It's not perfect, but we promise you'll be pleasantly surprised.
Let's take a closer look and see what this little chair can do!
Flash Furniture Contemporary Leather Recliner and Ottoman Overview
The first thing you'll notice about the BT-7862 is that it looks more like an office chair than a living room lounge chair. In fact, it exists in something of a "grey area" between the two. Find a place to stash the Ottoman, and you could easily use it as an office chair.
While it's certainly workable as a living room lounge chair, it will tend to stand out (and not in a good way) unless your decorating scheme is somewhat Spartan, to begin with. Then again, if you're on a budget, that's probably not your chief consideration.
The chair features a swivel base, and measures 34.25" x 34.25" x 32.28" while its accompanying Ottoman measures 25.59" x 21.26" x 17.32". It can be ordered in a variety of colors too, so while it's not a stunning model, it does offer some flexibility in terms of matching your décor. You can choose from:
Features of the BT-7862-BK-GG Contemporary Recliner
Adjustability & Comfort
As an extremely basic chair, the Flash Furniture Contemporary Leather Recliner doesn't offer a lot in the realm of adjustability. As mentioned above, it swivels on its base, and it has a basic recline function, but that's about it.
It is surprisingly comfortable, however, featuring both an overstuffed seat and seat back. The arms are somewhat less comfortable, but they're not terrible by any means. While it would be overselling it to say it's a great napping chair, it is acceptably comfortable, as is the Ottoman (which also swivels, by the way!)
Storage & Extras
This will be a very short section. As a bargain-priced chair, the Flash Furniture BT-7862 doesn't have extras of any kind. It's a basic, ergonomic lounger. That's it.
Some Assembly Required
The Flash Furniture BT-7862-BK-GG doesn't come assembled. This is not entirely unexpected for low-end chairs. The vast majority require at least some assembly. As is usually the case with furniture assembly, you can do it solo, but at some point, you'll find yourself wishing you had an extra hand or two.
If you put it together by yourself, it'll take you about 45 minutes. If you have a trusty assistant, you can cut that down to thirty minutes or less. You'll find that the pieces fit together well, and once fully assembled, the chair is surprisingly sturdy. Given the price, we had our doubts about its durability, but we have to say we were impressed.
Even better, Flash Furniture has surprisingly good, responsive customer service and post-sales support, which is not always a sure thing when dealing with off-brands. Kudos to Flash Furniture for offering such a great, well-priced product!
Pros & Cons of Flash Furniture Contemporary Recliner
This will be another short section, which probably won't surprise anyone, given that it's a very basic piece of furniture. Here's what we liked best:
In addition to that, it's surprisingly comfortable. Not luxuriant, and certainly not award-winning, but it gets the job done.
Its two notable negatives are, in our view, minor, and a direct consequence of this being a budget-priced chair. It's not overly attractive, and unless your décor scheme is austere, it's not going to blend in particularly well. It also doesn't have anything to offer in terms of extras, but again, at the price it's being offered at, that's hardly a surprise.
Final Thoughts on Flash Furniture BT-7862-BK-GG
Honestly, the Flash Furniture Contemporary Leather Recliner isn't for everyone. It's great for college students or people just starting out in life, and it's ideal for anyone on a budget, but if you have even a little more money to spend, you can get a better, more full-featured chair.
Even so, if you are on a budget and in desperate need of a reasonably comfortable ergonomic lounger, this one has a lot going for it and is a pleasant surprise. We recommend it…for the right user.
---
References & Resources