In a Nutshell:
The Flash Furniture Soft Suede Microfiber Rocker Recliner is a surprisingly good chair, offered by a small brand with a reputation for making good furniture. Recommended for anyone weighing 250 pounds and below.
* Brand Reliability is a measure of the strength and longevity of the brand, which by extension, is a measure of the level of support you can expect.
** While aesthetics is a matter of taste, Aesthetic Flexibility is a measure of how easily a given design would fit into a wide range of home or office décor schemes.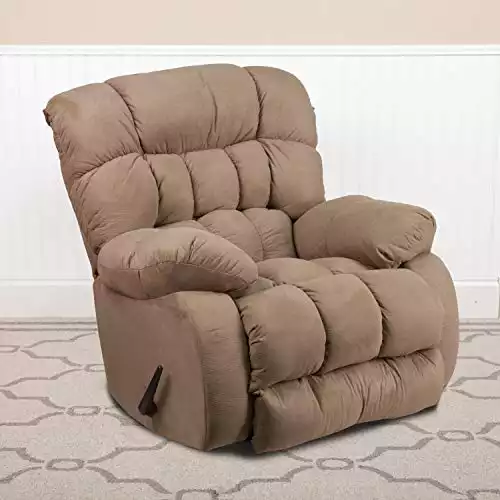 Are you a new or expectant mother, looking for a good, comfortable rocker recliner for your nursery? Did you recently have some type of surgery that makes sleeping in your bed uncomfortable or impractical? Do you suffer from sleep apnea or a similar condition that makes it virtually impossible to sleep while lying flat on your back?
If you answered yes to any of those questions, or are in the market for a good rocker recliner for any other reason, you'll be very interested to learn more about the Flash Furniture Contemporary Softsuede Microfiber Rocker Recliner.
Haven't heard of Flash Furniture? We'd be somewhat surprised if you had. They're one of the many smaller brands plying the waters of the American furniture market, but unlike so many of the others, Flash makes surprisingly and consistently good products. In fact, they've stolen top spots from much larger brands on a number of our roundup reviews.
We'll be quick to admit that their Contemporary Rocker Recliner isn't for everyone – in fact, it's somewhat narrow in its appeal, but it is a good value for the money, and for the right user, it could be perfect.
Are you the kind of user this chair was made for? By the time you reach the end of this review, you'll have all the information you need to know the answer to that question! Let's take a closer look at what this model has to offer and the areas where it comes up a bit short.
Flash Furniture Contemporary Softsuede Microfiber Rocker Recliner Overview
The Flash Furniture Contemporary Softsuede Microfiber Rocker Recliner is a big, comfy chair. That's probably the first thing that will enter your mind when you see it for the first time. Unfortunately, looks can be a bit deceiving. While it's true that it is a big chair that will dominate pretty much any room you put it in, this model is actually quite lightly constructed and can't support much in the way of user weight.
Chair Specifications
That statement is a good time to bring the model's core stats to light, so here they are:
As you can see, it's big, but lightly constructed as evidenced by its modest weight and maximum supported weight. In a lot of ways, this chair is a lot like a long-haired cat.
It looks big at first glance, but once you start petting it, you realize it's an average-sized cat with a lot of fur. Same thing here, but with padding instead of fur. The extravagant amounts of padding make the chair seem bigger than it actually is.
Given the narrow seat width and the modest weight limit, this chair is simply not going to work for a significant chunk of the market. As long as its measurements and yours are more or less in alignment though, it's a great choice.
Color Options
In addition to being a big, fluffy piece of furniture, it's also reasonably attractive, and even better, offered in your choice of Fudge, Graphite, or Taupe "Softsuede" fabric, which offers a luxurious seating experience and makes it easy to blend the chair into your existing home décor, whatever it might be.
Adjustability & Comfort
We ended the last section by giving a quick mention to the "Softsuede" upholstery, so we'll start this section by talking about comfort.
The upholstery is delightfully comfortable and is paired with generous amounts of block foam padding. Granted, block foam isn't as comfortable as memory foam, but there's quite a lot of it, and you'll find the chair incredibly relaxing to curl up in, whether you're taking a breather to watch some TV, have a quick nap, or recline the chair fully to enjoy a decent night's sleep.
Rock and Recline Functions
As the name of the chair indicates, this is both a rocker and a recliner, but there are some limitations on both fronts.
While it is possible to find recliners that can rock while reclining, this isn't one of those models. Further, it's not possible to recline the seatback without bringing the footrest up. The Flash Furniture Soft Suede Microfiber Rocker Recliner does offer the standard trio of reclining positions, and although it doesn't recline to a "lay flat" position, it manages to get about 80% there.
Honestly, laying completely flat is, at least in many cases, unnecessary anyway. If you're looking for a recliner to spend a whole night in, the odds are that you struggle to get a good night's sleep while lying flat on your back in bed anyway. In that case, lying flat on your back in your trusty recliner wouldn't help you much. The bottom line is that the chair reclines far enough back, and is well padded enough that you'll sleep comfortably through the night if you want or need to.
Adjustability wise, other than the aforementioned trio of reclining positions, there's nothing else to report on. As a manual recliner, it offers you exactly what you'd expect it to.
Storage & Extras
As you might expect, given that this is a basic, manual recliner offered for a song by a smaller brand, there are no extras on offer here. Unfortunately, there's no storage either, and we're not really sure we "get" why.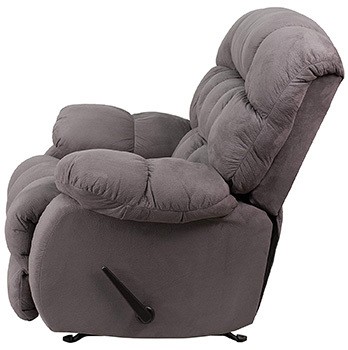 Storage pockets are easy. A bit of extra material and some stitching and you're done. And they're high-value additions to any chair. Who doesn't love a convenient storage pocket, after all? Sadly, this model doesn't offer onboard storage either.
It's a small thing and certainly not a deal-breaker, but especially since part of the target market for this chair is new and expectant mothers who might want this chair in their nurseries, it seems to us that a handy pocket to keep baby supplies would have been a simple addition that would be tremendously appreciated.
Minimal Assembly Required
The Flash Furniture Contemporary Rocker Recliner will arrive at your door in a giant box and in two pieces. Assembly amounts to simply attaching the seatback to the rest of the chair. That's all there is to it. It will probably take you longer to wrestle the chair out of the box than it will be to put it together, although if you suffer from some type of mobility issue, even those steps might be daunting.
Unfortunately, this chair is not sold with a White Glove option, so if you don't want to mess with the assembly process, be sure to have an assistant on standby for when the chair arrives!
Pros & Cons of the Flash Furniture Contemporary Softsuede Microfiber Rocker Recliner
As we said at the very beginning, this is a good chair for the money, but it has its share of drawbacks, with the major one being that it's too small and too lightly constructed to appeal to broad swaths of the market.
It's also a fairly large piece of furniture despite its lightweight, and it's not built with space-saving technology, so you'll need to be sure to place it at least 20" from whatever wall you set it near if you want to be able to recline fully in it. That could be problematic for people who don't have a lot of space to work with.
Assuming you have room though, and if you can fit into the chair's relatively narrow seat, and if you don't exceed its modest maximum supported weight limit, you really will find a lot to like here.
It's a delight to sit in, and it's got enough padding and reclines far enough back to make it an excellent recliner for napping or even sleeping through the night in. On top of that, it's an excellent rocker, which makes it a great choice for new or expectant mothers, and it's got an incredibly attractive price, to boot.
On the whole then, despite its narrow focus, we feel that the pros handily outweigh the cons where this model is concerned.
Flash Furniture Soft Suede Microfiber Rocker Recliner – Final Thoughts
This chair is almost entirely self-selecting. If you have the space for it, and if the chair's measurements are a good fit for your measurements, the Flash Furniture Contemporary Softsuede Microfiber Rocker Recliner is a great, budget-priced recliner that will serve you very well indeed.
If space is at a premium at your house, and if you're too big for the chair, you'll rightly give it a pass without even thinking twice. Based on that, we provisionally recommend this model. Flash is a good company, and if this chair is a good fit for you personally, it's a great option.
---
REFERENCES & RESOURCES: