In a Nutshell:
An elegant looking dining chair that can support an incredible amount of user weight, but looks can be deceiving. Flash Furniture Hercules King Louis Chair is recommended for bigger, taller, heavier users whose homes tend to be decorated in a more formal, elegant style.
* Brand Reliability is a measure of the strength and longevity of the brand, which by extension, is a measure of the level of support you can expect.
** While aesthetics is a matter of taste, Aesthetic Flexibility is a measure of how easily a given design would fit into a wide range of home or office décor schemes.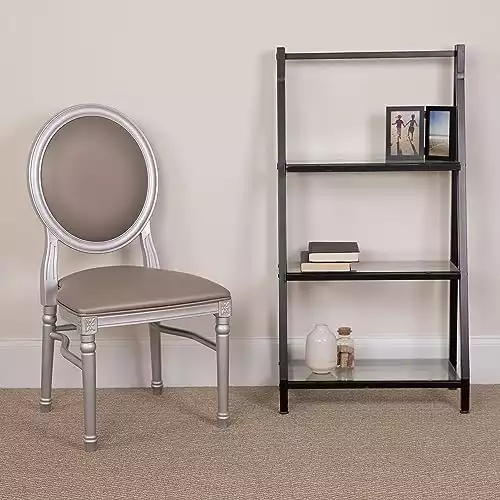 Have you been frustrated on your quest to find furniture that's sturdy and robust enough to support your weight?
If you're on the bigger, taller, and heavier side, it's a common problem.
Most of the furniture sold by the big national brands were made for and marketed to people who weigh between 250 and 300 pounds. That tends to be true of everything from recliners to dining chairs.
The good news is that although the bigger brands are mainly steering clear, there are a number of smaller brands that have moved into that segment of the market and offer an impressive selection of a variety of different types of furniture.
Flash Furniture pretty much has a lock on high weight capacity dining chairs. While a few other companies are offering that type of furniture, none can really compete with Flash's Hercules line, and these King Louis chairs are a part of that product family.
We'll be the first to admit that the Flash Furniture Hercules King Louis chairs are relatively narrowly focused dining chairs that won't be for everyone. But if you're a fan of the aesthetic, you're going to love them. Even if you're not, we think you'll be impressed.
In the sections that follow, we'll tell you everything these chairs have to offer, and we'll also be quick to clue you into their limitations and shortcomings, so you'll be able to decide for yourself if these are the dining chairs you've been looking for. Read on to find out more!
An Overview of the Flash Furniture Hercules Series King Louis Chairs
You'll be taken in by how formal-looking the Flash Furniture Hercules King Louis chairs are. The look demands and commands attention, but there's a catch. These chairs are made of resin, which is typically reserved for patio and other outdoor furniture, and yet, Flash markets these for use indoors.
The contrast is somewhat jarring to us, and we're not overly fond of the aesthetic, which looks a bit ostentatious but can't truly pull it off, given the materials used in construction. Even so, we'll be quick to admit that not everyone's tastes and preferences will align with ours, and if the aesthetic speaks to you, then you likely won't have a problem looking past their resin construction, and these will please you very much.
The good news is that resin is an incredibly durable, low maintenance material, so if you decide you want these, they'll serve you well for years.
Color Variants
Even better, when you place your order, you can choose from any of the following:
These are good color options that will blend with your existing home décor, provided that you've got the rest of your house decorated in a more formal/elegant style.
Upholstery
Normally, we'd view vinyl as a relatively poor upholstery choice, but it's actually a good fit here for a couple of reasons. First, it helps keep the price of these chairs relatively low. Second, most of the time, you're not going to be spending a ton of time in these chairs, so it doesn't matter that vinyl isn't breathable or very durable.
Even so, the vinyl upholstery will start showing its age long before the resin frame of the chair wears out. So, sooner or later, you're going to have these reupholstered to keep them looking like new. There's not a tremendous amount of upholstery to contend with, so having that work done won't be an enormously expensive proposition, and it will greatly extend the useful life of the chairs.
Chair Specifications
We'll close out this section by taking a quick look at the core stats that define the model. Here they are:
As you can see, these chairs are lightweight (which is no surprise, given the resin frame) and capable of supporting an insane amount of user weight. On top of that, the seat dimensions are a good fit for bigger, taller folk.
Adjustability and Comfort
Nothing about the Flash Furniture Hercules Series King Louis chairs is adjustable, but they are surprisingly comfortable, boasting enough padding in the seat and the seatback to provide a delightful seating experience provided you don't spend more than an hour or two in them. Beyond that and these chairs will begin to get increasingly uncomfortable, partly because the padding isn't extravagant and partly because of the vinyl upholstery, which will tend to make you sweat if you use these for extended periods.
Normally that's not a big issue because most people don't spend endless hours sitting in their dining chairs anyway.
Minimal Assembly Required
The only thing you have to do to get the Flash Furniture King Louis chairs ready for first use is to take them out of the box and attach the seats, which amounts to installing four screws. While this model does come with an expert assembly option, it's a waste of money to pay for it, given how simple the assembly process is.
Pros and Cons of Flash Furniture Hercules King Louis Chair
On the whole, these are good dining chairs, and capable of supporting more user weight than most people will ever need. In our view, though, there are two potentially major drawbacks to consider:
First, the aesthetic is narrowly focused. Unless your home is formally and elegantly decorated, these chairs are going to look out of place. Second, there's the fact that they're made of resin.
There's nothing inherently wrong with resin as a material; we just regard it as a poor choice for dining room furniture. Maybe that's bias on our part, and you're fine with it. If so, then disregard that as a negative.
Final Thoughts on Flash Furniture Hercules King Louis Chairs Review
We wanted to love the Flash Furniture Hercules King Louis chairs, but we don't. Flash markets them primarily to restaurants, churches, and other organizations for use in banquet halls and the like. That's a great use for them, but the company has also spent some time and effort marketing these for private use in home dining rooms. We're less convinced on that front.
Here's our biggest issue: If your home is formally and elegantly decorated, then you'll probably want formal, elegant dining room furniture made from some type of hardwood. Resin would almost never be your go-to choice, which, in our view, really limits the appeal of these chairs. On that basis, we provisionally recommend them. For the right user, they'd be fantastic. We're just skeptical of how big that user base might be.
---
Official Manufacturer ​Support
References & Resources: