In a Nutshell:
A well-designed, great looking chair, capable of supporting an impressive amount of user weight. Flash Furniture HERCULES Ladder Back Dining Chair is recommended for bigger, taller people looking for a dining chair that can properly support them and is built to last.
* Brand Reliability is a measure of the strength and longevity of the brand, which by extension, is a measure of the level of support you can expect.
** While aesthetics is a matter of taste, Aesthetic Flexibility is a measure of how easily a given design would fit into a wide range of home or office décor schemes.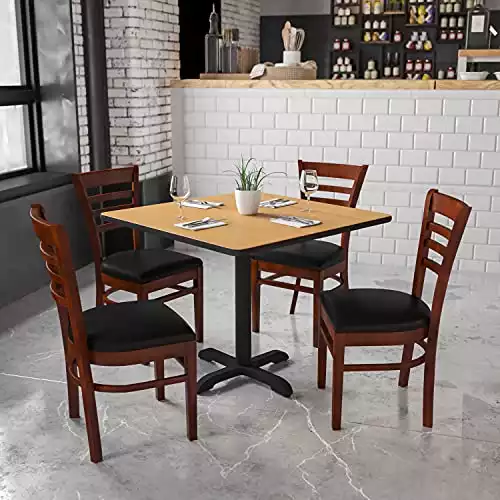 Are you a bigger, taller, or heavier person?
If so, then you know what a challenge it can be to find furniture that's built with you in mind. It seems like most of the brands selling furniture today market to the masses and make furniture that will support around three hundred pounds, tops. That's great for the regular-sized folk of the world, but if you're heavier than that, buying home furnishings can be a lesson in frustration.
Fortunately, although the big national brands tend to shy away from making rugged and robust furniture, there are a number of smaller brands that have happily jumped into the fray. One of those is Flash Furniture. Flash's Hercules furniture line was designed with bigger people in mind and is uniformly excellent. The Flash Furniture HERCULES Ladder Back Dining Chair is part of the Hercules family of products and is a great example of their work.
It's a conventionally designed chair that looks great and is built to last. If that sounds like what you're looking for, then read on, and we'll tell you all about this model so you can decide for yourself if these are the dining chairs you've been looking for. Even if they're not, we think you'll be impressed. Let's take a closer look.
Flash Furniture HERCULES Ladder Back Restaurant Chair Overview
Although there's nothing flashy or daring about the design of the Flash Furniture HERCULES Ladder Back dining chair, it's a good looking piece of furniture and built to last. To give you a sense of the chair, let's start by looking at some basic stats.
Chair Specifications
The chair isn't huge and doesn't weigh a lot, but check out that maximum supported weight limit. That's more than double what most dining chairs can support, so even if you're on the heavier side, this chair has you covered.
The one thing that could be a problem for some potential buyers is that it doesn't have a very deep seat. Most of the time, that's not a huge issue because most people don't spend all day in their dining chairs. For the brief stints you're likely to spend in it, it shouldn't be much of a problem, if any at all.
Flash markets these chairs primarily to restaurants, and when they sell to businesses, they tend to sell in bulk. You can buy a set of ten if you want to, but Flash also sells these with residential buyers in mind and makes them available individually and in sets of two if you don't want quite that many.
Even better, earlier, we regard this as a great budget option because this model can often be found on sale and deeply discounted. In fact, at the time this review was written, the Ladder Back was listed on sale at an impressive 46% off! At full price, these chairs offer tremendous value for the money, but when they're deeply discounted like that, they're one of the best values in the industry.
Color Variants
Best of all, if you decide you want a few of these, you've got tons of options available. You can choose from:
The only thing missing is a Captain's Chair variant, but that's not going to be a deal-breaker for most people.
Adjustability and Comfort
While there's nothing adjustable about the Flash Furniture HERCULES Ladder Back restaurant chairs, they're surprisingly comfortable, with the vinyl-clad variants being slightly more comfortable than their wooden-seat counterparts. Thanks to the inclusion of two and a half inches of block foam padding lurking beneath the upholstery.
The wooden seats are more comfortable than you might imagine, though, thanks to the fact that they're slightly sculpted, which makes for a natural, more comfortable fit when you're sitting in the chair.
Normally, we're not fans of vinyl, but on occasional seating like this, it's a reasonably good option. It's inexpensive, which keeps the price of each chair lower than it otherwise would be. Although vinyl isn't breathable and is not known for its durability since you won't be spending tons of time in these chairs anyway, you'll get more mileage out of the vinyl.
Of course, sooner or later it's going to start showing its age, and when it does, it's well worth the modest expense to have your chairs reupholstered. The wood frame will outlast the upholstery by a significant margin, and having the chairs re-covered as needed is a great way to increase their longevity.
Assembly is Required, But It's Super Simple
It's almost a misnomer to say that assembly is required on the Flash Furniture HERCULES Ladder Back Wood chairs. All you have to do is attach the seat with four screws. It will take most people longer to get their new chairs out of the box than it will to get them ready to use.
We're not sure why, but Flash offers an expert assembly option here. This, we regard as a spectacular waste of money, given how easy it is to put the chair together. We can't recommend paying extra for that, even if you don't like putting furniture together.
Pros and Cons of Flash Furniture HERCULES Ladder Back Dining Chair
The only real point of weakness these chairs have is the depth of the seat, and even then, for most people, it's not going to be a big enough deal to be off-putting. These are awesome, long-lasting chairs, offered at a great price, especially when you can find them on sale, which is often!
Final Thoughts on Flash Furniture HERCULES Ladder Back Dining Chair Review
We regard these as the second-best dining chairs in Flash's Hercules lineup, losing out narrowly to the Slat Back Chair, which boasts a deeper seat and similar styling. The Flash Furniture HERCULES Ladder Back Dining chairs, however, are quite similar and come highly recommended.
---
Official Manufacturer Support​
References & Resources