In a Nutshell:
The Flash Furniture Hercules Mesh Executive Office Chair is big, rugged, sturdy and durable. It is a basic chair that will serve you well. Recommended for anyone on a budget.
* Brand Reliability is a measure of the strength and longevity of the brand, which by extension, is a measure of the level of support you can expect.
** While aesthetics is a matter of taste, Aesthetic Flexibility is a measure of how easily a given design would fit into a wide range of home or office décor schemes.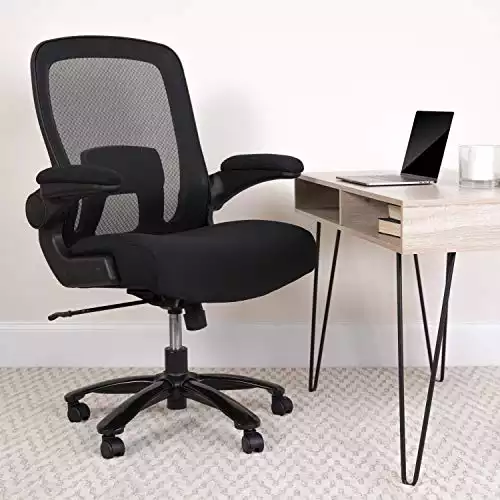 Are you in the market for a good-quality mesh office chair that covers the basics but won't cost you an arm and a leg? Have you been pulling your hair out trying to find a chair that's big and sturdy enough for you? If you answered yes to either of those questions, you're going to love this review. Flash Furniture is the best little off-brand that most people have never heard of. They don't have a high profile nor much in the way of name recognition but make no mistake, these guys know office furniture, and they make surprisingly great products.
Many off brands tend to take the following approach when designing products for sale: They'll use substandard materials to keep the price low and throw a ton of features into their products, hoping that some of them will be good enough to make whatever they're selling attractive to the average consumer.
Flash doesn't do that. They tend to use better than average materials and only focus on a few key features, implementing them very well. This results in a low-cost product that's not terribly feature-rich, but of much higher quality than you'd expect from an off brand.
It's a strategy that works, and one we're very fond of, which is why Flash Furniture is so often featured in our "best of" roundup reviews, nipping at the heels of big brands with national, or even global footprints.
In the sections that follow, we'll go over everything the Flash Furniture Hercules Mesh Executive Office Chair can do, and tell you about the things it can't do so you'll have all the information you need to make an informed purchasing decision.
Even if you ultimately decide that this isn't the chair for you, we think you'll agree. This is a surprisingly great piece of office furniture! Let's jump right in and take a closer look at it.
An Overview of the Flash Furniture Hercules Mesh Executive Office Chair
The first thing you'll notice about the Flash Furniture Hercules Mesh Executive Office Chair is that it's a big, hulking brute of a chair. It looks heavy (because it is). It looks durable. In fact, it seems virtually indestructible.
Flash designed the Hercules line to be used in call centers that are open twenty-four hours a day, seven days a week and used by rotating shifts of employees. As such, the company didn't mess around where the quality of the materials was concerned. The mesh seat back is as durable as it gets, and the seat is clad in durable, breathable fabric, stretched over conventional block foam, which provides a comfortable sitting experience, even if you spend a full day working from the confines of the chair.
It should be noted that Flash also sells the same chair with a seat upholstered in bonded leather. While we applaud the company for offering some variety here, we can't recommend that variant of the model, because the bonded leather doesn't stand up as well to the rigors of heavy daily use and isn't nearly as breathable.
Still, if you're intrigued by the idea of a hybrid mesh/bonded leather chair, the option is available to you!
Aside from its impressive size, the Hercules Mesh chair is a conventional design, so it's relatively unobtrusive, which makes it blend in seamlessly with most home and office décor schemes.
Before we take a deeper look at its capabilities, let's take a quick look at the basic stats that define the chair:
There are a couple of things to talk about here, but all of them point to the same central point. When you look at the impressive seat width, depth, and height adjustment range, you can see clearly that this is a chair built for giants.
And check out the height adjustment range! Most big and tall chairs have a height range that starts at 18" and goes up to 22." This monster starts at 20" and goes all the way up to 24" in height. Again, this is a chair built for the biggest of the big and the tallest of the tall.
Spend some time sitting in this chair, and anything else is going to feel like a toy. Its solid steel base and the massive size of its components drives its impressive weight and makes the Hercules Mesh one tough customer.
A good office chair is defined by more than just a few raw statistics though, so next, let's take a look under the hood and see what features it has that makes it worth considering.
Adjustability and Comfort
​As we said at the start here in our Flash Furniture Hercules Mesh Executive Office Chair review, Flash is in the habit of making furniture that focuses on a few key features, so there's not a whole lot to talk about where adjustability is concerned. You can adjust the height within the range we mentioned earlier, and you can set the tilt limiter so that the chair reclines with a range of 90 to 120 degrees.
Many office chairs recline further than this, so this model isn't best in class, but for most purposes, the maximum recline angle offered here works just fine, and this is almost certain not to be a deal breaker for most potential buyers.
Although the stubby armrests are well padded and comfortable, we do wish they were height adjustable. Sadly, this is not the case, but they do flip up, so if you'd rather not use the armrests, or if you want to have an easier time tucking this giant of a chair under your desk when you're not using it, that feature will certainly come in handy.
The Hercules Mesh sports two ergonomic features, both of which are well implemented and add to the overall comfort of the chair.
First, there's the simple but effective lumbar support pad. Although it's not height adjustable, the tension, and thus, the level of support it offers is adjustable, giving you a quick, convenient way to optimize your seating experience.
In addition to that, this model also sports a waterfall-edge seat, which helps improve blood flow to your legs and is especially welcome for those who spend extended periods of time sitting in the chair.
Those two things, combined with the generous amounts of block foam padding in the seat and the breathability of the seat back make this a much more comfortable chair than you might think it to be.
Assembly Required
On the flip side, if you order the Flash Furniture Hercules Mesh Executive Swivel chair, it will arrive at your doorstep in a gigantic box and in several pieces. Worse, those pieces are big, bulky, and awkward to work with if you're trying to put the chair together on your own. It's certainly possible, but if you're doing the assembly solo, expect some frustration and expect the process to take the better part of an hour.
If you have an extra pair of hands, you'll probably shave at least fifteen minutes off of the assembly time, and of course, once you've got it put together, it's rock solid. About the only thing you'll have to do is re-tighten the arms once in a while, so be sure you don't lose track of the included hex wrench.
It should be noted here that the assembly process is somewhat time intensive due to the size of the parts, not because of low production values. In fact, you'll be pleasantly surprised at the quality of the materials.
The assembly instructions are simple and clear, and all the screw holes line up as they should, although you may notice that some of them are a bit on the rough side. This won't be notable when you're using the chair but watch your hands when you're putting it together just in case!
Pros & Cons of the Flash Furniture Hercules Mesh Executive Office Chair
There's really nothing to dislike about this model. It's a simple chair, offering a handful of well-implemented features, including two powerful ergonomic features. Given the price the chair is being sold at, we were impressed and then some.
In our view, the standout feature is the adjustable lumbar support. That's not typically something you find on low priced office furniture and almost never on low priced furniture sold by an off-brand, but that's one of the things that makes Flash such a remarkable little company.
Flash Furniture Hercules Mesh Executive Office Chair Review Conclusion
This is a tremendously good chair, offered at a super attractive price. The Flash Furniture Hercules Mesh Executive Office Chair is, however, a self-selecting piece of furniture. It's just too big for most of the market. In fact, it's too big for a significant portion of the big and tall market.
In our view, that's what makes it such a great option though. It knows what it is, and it knows who it's for. It doesn't even try to be all things to all people. It was created for giants. If you're a giant and you've been struggling to find a chair you can fit into, put this one on your short list. You won't be disappointed. We recommend it.
---
REFERENCES & RESOURCES: