In a Nutshell:
In our view, Flash Furniture HERCULES Plastic Folding Chair is the best folding chair on the market today, and offered in a variety of colors, to boot! Recommended for anyone. Sooner or later, everybody winds up needing a folding chair (or several).
* Brand Reliability is a measure of the strength and longevity of the brand, which by extension, is a measure of the level of support you can expect.
** While aesthetics is a matter of taste, Aesthetic Flexibility is a measure of how easily a given design would fit into a wide range of home or office décor schemes.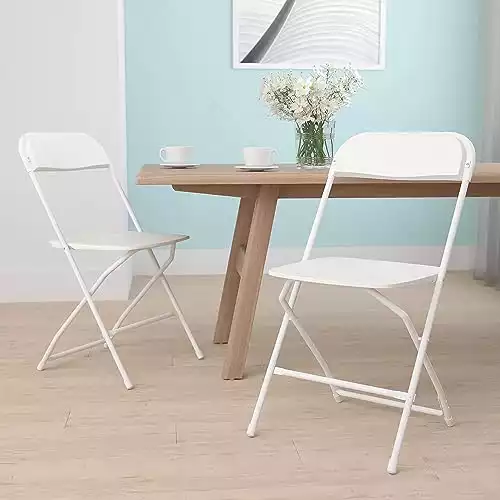 Are you in the market for a good, durable, lightweight folding chair that can support a lot of weight?
Even if you aren't right this second, the simple truth is that at one point or another, just about everybody has an occasion when they could really use an extra chair.
Folding chairs are the ultimate in convenience seating. They're compact and easily stored when you're not using them, and while they won't win any beauty contests or awards for comfort, they're not intended to. They're designed to be versatile, functional short-term seating solutions.
Over the years, not much has changed about folding chairs, but leave it to plucky little Flash furniture to produce a product that manages to breathe new life into a rather uninteresting type of seating.
Although there's not a lot to talk about in terms of extras or cutting edge features, as you'll see in the review that follows, these little chairs are fairly amazing, given what they are. If you're intrigued and know you're going to need this type of seating at some point in the near future, keep reading, and we'll tell you why these are the folding chairs you've been looking for.
Flash Furniture Hercules Series Plastic Folding Chair Overview
Let's start by stating the obvious. The Flash Furniture Hercules plastic folding chairs aren't living room furniture. These aren't the type of chairs you buy if you're interested in making a statement or wow your guests with your taste in home décor.
No, these are chairs you buy and stick in the garage until you have a picnic or a yard sale, or if you're throwing a party and were expecting ten guests and thirty show up. As we said at the start, sooner or later, everybody winds up needing extra seating for one reason or another. When it inevitably happens to you, having a few of these on standby will be a godsend.
Chair Specifications
Here are the basic stats that define these chairs:
Obviously, the last item on the list above is the headline. These chairs can support an almost ridiculous amount of weight, and we mean that in a good way. That's nothing short of amazing.
The other thing worth calling your attention to is the fact that when folded for storage, they collapse down to a package that's just two and a half inches wide, meaning they won't be space hogs in your garage or storage buildings.
Moving beyond the basic stats, given the insane amount of weight these chairs are capable of supporting, they're more versatile than the folding chairs you may have lying around in your garage right now. Couple a few of them with a piece of plywood, and you'll find they make a decent, if not a somewhat low table in a pinch, and they won't buckle under the strain of whatever you place on the makeshift table. In fact, they'll hold up better than the plywood!
Color Options
Even better, Flash didn't content themselves with just selling boring colors. When you order yours, you can select from your choice of:
Best of all, depending on your needs, you can order a single chair, a two-pack, or even a ten-pack, making it easy to get the exact number you may need.
No Assembly Required
This probably doesn't come as a surprise, given the type of chair we're talking about. When your Hercules Folding Chairs arrive at your door, there's nothing to do except take them out of the box, unfold, and have a seat.
Adjustability and Comfort
This will be another short section since folding chairs aren't known for their comfort or adjustability.
The Flash Furniture Hercules series plastic folding chairs are made of a mix of metal and plastic. They're designed to be functional, not luxuriant. As such, they don't offer anything in terms of adjustability and are about as comfortable as you'd expect a folding chair to be.
If you need something to sit on for an hour or two, these are great. If you are sitting for much longer than that, you'll find that folding chairs become increasingly unattractive. The good news is that if you buy a few throw pillows, you can make a makeshift seat cushion easily enough that will extend their usefulness and versatility. Even then, though, these aren't the chairs you're looking for if you want something to lounge in for extended periods.
Pros and Cons of Flash Furniture HERCULES Folding Chair
The impressive weight limit has to be counted as the greatest strength of the Hercules Folding Chair, with the decent color selection coming in a distant second.
The closest thing we can find to a negative is the fact that the chairs are made of mixed materials, which means that maintenance and cleaning will be a bit more time consuming than it would be if the chairs were made of a single material.
Even so, that's not much of a negative and is far overshadowed by the strengths of this design.
Flash Furniture Hercules Plastic Folding Chair Review Conclusion
Flash Furniture is a great company, and they make consistently good furniture. The entire Hercules line is impressive, and these folding chairs are no exception. In our view, there's nothing on the market today that can hold a candle to these.
They're well-priced, incredibly rugged, and capable little chairs that offer tremendous value for the money. If you buy any other type of folding chair, you're probably wasting money. We highly recommend the Flash Furniture Hercules plastic folding chairs and consider it to be the final word where folding chairs are concerned.
---
REFERENCES & RESOURCES