In a Nutshell:
The Flash Furniture HERCULES Series 24/7 is good looking, rugged, and durable. This is a rock-solid office chair. Recommended for anyone who spends several hours a day in their chair. This thing is virtually indestructible.
* Brand Reliability is a measure of the strength and longevity of the brand, which by extension, is a measure of the level of support you can expect.
** While aesthetics is a matter of taste, Aesthetic Flexibility is a measure of how easily a given design would fit into a wide range of home or office décor schemes.
Do you spend several hours a day working from your office chair? No, seriously, do you practically live in your chair? If so, you've probably been disappointed by the office chairs most companies offer, including the one you're sitting in right now.
All that is about to change.
The Flash Furniture Hercules Series 24/7 is a beast of a chair. Well-built and rugged, it's a virtually indestructible piece of office furniture, and it manages to be that while still being comfortable and good looking.
If you've been frustrated by the durability and longevity of office chairs in the past, you're going to love this review because, in the sections that follow, we're going to introduce you to your new best friend, the Hercules 24/7.
If that sounds good to you, let's get right to it!
An Overview of the Flash Furniture Hercules Series 24/7 Office Chair
According to my Amazon purchase history, I bought the Flash Furniture Hercules Series 24/7 chair on December 10, 2016. Previous to owning the Hercules 24/7, I burned through about a chair a year. They were just garbage. Feeble. Not up to the job I was demanding from them.
I work from home as a freelance writer. I'm in the chair every day for at least eight, and often twelve to fourteen hours a day. I seldom take days off, so I tend to wear office chairs out quickly.
Flash Furniture isn't a well-known brand, but the chair had gotten good reviews and high marks for ruggedness and durability, so it sounded like what I was looking for, but I had heard it all before.
Still, this chair was specifically designed for constant use in 24/7 call centers, where people swap out at the end of a shift and share desk space, so I was cautiously hopeful.
Here are the basic stats of the chair:
The pictures told me it was a decent looking chair, offered in either bonded leather or fabric. I have three reformed feral cats, so I opted for fabric because I figured the low-end leather would only last about a week when confronted by cat claws.
I placed my order and waited. Courtesy of Amazon Prime's two-day delivery, I did not have to wait long.
Assembly Required
This was not a surprise. The Flash Furniture Hercules Series 24/7 intensive use chair came in a big box in several pieces. The instructions were simple and clear, and I opted to put the chair together on my own. In hindsight, I should have gotten help. It's a big, burly chair, capable of supporting users weighing up to five hundred pounds.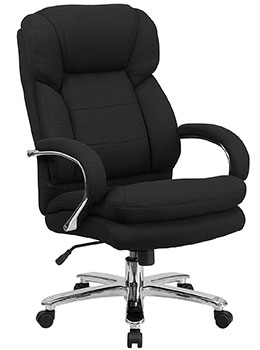 I don't weigh anywhere close to that, but I'm a big guy at 6'6". I was hoping that if it were rugged enough to support that kind of weight, it would be strong enough to stand up to the punishment I was going to be putting it through.
The assembly and setup took the better part of an hour. They're not kidding when they say the chair weighs close to seventy pounds.
There was a lot of grunting and cursing under my breath as I tried to wrestle the expansive seatback into position and hold it while screwing it to the base of the chair. Two extra hands would have made it a lot easier, but in the end, I got it put together.
The base is solid steel and heavy. The casters are nylon, but ruggedized. I have hardwood floors, and obviously, they work well on my flooring, but my hunch is that if you have thick, pile carpet, it might be a challenge to move about in the chair.
In any case, I'd recommend getting help when putting this monster together. Even with long arms and a big frame, it was an epic wrestling match to get it assembled on my own.
Adjustability and Comfort
The chair is height adjustable and has a modest recline range (120 degrees). Since I live alone and am the only one who uses it, I just set it to my preferred height and angle and left it alone, but the controls are simple and located under the seat. No surprises there.
What did surprise me was the padding. I'd read some reviews where people were complaining about inadequate padding, so I was fully expecting to have to buy an extra pillow to help with that.
It turned out to be completely unnecessary. I haven't had the first problem with discomfort sitting in the office chair, and as I said at the start, I spend a lot of time in it.
Not sure what the people who wrote the negative reviews were expecting, but I would consider myself to be a power user (and then some) and I have no problem with the level of comfort the Hercules 24/7 offers. It's better than I was expecting.
Regarding ergonomic support, the lumbar support is exceptional, and the head, neck and shoulder support is quite good.
The armrests are ergonomically designed, but they're fixed in their position, so there's no tweaking possible on that front. That doesn't bother me, because the armrests are just about perfectly positioned for me, but that might not be true for everyone.
On balance, I'd say that the ergonomic features are very good, but fall short of being excellent, with the lumbar support being the best of the bunch.
I can't claim that after a fourteen-hour writing day my back isn't sore, but I'd hate to imagine what I'd feel like if I didn't have a chair that offered good ergonomic support!
---
Pros & Cons of the Flash Furniture Hercules Series 24/7 Intensive Use Chair
I like everything about the chair, and for me, I don't think there are any negatives at all. It's the chair I've always wanted; I just didn't know it. As I said, I spend at least 8 and often 12 hours or more in it every single day.
On the rare occasions when I take a day off, I still sit in it to watch movies – it's more comfortable than my couch!
Having said that though, there are two things a potential buyer should be aware of:
First, Flash Furniture is a decent brand, but they're not especially well-known. Their customer service and support are okay, but not world-class (I've never needed them for anything, but I did call to see how long it would take to get a live human on the phone).
Of course, this is a virtually indestructible chair, so if you put it through enough punishment to break it, it's probably time to buy a new chair – it's doubtful that customer service would be able to help you much!
Second, this is a big chair. Really big. Even at its lowest setting, it sits almost 22" off the ground, and it's got a wide, deep seat.
If you have short legs, this isn't the chair you want. Either your feet will be off the ground while you're sitting in the chair nestled back in the seat far enough that your back is touching the seatback, or you'll be perched on the edge of the seat with no back support. Neither of those are good, and both are a sure sign that the chair is just too big for you.
---
Flash Furniture HERCULES Series 24/7 Review Conclusion
The Flash Furniture Hercules Series 24/7 is the office chair I never knew I wanted. Every other chair I've owned previous to this feels like a toy by comparison. When I say this model is a beast, I really mean it. After almost two years of cat claws and relentless daily use, it's still going strong. The only thing I've ever had to do is, about every six months, I tighten up the arms again.
If you're looking for a chair that can take whatever punishment you can dish out and can stand up to the rigors of incredibly high levels of use, and if you're big and tall enough to fit into it well, this is hands down the chair you want.
If and when I wear the chair out (no signs of that so far), I won't shop around; there's no need. I'll just get another one of these. I can't think of a better endorsement than that.
This chair is highly recommended for bigger, taller people. If you're average-sized or smaller, this isn't the chair you want. It's amazing, but sorry, you're just not going to fit into it. It would swallow you whole and either leave you with your feet off the ground or with no back support, depending on how you sit in it.
---
References & Resources: