In a Nutshell:
The Flash Furniture HERCULES Vertical Slat Back Dining Chair is a classic, timeless design, offered in a variety of options and capable of supporting a tremendous amount of user weight. Recommended for anyone with bigger, taller people living in their home. These are awesome chairs.
* Brand Reliability is a measure of the strength and longevity of the brand, which by extension, is a measure of the level of support you can expect.
** While aesthetics is a matter of taste, Aesthetic Flexibility is a measure of how easily a given design would fit into a wide range of home or office décor schemes.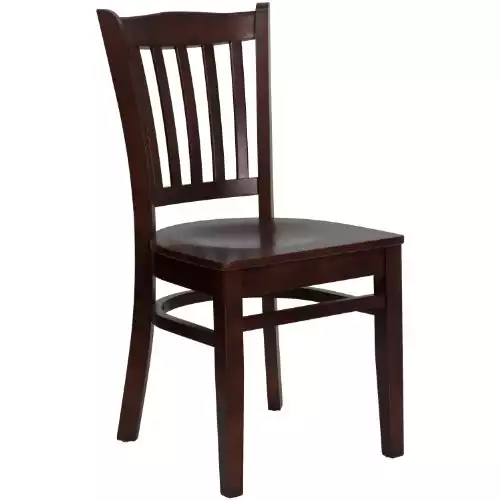 Do you consider yourself a big, tall, or hefty person? Has that fact made finding good quality furniture a daunting challenge?
If you answered yes to either of those questions, you're not alone. Most of the big, national furniture brands tend to stick pretty close to the mainstream market, making and selling furniture rated to support between two-hundred and fifty to three-hundred pounds.
That's enough weight to accommodate some 90% of the market, but if you're heavier than that, you'll find that the pickings are generally slim, at least where the mainstream brands are concerned. The good news is that a raft of smaller, less well-known brands have happily moved into that segment of the market, and they offer a pleasantly surprising range of furniture options. If you know where to look, you'll find everything from great-looking recliners to robust dining furniture that's sturdy enough to support you properly.
One of those smaller companies is Flash Furniture. Their Hercules product line was specifically designed for big and tall users, and the Vertical Slat Back Dining Chair is a part of that family of products.
Flash might be small, but they've been in the business for a long time, and they make consistently good furniture. The Hercules product family is a cut above, and we think you'll be pleasantly surprised by what you read in this review.
In the sections that follow, we'll tell you what makes the Flash Furniture HERCULES Vertical Slat Back Dining chair such a great option, and by the time you reach the end, even if you opt to go in some other direction, we think you'll agree; these are great chairs. If your interest is piqued, read on!
An Overview of the Flash Furniture HERCULES Vertical Slat Back Restaurant Chair
A classic design. That's the phrase that's likely to spring to mind when you see the Flash Furniture HERCULES Vertical Slat Back Dining chairs for the first time. Flash mostly markets these to restaurants, selling them in bulk, but they also make them available individually or in sets of two for purchase by individuals for home use. They're basic, functional dining chairs with an aesthetic that never goes out of style. Even better, if you decide you want one (or several) you can choose from any of the following configurations:
Of course, frame and seat options only tell part of the story. Let's take a closer look at the basic stats that define this particular model:
These are big, sturdy chairs, capable of supporting an impressive amount of user weight. Once you sit in one of these, you're likely to view every other dining chair you come across as little more than a toy. These are serious pieces of furniture that will last you for years with proper care.
Adjustability and Comfort
Nothing about the HERCULES Vertical Slat Back Restaurant chairs is adjustable, but they're more comfortable than first meets the eye. The variants with the vinyl upholstery tend to be slightly more comfortable on account of the moderate amount of block foam padding lurking beneath the upholstery. Even the wooden seats are more comfortable than you might think, owing to their slightly sculpted design.
Normally, we don't like to see vinyl upholstery on furniture. It's not breathable, and it doesn't age well. In fact, on most other types of furniture, vinyl will start peeling and cracking after no more than a years' worth of moderate to heavy daily usage.
Here, we regard vinyl as a good choice. It's inexpensive, which keeps the price of these chairs relatively low, and since most people don't spend endless hours sitting in their dining room chairs, the vinyl tends to age more slowly. Sure, eventually, it's going to start showing signs of wear. Since these are essentially occasional seats, you'll wind up inadvertently extending its useful life.
When you do ultimately have to reupholster these since there's not much vinyl to contend with, it tends to be a budget-friendly project, and since the wood frame will last you for years, having the vinyl variants re-covered periodically will extend the useful life of your furniture.
Some Assembly Required
As is the case with most of the furniture sold online these days, the Flash Furniture HERCULES Vertical Slat Back chairs will arrive at your door unassembled. Don't let that put you off. The assembly process couldn't be simpler, and amounts to attaching the seat with the four included screws. It will probably take you longer to get your new dining chairs out of the box than it will to get them ready for first use.
Note that the company does offer an expert assembly option here, but the price is extravagant. You don't want to pay some guy almost a hundred bucks to screw four screws into the wood, and we can't recommend the service, even if you're somewhat phobic about putting your own furniture together.
Pros and Cons of HERCULES Vertical Slat Back Dining Chair
These chairs don't really have any weaknesses. They're attractive, they blend in seamlessly to just about any home décor scheme, and they're incredibly rugged and durable.
Final Thoughts: Flash Furniture HERCULES Vertical Slat Back Dining Chair
In our view, the Flash Furniture HERCULES Vertical Slat Back Dining chair is the final word where big and tall dining chairs are concerned. We love them, and we think you will too. These come highly recommended.
---
References & Resources