In a Nutshell:
Flash Furniture High Back Designer Mesh Chair is a low-priced, great looking chair with basic functionality. It is recommended for anyone weighing 250 pounds or less who's interested in a great looking office chair, offered for a song.
* Brand Reliability is a measure of the strength and longevity of the brand, which by extension, is a measure of the level of support you can expect.
** While aesthetics is a matter of taste, Aesthetic Flexibility is a measure of how easily a given design would fit into a wide range of home or office décor schemes.
Are you in the market for a new office chair? Are you on a tight budget and looking for something that's both comfortable and stylish, and that won't break the bank? If so, then you're going to love this review!
Flash Furniture is a company whose products we review on a regular basis. They're a smaller, off-brand but they make surprisingly good furniture and their products often wind up featured in our "Best Of" product roundups, where they steal the spotlight from products offered by larger, better-established brands.
The Flash Furniture High Back Designer Mesh Chair is an excellent example of their work. It's a surprisingly attractive, reasonably comfortable chair that offers basic functionality at a price just about anyone can afford.
If that sounds like what you're looking for, read on, and in the sections that follow, we'll outline everything this chair gets right and fill you in on its shortcomings so you'll have all the information you need to decide if it's the right chair for you. Let's jump right in and see what this model has to offer!
An Overview of the Flash Furniture High Back Designer Mesh Swivel Chair
The first thing you'll notice about the Flash Furniture High Back Designer Mesh Chair is that it's a good-looking piece of furniture, especially for a mesh chair. The designers obviously spent some time considering aesthetics, and even went so far as to offer their chair in a variety of colors, including:
Given its stylish design and the color options available, this chair will blend easily into just about any home or office décor scheme, or, you could order your chair in a color designed to make it stand out in whatever room you place it in, using it as a low-cost, eye-catching centerpiece. Again, that's quite an achievement for an off-brand mesh chair, so kudos to Flash Furniture!
Before we take a deeper look at the features on offer here though, let's do a quick review of the basic stats that define the model. Here they are:
The big thing that jumps out at us as we look at these numbers is the height adjustment range. It extends well into what would be considered the range for a big and tall chair. The usual range you see on big and tall chairs is 18" to 22" and this model doesn't miss that mark by much, but the chair's maximum supported weight doesn't support the notion at all.
We were somewhat disappointed by the modest weight limit, but it's not altogether shocking. This is an expensive chair, built using lightweight materials. Even so, given the height adjustment range, shorter users may struggle to sit comfortably, even with the chair set to its lowest height setting. Taller users who are lightly built will have no problems whatsoever, however.
Adjustability and Comfort
There's not much to talk about where adjustability is concerned. Again, that's not a huge surprise in a low-priced chair. It does feature a tilt and lock mechanism and you'll find that the chair reclines back to a maximum of about 35 degrees, and that you can set the tension so it's easier/more difficult to recline back to your preferred seating position.
Other than that and the height adjustment lever though, that's it. There's nothing else you can adjust on this model.
Comfort wise, the important thing to point out is that this is a mesh chair, with all the pros and cons that come with that.
On the one hand, mesh is wonderfully breathable, which makes it easy to spend extended periods of time sitting in it. The seat is mesh, just like the back, but it's a tighter weave and there is a modest amount of conventional block foam padding beneath the mesh upholstery. This is a good tradeoff that still leaves you with a fairly breathable seat, while providing a little more comfort than a pure mesh chair, which features no padding at all.
Unfortunately, there's not a ton of padding in the seat, and the longer you sit in it, the less comfortable it will be. It's certainly not the kiss of death, but if you're a power user, then toward the end of the day, this chair's almost certainly going to become increasingly less comfortable.
One thing that helps though, is the fact that this inexpensive little chair comes with two well implemented ergonomic features that help to enhance its comfort. First, there's the waterfall-edge style seat that ensures your legs won't go to sleep when you spend long periods of time sitting at your desk.
Second, the Flash Furniture High Back Designer Mesh Executive Swivel Chair features a built-in lumbar support system that provides excellent lower back support. Granted, it's not adjustable in any way, but the fact that it's present in any form, especially given the low price of the chair, is a definite boon.
Although the armrests are not ergonomically designed, they are height adjustable, which allows for some tweaking and customizing where your seating experience is concerned. Note, however that the seams are only single stitched, and that the armrest upholstery is faux leather, which will start to show its age by peeling and cracking much sooner than you'd like, even if you care for them obsessively. That's not at all unusual in lower-priced furniture, but it is something to bear in mind.
Does Not Come Assembled
It will probably come as no great surprise, but this chair, like most low-priced office furniture, does not come assembled. It will arrive in pieces in a single large box, and you'll have to work out how the pieces go together on your own.
There are no assembly instructions but anyone who has sat in a chair before will intuitively understand how all the pieces fit together, so there's not much mystery here. We regard the lack of instructions as a bit of a disappointment, especially since their addition would be such a simple matter, but even without them, it shouldn't take longer than 20 minutes or so to put the chair together. Less if you have an extra pair of hands available on the day the chair arrives.
---
Pros and Cons of the Flash Furniture High Back Designer Mesh Executive Swivel Chair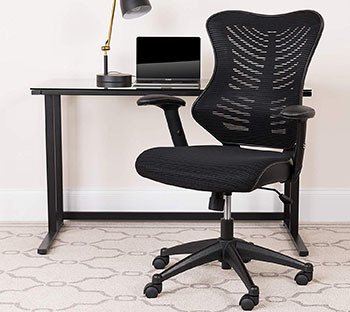 About the only real negative we can think of when it comes to this model is the conspicuous absence of assembly instructions. That's pretty standard fare, and most of Flash Furniture's products come with instructions, so we're not really sure why they were left out of the equation here. It's certainly not a deal breaker, though we do hope that at some point, Flash will correct what we feel is an oversight.
Other than that, this is a pretty good little chair for the money, especially if aesthetics is important to you and you're looking for something other than a conventionally styled office chair to sit in.
---
Flash Furniture High Back Designer Mesh Chair: Final Thoughts
Most people have strong opinions about mesh chairs. They either love them, and won't consider buying anything else, or they despise them and won't even consider bringing one home. If you fall into the former category, there's a lot to like about this chair, especially given its low price. If you're a member of the latter group, it doesn't matter how pretty this chair is, it's just not going to be something you're interested in.
The Flash Furniture High Back Designer Mesh Chair is a relatively poor fit for a power user who spends 8-10+ hours a day in the chair. The mesh upholstery makes it breathable, but even with a couple of well-implemented ergonomic features, it's going to start getting uncomfortable by the end of the day. For light to moderate use, however, it's superb.
For the money, this is a solid value. Do note, however, that this model's seat height adjustment range extends into big and tall territory, so if you're on the shorter side, it will be important to take careful measurements to be sure you'll be able to sit comfortably in the chair when it's set to its lowest height setting.Also be mindful of the relatively modest weight limit. As long as you're okay with both of those aspects of the chair, this is model offers solid value and is good-looking, to boot. We recommend it.
---
References & Resources