In a Nutshell:
A solid, rugged design that has a lot going for it. Falls just short of greatness, but there's a lot to like here! Foldawheel PW-1000XL Power Wheelchair is recommended for anyone with a long-term mobility issue, especially those who are constantly on the go, and are looking for a "go anywhere" electric mobility assist.
Is your mobility issue cramping your style? Do you miss being able to get outside and go, anywhere, anytime you like? Are you looking for a lightweight, easy to use electric wheelchair that can help make that happen?
If you've never heard of the company "Wheelchair88," you're not alone. They're a Malaysian firm, and the makers of the Foldawheel PW-1000 electric wheelchair.
While some people may groan inwardly and cringe at the thought of working with an overseas company, we'd urge you to read this review to the end before making a final judgment.
After all, it did place a respectable fourth on our recent review of the best electric wheelchairs for the elderly, which is no small feat for an off-brand!
We'll be the first to admit that this isn't a perfect electric wheelchair. It's got its quirks, faults, and flaws, but it also gets a lot of things right. Don't worry, in the sections that follow; we'll go into detail about everything the PW-1000 can and can't do so you'll have all the information you need to make an informed purchasing decision.
If that sounds good to you, then let's jump right in and get started!
An Overview of the Foldawheel PW-1000 Electric Wheelchair
We'll be honest, the first thing that sprang into our minds when we saw the Foldawheel PW-1000 was that it looked like it belonged on an episode of the TV show, "BattleBots!" It's got a vaguely futuristic look that we found very appealing, although we understand that not everyone will appreciate the aesthetic.
Still, dressed in silver and black, it would be hard to describe this chair as ugly. It's a pretty good-looking piece of equipment as electric wheelchairs go. Most people aren't bothered by aesthetics though, so let's look below the surface and get to some specifics.
The PW-1000 (and its slightly larger cousin, the PW-1000XL) are both constructed of high-grade aluminum alloy, capable of supporting a surprising amount of weight, while keeping the overall chair weight fairly low.
Basic Chair Specifications
Here are the Foldawheel's basic stats:
Foldawheel PW 1000XL Wheelchair Features
Adjustability
While the Foldawheel PW-1000 Electric Wheelchair gets all the basics right, it's not a terribly adjustable chair. Here, you'll find just two things you can adjust, and only one of them impacts the person sitting in the chair.
You can adjust the height of the armrests. That's it. If you're looking for a chair that allows you to tweak it and fine-tune it until it fits you like a glove, this isn't the model you want, so be sure you "fit" before placing your order!
You can also adjust the height of the "roll bar" on the back of the chair, which can be used by an assistant to push it manually if you run out of battery power, but again, that's not something that will impact the person sitting in the chair.
Comfort
Regarding comfort, it fares better. The seat cushion is quite thick and comfortable, and the seat back is acceptably comfortable. It's ideal for short- to medium-duration sitting. Although, if you're looking for a chair, you plan to spend 8+ hours a day in, you'll probably want to look elsewhere, or seriously upgrade the cushioning.
Customer Support
Here's something interesting to talk about in our Foldawheel PW-1000xl Power Wheelchair review. Remember how we said that a lot of people didn't like the idea of buying a chair from an overseas company because customer service is usually a nightmare?
Well, while it's true that getting a live person on the phone can be a bit of a challenge, once you do get to talk to someone, you'll find them incredibly helpful and responsive to your needs.
Case in point: When this model was first introduced, a lot of Wheelchair88's customers complained about the lack of a headrest. The company listened, and you can now buy a height adjustable headrest as an accessory if you want one. Kudos to Wheelchair88 for excellent service, support, and responsiveness!
Speaking of extras, we'll talk about them next.
Extras, Add-Ons & Storage
Sadly, the base model only has two extras to talk about.
Anti-Tippers
The first is the fact that it comes standard with anti-tipping wheels. That's a very good thing because as you'll note, its motor is powerful enough that it can tackle daunting thirteen-degree slopes. Most of the chairs we've reviewed on this site are only rated for 6-8-degree slopes, so this is pretty impressive. But before you try to tackle a steeper slope, be sure you've got your anti-tippers deployed.
NOTE: You'll need to remove the anti-tippers before folding the chair for transport. If you have very limited mobility, you'll likely need some help to do this. But with the aid of an assistant, they can be taken off in just a couple of minutes, and then, the chair folds up in a flash after that.
Travel Bag
The other "extra" is especially noteworthy – the PW-1000 comes with a travel bag, and we love it. In our view, too few electric wheelchairs come with a travel bag, and that's a pity because electric wheelchairs were designed to help you move!
If you're buying one, odds are you don't just want to sit at home and wheel around your house; you want to get out and go places. The fact that this chair collapses into a very small footprint that can easily fit into most any available trunk space (you should have no trouble fitting it into any full-sized sedan, hatchback, or SUV), combined with the handy storage bag makes transport an absolute breeze.
It does weigh a bit more than your average wheelchair (57 pounds). So again, depending on the limits of your mobility, you may need an assist to get it into the transport vehicle, but it's lightweight enough that you won't have to bother with any type of lift system. Great job, Wheelchair88!
Add-ons
You can view the relative lack of extras as either a positive or a negative. On the one hand, you're getting a great electric wheelchair at an awesome price, and since there are no extras, you do not have to pay for features you don't need and won't use. Plus, you can simply cherry-pick the extras you want and add them when you place your order.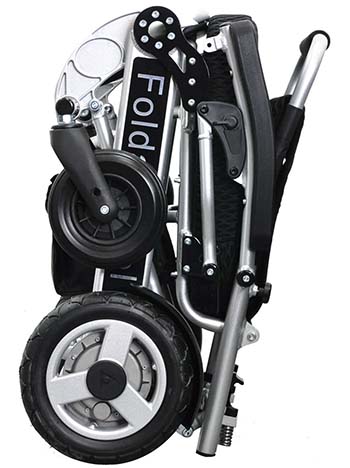 On the other hand, some people don't want to have to sift through the extras and try to work out exactly what they want. They just want to order a chair with all the bells and whistles in place. If that's what you're looking for, another model and another brand will be more to your liking.
We choose to view this as a positive, and like the fact that the company makes it so easy to customize the chair by picking and choosing which add-ons are most important to you.
Among other things, you can add:
We'll take all of the above, please!
No Storage Space
The one drawback is the lack of storage space on the chair. There just isn't any, although you can purchase an aftermarket backpack or basket, so it's not an insurmountable problem, by any means.
Excellent Indoors, Above Average Outdoors
With smallish wheels, front and back (7" and 10" respectively), you might think that the Foldawheel PW-1000XL Power Chair would struggle on outdoor terrains. The reality is that it's quite a beast, its powerful motor enabling it to chew through even rough, uneven terrain quite easily.
Even better, it's got a four-spring suspension system, so traveling over uneven terrain is surprisingly comfortable, something you can't say about most of the electric wheelchairs on the market today.
Combine that with its top speed of five miles per hour and its simple, intuitive control system, and you get a versatile machine that can handle a wide range of terrain, indoors and out.
True, there are some terrains the Foldawheel will struggle on (loose gravel and sand), but the same can be said of every electric wheelchair on the market today. It's not an ATV, but you'll find it quite capable outdoors. Indoors, of course, it handles like a dream, and you won't have any problems on any indoor surface you're likely to encounter.
NOTE: The PW-1000 has a 33.5" turning radius, which is good, but not great. If there are lots of tight spaces in and around your home, it may occasionally struggle, which will require a bit of creativity on your part. Not an insurmountable problem, but if you're looking for a chair with a tighter turning radius, other models will serve you better.
Very Slight Learning Curve & (Almost) No Assembly Required
Using the Foldawheel is incredibly easy. The joystick controller is intuitive, and you'll only need a few minutes of experimentation to get a feel for the handling. The only buttons you have to worry with on the controller are "+/-" to control speed, and power.
You steer with the joystick, and the LEDs display how fast you're going (in bars) and how much battery life you've got left (also in bars, but these are color-coded, green, yellow, and red for when you're running low on juice). Oh, and there's a small button for the horn, too!
Regarding assembly, it comes almost ready to use out of the box. Just mount the joystick controller where you want it (you can put it on either armrest, or on the back so that an attendant can control it), slide the battery (or batteries) into place, plug them in, and you're all set. It's fair to say that it will probably take you longer to unbox the Foldawheel than it will to get it ready for your first ride.
Pros & Cons of the Foldawheel PW-1000XL Power Wheelchair
There's a lot to like about the Foldawheel PW-1000xl Manual chair, but in our view, the #1 reason people are likely to pick this model over some other is the fact that it's super easy to fold up and transport. It doesn't weigh much more than some of the manual wheelchairs we've used, and given how easy it is to unfold and get ready for use, it's ideal for someone who wants to get out DO stuff.
While it will struggle a bit on particularly challenging outdoor terrains, if you use sensible precautions and make sure to keep a watchful eye on your battery power gauge, you'll find the Foldawheel to be absolutely indispensable.
A Few Things to Consider
There are really only two noteworthy negatives to talk about:
Cable and Connector
One is the problem with the cable that runs from the battery to the controller, and the connector the company used. If something is going to go south on your machine, that's the most likely component to fail.
A small percentage of users have complained in Foldawheel PW-1000XL reviews that sometimes their machine just "loses its mind" and starts moving on its own. The most likely cause of this behavior is damage to the cable or connector.
It's a problem, no doubt, and we'd rate it as the single biggest negative of the machine. Although again, only a tiny fraction of customers report having experienced this issue. If you do, have an authorized repairman inspect the cable and controller immediately, as this is likely the root of the problem.
Support
The second negative worth talking about is post-sales support. The company is incredibly helpful before and during the sale, and once you get their post-sales support team on the phone, they're equally helpful. Just be warned that getting to the point where you're talking to a live person can be a bit of a process. Be patient, stick with it, and you'll find them easy to work with once you're talking to someone.
As we mentioned in an earlier section, the Foldawheel base model lacks a headrest, which can be a problem depending on how many hours a day you'll be spending in the chair. If you plan to spend extended periods of time in it, you'll want to order one at the point of sale (it wasn't always available, but the company added it as an aftermarket option after receiving numerous complaints – a nod to how seriously they take customer service and that they listen to their customers!)
Finally, although the relatively short 6-mile range looks like a negative on paper, remember that the chair can hold up to three batteries. Granted, you have to buy the other two separately, but if and when you do, you'll wind up with a range that's comparable to our other top contenders.
Foldawheel PW 1000XL Power Wheelchair Review Conclusion
We like the Foldawheel PW-1000 Electric Wheelchair. It's a solidly built product with a lot going for it. Granted, it's not a perfect machine, and as we mentioned, customer service is less than world-class, although they are very helpful once you get ahold of them.
If you're a busy, "always on the go" person who's looking for a lightweight, portable, easy to use and transport electric wheelchair, this one deserves your attention. We recommend it.
---
References & Resources