In a Nutshell:
Founded in 2015, Forcemech International makes 5 electric wheelchairs. All are built purely for all-terrain capability and portability. The 2021 Navigator is their latest offering and can tackle rough terrain and inclines while being incredibly quick.
Ever wanted to go someplace, but you couldn't because the terrain was too rough? It's something everyone can relate to, but it's especially true for users of mobility aids. But what if the equipment isn't a limiting factor? Because we've found one that is the definition of a go-anywhere powered wheelchair.

In this Forcemech Navigator review, we'll provide you with everything you'd possibly want to know about the wheelchair to help you decide if it's the product for you.
Forcemech Navigator XL Design Overview
Founded in 2015, Forcemech International is a fledgling in the electric mobility aid business, but that hasn't stopped the company from becoming one of the most popular brands available. Fans of Forcemech refer to the company as the DeWalt of mobility aids because of their unique yellow-colored products with black accents. They are like DeWalt tools—reliable and durable.

They've managed this enormous feat of making a name for themselves by offering wheelchairs that have a razor-sharp focus on two main traits: portability and all-terrain traversal. Because of this, Forcemech only makes three types of wheelchairs, two of which have variants, bringing the total to five different models.

Each of their powered wheelchairs is extremely portable and can handle almost any rugged terrain you throw at it. But these machines don't fall away in other categories, and they hold their own against the competition.

We'll be looking at one of the biggest and badass of their products: Forcemech Navigator. This electric wheelchair is the smaller brother of the Forcemech Navigator XL, which should not be confused. Let's dive into every nook and cranny of this powered wheelchair.
The 2021 6th Generation Navigator design is nothing to gawk at. Forcemech focuses on function instead of form, and you can see this in the Navigator's design.
The frame is bare-bones and has no pretty cowls or covers. The hinges, rivets, and screws are all exposed, which gives it a rugged look of its own. The most striking feature is its color, a bright yellow with black vinyl and logos. The company claims the choice of color is based on functionality as well; yellow is easily visible at night. This color scheme is the same for all four of the five models made by Forcemech, which is why they've earned the name 'the DeWalt of mobility aids.'
The controller and joystick assembly are ergonomic, simple, and well designed, making it easy to use. It can also be positioned on either the left or right side, depending on your preference. Another feature that the Navigator has is an electronic anti-theft lock to prevent it from being stolen.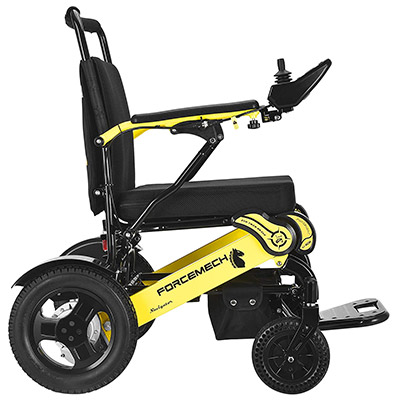 Chassis
Forcemech has broken onto a market that is highly competitive and saturated by producing high-quality products, and the chassis of the Navigator is no different. The frame of the wheelchair is built from aluminum alloy for strength and durability, while other parts like the joystick assembly and tires are made from high-quality polyurethane.
Transportability
All Forcemech models are designed for portability, which is true for the Navigator as well. This wheelchair folds completely flat and becomes one of the most portable wheelchairs on the market. It's only rivaled by Forcemech's other models and a handful of other competing models.

According to the Forcemech Navigator manual, the unfolded profile of this wheelchair is 38″ long, 25″ wide, and 37″ high, and while folded, the dimensions are 25″ long, 13″ wide, and 31″ high.
Also, the Navigator weighs 59 pounds, including the batteries which weigh 2 pounds each. The weight makes the powerchair ridiculously light. It even weighs the same as some manual wheelchairs.

This combination of low weight and small profile allows you to transport the Navigator with ease. It'll fit in an SUV or hatchback without any issues. The trunk of a mid-size sedan might pose a problem. Users have also commented on how the Navigator is easy to transport when flying because even the cushion can be removed to make the profile even smaller. The batteries can also be removed to make it lighter.
However, it might be a challenge for a person with limited mobility to do it themselves. If that's your intention, you might want to make sure you can manage the size and weight of the wheelchair before buying it.
Comfort
For the sake of portability, the Navigator wheelchair has a small frame and is light. But something has to give for the sake of portability, and that something is comfort.
Usually, at this price, you'll find wheelchairs with a well-built captain-style seat that offer tremendous amounts of padding and make you feel like you're riding on a cloud. Don't expect any of that with the Navigator.
Captain-style and similar seats are bulky and add on a large amount of weight, and both these qualities are something Forcemech religiously stays away from. And while some seats can be folded, the profile changes from too high to too long, not ideal for portability.
The seat is 18″ long, 19″ wide, and is 18″ above the ground, which is a bit on the small side, but it's good enough for a user to sit on for short to medium-length trips.
The biggest issue we have about the wheelchair is the lack of a headrest, which makes riding on it for an extended period more challenging. If you're going to be a power user who spends a lot of time on this power chair, we recommend buying some aftermarket cushioning.
You'll be pleasantly surprised to find that the heights of the flip-up armrests and footrests can be adjusted, which can make the chair more comfortable, but that's where it ends. The seats of the Navigator are in a fixed position of 105 degrees and do not recline.
Our Forcemech Navigator review isn't suggesting that it's uncomfortable. However, there is much to be desired.
Storage
One of the excellent features of the Navigator wheelchair is the ample storage right below the seat, which doesn't get in the way of you operating the wheelchair and is an optimal position for it. We suggest using this storage space for your aftermarket cushions.
Usability
How easy a powerchair is to use is a big factor to take into consideration, and the Navigator is quite intuitive from set-up to first use. It has features like flip-up armrests to allow the user to easily get in and out of the powerchair. The top of the armrests is 28 inches from the ground, which means that the Navigator can be tucked under any standard table (30 inches).
The wheelchair is 25 inches wide and is on the narrow side for powerchairs. It can go through narrower corridors and hallways than you normally wouldn't be able to.
Forcemech Navigator Performance
In our Forcemech Navigator review, we've talked about how performance is where Forcemech focuses its efforts when developing its models. So let's get into the finer details.

This full-size wheelchair is designed for larger users and can carry a maximum load of 397 pounds, which is higher than most electric wheelchairs. The most peculiar thing about the Navigator line is that the XL model (according to the information on the website) carries only 3 pounds more than this one, but this is not a Forcemech Navigator XL review, so let's move on.
Drivetrain
Rear-wheel drives like this Forcemech Navigator are slowly dying away and being replaced by mid-wheel drives because of their inherent limitations.
The rear-wheel drive wheelchairs have better power delivery than their mid-wheel and front-wheel drive counterparts and are more comfortable because they offer better shock absorption. Users of rear-wheel drive wheelchairs can expect it to handle changes in gradient better, making it smoother to drive.
The turning radius on rear-wheel drive wheelchairs is the worst when compared to front and mid-wheel drive models. So if you'll be using the Navigator mostly indoors, it might not be the best choice.
Finally, rear-wheel drive wheelchairs have a tough time dealing with obstacles such as curbs. Since the chair is being 'pushed' from the rear, there isn't a lot of torque delivered to the front wheels, and you might end up just spinning your rear wheels.
Tires and Suspension
The numbers aren't just to impress, and the Navigator can overcome terrains such as mud, sand, or gravel, thanks to its 3.5″ ground clearance and large run-flat tires (7″ at the front and 12.5″ at the back).
The chair doesn't have dedicated suspension (which doesn't help with comfort), but the front tires are built with a honeycomb structure that helps with shock absorption and does a good job.
Turning Radius
The Forcemech Navigator XL manual says that these wheelchairs have a turning radius of 33″, which is true for the Navigator as well. The Navigator's radius is considered small for a rear-wheel-drive powerchair. It might not let you head into tight spaces, but still, this wheelchair tackles the indoors as well as it does the outdoors.
Batteries
The Navigator is powered by two Super Lithium-ion LiFePO4 Battery, with a capacity of 6Ah each and an output of 24V, which feeds a brushless DC electric motor that puts out 250W of power to the rear wheels. The combination allows the Navigator to reach a top speed of 5mph while being able to climb inclines of up to 12 degrees for a maximum distance of 18 miles on a single charge. Once your batteries are depleted, you can have them fully charged in about 6 hours.
Intelligent Brakes
To bring you to a stop from its top speed, the Navigator is equipped with what the company calls "Intelligent Electromagnetic Braking." The braking system is designed to bring the powerchair to a slow and gradual stop when you let go of the controller or when you lose power suddenly.
Freewheel Mode
The chair has two levers on the tires' inner side, which can be flipped to disconnect the tires from the drivetrain, allowing the chair to be pushed around freely. The levers are red and clearly visible and cannot be reached by the user of the chair. The levers are designed to be flipped by a caregiver or someone who's behind the chair and is getting ready to push it around.
Exercise caution when putting the powerchair in freewheel mode and only do it on a flat surface to prevent it from moving and causing accidents or injuries.
Assembly
The Forcemech Navigator folding wheelchair comes pre-assembled for the user's convenience, the only thing they would have to do is attach the joystick controller to the armrest of their choosing.
Warranty
When you're going to purchase a piece of equipment like this, you need to make sure that you're covered in case of failure. How comprehensive a warranty also gauges the company's confidence in the product. So let's analyze all the details on the warranty for the Navigator.
It's important to note that seats, tires, bearings aren't covered, and routine maintenance, plus the warranty is only for the original buyer. If you do have a warranty issue, you will have to pay labor and service fees.
Navigator Electric Wheelchair Specifications
Here are the all exact numbers and details you'll need for Forcemech Navigator power wheelchair:
Pros & Cons of Forcemech Navigator Xl
PROS
CONS
Comparable Models
Many models on the market compete with the Forcemech Navigator 2021, and they all have their merits and pitfalls. We've compiled a list to give you more detail on what your other options may be.
Produced by the same company, this power chair is more of an all-rounder. It's lighter and highly portable like its big brother but has features to make it more comfortable and ergonomic, such as front shock absorbers. While the Navigator has the edge, this model can travel through rough terrain without any issues as well.
This model by Pride Mobility doesn't focus too much on folding away but is built to go off-road, just like the Navigator. But since it doesn't fold, it has the luxury of providing a much better ride and plushier seats.
The closest thing to the Navigator, but it does everything only worse. It has a 300-pound load capacity, travels a maximum of 14 miles, and is 7 pounds heavier. But, it also costs less. This model looks to target buyers who want what the Navigator has but for less money while sacrificing a bit of performance, and they'll get what they came for.
Forcemech Navigator Review Conclusion
Forcemech makes products that sell well for a reason, and Navigator benefits from this. Its well-built frame and design make it one of the most compact chairs on the market today, while the power package that Forcemech has attached to it allows you to travel to areas no other powered wheelchair can take you. It's fast and can travel as far, if not farther than its competition, and can take you up inclines that other power chairs wouldn't even dream of tackling.
But all this focus on performance and portability has made the Navigator lacking in the comfort department, which is essential to many buyers since they'll be spending a lot of time on the chair. We note here in our Forcemech Navigator review that we could've been happy if there was a better compromise to be had between portability and comfort, but it doesn't exist on this model.
The Navigator costs slightly less than $2500, which is a fair price for all-terrain power chairs with this level of portability. So, this might be the one for you if you're someone who needs a power chair that's tough and capable and has a commute that can handle rough terrain.
---
References & Resources: