In a Nutshell:
The Frasch High Back Ergonomic Mesh Office Chair is a sharp-looking, surprisingly comfortable and adjustable office chair that's good for your posture! Recommended for anyone who spends serious time in an office chair, provided they don't exceed the chair's 275-pound weight limit.
* Brand Reliability is a measure of the strength and longevity of the brand, which by extension, is a measure of the level of support you can expect.
** While aesthetics is a matter of taste, Aesthetic Flexibility is a measure of how easily a given design would fit into a wide range of home or office décor schemes.
Are you in the market for a new chair for your home office or work? Are you tired of feeling like something after the cat dragged in after spending a long day in your current office chair? If you answered yes to either of those questions and are looking for a way to change your fortunes, then you're going to love our review of the Frasch High Back Ergonomic Mesh Office Chair.
If you're of the opinion that all office chairs are created more or less equally, we think this review will change your mind.
While it's true that any office chair you buy will give you a place to park your hindquarters while working at a desk or in front of your computer, there's more to a great office chair than just that, and the Frasch chair gets just about everything right.
In the sections that follow, we'll tell you why we think you'll love it. If you're curious to know more, read on!
An Overview of the Frasch High Back Ergonomic Mesh Drafting Chair
Futuristic.
That's the first word that's likely to spring to mind when you see the Frasch High Back Ergonomic Mesh Office Chair. Mostly, this is due to the supports on the back of the chair, which aren't just for show – they're an essential part of the ergonomic design.
Those ergonomic features are the main reason you'll be interested in this chair. If you have an office job, you already know how important a good chair can be. It can mean the difference between ending your work day feeling like you've been hit by a bus and ending the day without any aches and pains.
Unfortunately, too much of today's office furniture is poorly designed. This, even though manufacturers have understood for literally decades, how to build office and other furniture that supports proper posture and is good for your back.
If you haven't had the pleasure of sitting in an ergonomically designed office chair, then you're in for a real treat. Not only does the Frasch office chair sport ergonomic features, but they're also adjustable – that's what those crazy-looking supports are for on the back of the chair.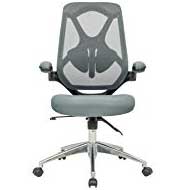 Before we go further, we should point out that there are actually four different variants of the chair. These are:
They're all essentially the same chair, but the "FRS" models are different than the "BDL" models in two important ways that we'll cover later. The reason there are four is that the company made the decision to denote their two color choices (black and grey) as different models.
In our view, this unnecessarily complicates things, but we wanted to mention it, so you have a better sense of what you're looking at.
Adjustability and Comfort
Whichever model (FRS or BDL) you opt for, you'll find the following features in common:
There's more to say about these features than you might think. The armrests flip up, which is a small but critical feature that makes these chairs awesome for people with mobility issues, as it makes transferring into and out of them a much easier proposition.
The mesh fabric on the back is breathable and helps keep you cool while you're doing your work, while being strong enough to provide decent support, augmented by the lumbar supports, which, as mentioned earlier, you can adjust so they provide a perfect "fit" for your height and body shape/style.
The memory foam seat cushion is also worth talking about here in our Frasch High Back Ergonomic Mesh Office Chair review.
Many office or task chairs use the same mesh fabric for the seat, which is breathable, but sadly, not very comfortable. Some chairs feature simple block foam padding, which is undoubtedly better than mesh, but still not great for long-duration sitting. That's not so great, because, in practice, most people spend several hours a day in their office chairs.
Memory foam is top of the line in terms of seat cushioning. The combination of excellent padding and ergonomic supports ensures that however long you have to spend in the chair, you'll be comfortable.
Granted, no office chair in existence can match the comfort of a lounger, but the Frasch chair represents a big step up from a standard office or task chair. You'll notice the difference the moment you sit down in it for the first time.
In addition to that, the Frasch mesh office chair features a swivel tilt and lock mechanism, in addition to a height adjustment bar. Depending on which model you order, you'll find different seat height adjustment ranges, as outlined below: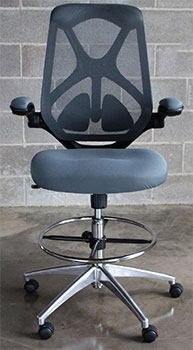 As you can see, the FRS models sit lower to the ground than the BDL models. If you're shorter, you'll find the FRS variants fit you better. If you're taller, you'll want one of the BDL models.
Extras
The notes in the last section bring to light the other difference between the two models. The BDL chairs also have a foot ring. It's a small thing, but we love it. Not many office chairs have one, and the way we tend to sit in our chairs, it gives us a handy place to put our feet.
Granted, it's not something everybody will use or even care about, but the fact that it's present at all is a win in our book, especially considering that most office chairs don't come with any "extras" at all. Kudos to Frasch for the addition. Nice touch.
Does Not Come Assembled
This shouldn't come as a surprise, but when the Frasch High Back Ergonomic Mesh Drafting Chair arrives at your doorstep or office, it won't be assembled. Then again, unless you're buying a floor model, few office chairs do.
Assembly doesn't take long (30 minutes or less), and the instructions are clear and straightforward, although at certain points during the process, you'll probably find yourself wishing you had an extra pair of hands. If you get someone to help, you'll easily shave ten minutes off the assembly time.
Pros & Cons of the Frasch High Back Drafting Chair
There's more to like about the Frasch High Back Drafting Chair than you'd think. After all, it's an office chair, and most people tend to see those as more of a commodity item. That certainly can be true, but we'd make an exception for these chairs. In our view, here are the things you'll like best:
A surprising amount of adjustability, including a higher than average seat height on two of the variant models.
The memory foam seat cushion makes for a comfortable seating experience, even after hours in the chair.
If you get one of the models with the foot ring, you'll wonder how you ever got by without one!
Surprisingly long (3-year!) warranty
And excellent customer service and support in the event of a problem
The only real downside is the price. If you're looking for a value-priced chair, this one isn't it. On the other hand, given the above, it offers exceptional value for the money, even if you're paying a bit more.
Frasch High Back Ergonomic Mesh Office Chair Review Conclusion
This is a rock-solid office chair. Yes, it's entirely possible to find a cheaper option, but the lower price invariably comes with tradeoffs.
In our view, the Frasch High Back Ergonomic Mesh Office Chair is worth spending a little extra for the excellent (and adjustable) ergonomic support and the surprising amount of adjustability. It's hard to put a price tag on keeping your back from hurting. That, combined with a surprising amount of adjustability and excellent post-sales support, makes this model hard to beat. We recommend it to anyone that doesn't exceed its recommended 275-pound weight limit.
If you weigh more than 275 pounds, we'd recommend continuing your search. There are better options out there for you.
---
Official Manufacturer Support
REFERENCES & RESOURCES