In a Nutshell:
On paper, the Fujita SMK9070 is a good design. It's got all the right features, but with a few spotty implementations. We feel that there are better options for the same price. Provisionally recommended for chronic pain sufferers.
Do you suffer from chronic pain?
Are you looking for a massage chair that's loaded with features and will help make you feel better?
If so, you may have zeroed in on the 9070. We don't blame you – on paper, it's a great design, but as you'll see in our detailed review below, it comes up short.
This makes it something of an oddity. By all outward appearances, it seems like this should be an awesome model. But as you'll see, it is saddled with some poor feature implementations. At the end of the day, there are better models that cost less money.
We'll cover every feature the Fujita SMK9070 has to offer and outline some of the things it can't do, so you can make up your own mind about whether or not to buy this one.
Fujita SMK9070 Massage Chair Variants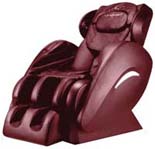 Fujita SMK9070 Massage Chair Features
S-Track Design & Quad Rollers
The chair gets off to a strong start, being built around an industry standard S-Track and quad rollers. Both are great features, with the quad rollers closely mimicking the feel of human hands, and the S-Track allowing them to follow the natural curve of your body's spine.
The core massage experience is quite strong, and exactly what you'd expect from a chair at the top end of the mid-range.
3D Body Scan
Building on the core technologies, 3D body scanning enhances the basic massage experience by automatically positioning the rollers to account for the user's body type.
If the technology should happen to miss the mark, Fujita also includes a manual option. You can tweak the roller positions and the width of the massage field via the remote. This gives you an ironclad solution that guarantees the rollers are always just where you need them.
Zero-Gravity Seating
Another feature added to enhance the overall massage experience, Zero-G seating, was inspired by NASA, and leaves you feeling weightless.
By reclining the user to a position where the knees are slightly above the heart, it allows the body to press more firmly onto the chair, which in turn allows the rollers to provide a deeper and more penetrating massage.
The single zero-gravity position offered is nice, but given the price of this model, we would have expected at least two, and possibly three different zero-G positions.
Built With Space-Saving Technology
A popular convenience feature that makes the chair a hit with home users. Space is always at a premium, and massage chairs tend to fill up whatever room they're in.
Space-Saving Technology helps by minimizing the amount of clearance needed between the back of the chair and whatever wall you set it near. It works by designing the chair such that it pivots on its base as it reclines. In this case, only about 3" of clearance are needed, which is an impressive feat indeed!
Fewer Options Than You'd Expect For The Money
At this point in our Fujita SMK9070 massage chair review, you might be wondering why we sounded a bit negative about the chair because the features we've talked about so far have all sounded pretty good.
Well, here's the first reason. In a chair of this price, we'd expect to see many more options and massage combinations available, and hopefully at least two advanced massage techniques.
Unfortunately, that's just not the case. Where techniques are concerned, you get:
This is the kind of list you'd expect to see on a budget-priced chair, or maybe something at the low end of the mid-range. As models get more expensive, you expect that the number of techniques offered will grow in tandem with the price, and in this case, they don't.
Shiatsu is excellent, but it's the only advanced technique on offer. While music sync is interesting, it's not really a technique at all. We were disappointed here.
Granted, the 9070 comes with seven pre-programmed massages that you can modify via five intensity levels, which is good. Then again, for the money, this feature should be much, much stronger than it is.
Also note that even on its mildest setting, the massage this chair delivers is quite intense. Hobbyist or casual users will find it too strong for their liking, but for chronic pain sufferers, it will be a godsend.
At maximum intensity, this could easily be the strongest deep tissue massage you've ever gotten.
Unfortunately, none of the massage routines are long enough, in our view. All default to a fifteen-minute duration and cannot be modified. There is no time adjustment feature to the chair at all, although there is a "workaround" which we'll talk about below.
Air Massage Mode
Although the roller-based massage left us wanting, we have to admit that the air massage is very well implemented. The 9070 utilizes an impressive 46 Second Generation Airbags, which can either be activated in full-body mode or selectively, by the following body regions:
Further, the experience can be modified via the remote through three different intensity settings.
"Multi-Heat" Function
This is another poor feature implementation, in our view. Essentially, what they're selling as a "multi-heat" function is a heating pad that's the same color as the chair.
There are two problems here: First, if that's all you want, you could save the money and simply use your own heating pad. Second, the size of the unit is too small.
We've seen Fujita implement heat masterfully in other models, so we were disappointed by this.
"Thai-Style" Body Stretch
Our Fujita SMK9070 massage chair review would not be complete without drawing particular attention to this feature because it is superbly implemented.
Fujita's body stretch routines are excellent, if not extremely aggressive. Chronic pain sufferers may even find it to be too intense for their liking. But if that proves to be the case, the model offers an alternative in the form of the "Twist and Swing" function, which we'll talk about next.
Twist & Swing Functions
We've seen some other manufacturers include both a body stretch and a twist function, and it has always impressed us. Clearly, this model was designed with chronic pain sufferers in mind.
The Twist and Swing function should be considered a milder, gentler form of body stretching. So if you make regular use of one, odds are you won't use the other much at all.
Taken together, these are the most powerful features that the 9070 brings to the table, providing almost immediate pain relief in the same way that a chiropractic adjustment does.
If you suffer from chronic back pain, then you probably know already that the leading cause of your pain is compressed spinal discs. These features are designed specifically to alleviate that. One or the other will likely wind up being your favorite aspect of this design.
Calf & Foot Massage
This is another well-implemented feature. With a generous number of airbags on offer, the calf massage is exquisite. Plus, the foot massage is rendered via a combination of dual foot rollers and airbags.
Even better, the foot rollers are programmed to deliver a Shiatsu-style massage to the soles of your feet, which feels sublime.
If you spend several hours a day standing up, this will easily be your favorite aspect of the design.
"Q" Key
Earlier, we noted that it has no timer adjustment feature, and that's true. What Fujita replaced it with was the "Q" key.
This feature allows you to queue up a second massage program or duplicate a massage program, so that the two programs can run seamlessly, one program onto the next, giving you the potential for a thirty-minute massage.
This is an interesting feature, though, it would have been better to simply allow the user to make time adjustments.
Extendable Ottoman
Fujita is very good about including this feature in most of the models they sell, and the 9070 is no exception. The chair will accommodate users up to a maximum height of 6'5" which we judge as excellent.
MP3 Support
A hugely popular convenience feature, we're always glad to see. In this case, the implementation is average, relying on a USB port, which allows you to download your favorite music to a jump drive and plug it into the chair.
Bluetooth compatibility would have been better and expected at its price range, so we rate this to be an average implementation.
A Brief Word About The Fujita SMK9070 Manual
We've gotten some questions about the user manual for the 9070. Unfortunately, despite an exhaustive search online, we have not been able to locate one. The nearest match we could find was for the SMK 9100.
While there are some feature differences between the two models, this should at least give owners who have misplaced their 9070 manual something to go by. The link for the 9100's manual is here: Fujita SMK9070 Manual.
(Fairly) Simple Remote
We've seen Fujita do a better job with the remote layout and design. This one's not horrible. But until you get used to it, you'll find yourself hunting for a few features, and you'll sometimes feel as though the remote is fighting you.
Even so, it won't take long to master the chair. Although, it's due, at least in part, to the relatively low number of total massage combinations available.
Pros & Cons of the Fujita SMK9070 Massage Chair
As you can see from our Fujita SMK9070 review to this point, there are some things that the model really gets right, and there are others that it just seems to drop the ball on.
It almost feels as though there were two different design teams working on the model, one of which was highly experienced, and the other being comprised of people new to the industry.
​We won't re-create our list of complaints here but suffice it to say that if they shored up the feature implementations we've called out earlier, this would be a significantly stronger (and highly recommended) model.
Fujita SMK9070 Massage Chair Review Conclusion
Unfortunately, given the current state of the model, we would be reluctant to recommend it, even to people who suffer from chronic pain.
It's got an impressive array of features, but for a chair at this price range, we were stunned to see how many of them were poorly implemented. Until that changes, there are simply better valued chairs for your money.
---
References & Resources