In a Nutshell:
The Gaiam Backless Balance Ball Chair is a great option for people who typically sit at a desk during their workday. With a 4-wheelbase, a large balance ball, and a variety of colors available, it can easily fit into any office.
* Brand Reliability is a measure of the strength and longevity of the brand, which by extension, is a measure of the level of support you can expect.
** While aesthetics is a matter of taste, Aesthetic Flexibility is a measure of how easily a given design would fit into a wide range of home or office décor schemes.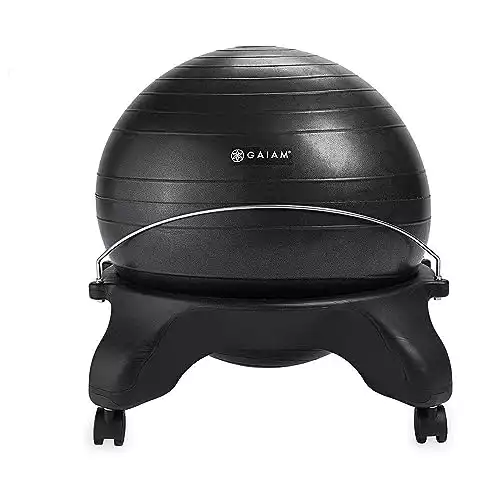 Balance ball chairs are experiencing a surge in popularity recently due to the amazing health benefits associated with them. Our Gaiam balance ball chair review looks at the classic model in great detail.
We all know that sitting on an office chair for hours on end can be detrimental to your long-term health. With a balance ball chair, you can sit in a better position and engage more muscles. Let's find out how this chair performs.
Gaiam Backless Balance Ball Chair Overview
Balance ball chairs come in a lot of shapes and sizes. Some resemble office chairs, while others have a more basic look and feel. The Gaiam backless ball chair includes a ball that is 52 centimeters in size and can be removed from the base.
It is designed for users up to 300 pounds and between 5 feet and 5 feet 11 inches in height. Without any armrests or back padding, this chair engages your core muscles and legs to keep you upright.
It also creates a better sitting posture over time by aligning the spine and relieving pain associated with long periods of sitting. Instead of sitting still with zero activity in your muscles, this balance ball chair is designed to keep your body active even while you're sitting.
Let's find out what features it includes!
Gaiam Backless Classic Balance Ball Chair Features
This version of the Gaiam balance ball desk chair is a classic design that strips away any distractions. With over 25 years of experience, this company is focused on bringing fitness into every aspect of your life.
Here are the features that help this option stand out from the rest: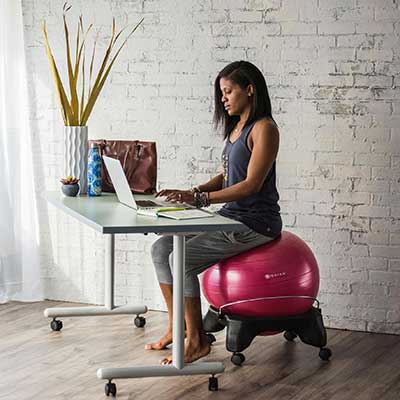 Gaiam's Trusted Yoga Ball
After two decades of business, Gaiam has perfected their line of yoga exercise balls. This same quality is used in the ball that comes with every version of the Gaiam Yoga Ball Chair. The ball is removable as well, in case you want to use for traditional exercise.
Secure Base With Locking Wheels
When the ball is placed inside the chair base, it is held by two secure metal ball holders. The four easy-glide caster wheels on the base are easily lockable as well so you can stay in place at your desk.
A Healthier Way of Sitting
While many of our jobs force us to sit at a desk, doing so can cause all kinds of health problems later in life. A Gaiam fitness ball chair like this one keeps your muscles active and your spine in alignment, which is not possible in standard office chairs.
Gaiam Balance Ball Office Chair Specifications
Gaiam Balance Ball Desk Chair Variants
The Gaiam Backless Classic balance ball chair comes in a single model with several color choices:
These colors change the shade of the balance ball, but the base remains black in any variation of the chair.
---
Pros and Cons of the Gaiam Stability Ball Chair
This balance ball chair incorporates the convenience of a 4-wheel base with the benefits of a sturdy yoga ball into one excellent product. Here's a look at the pros and cons:
Modern office furniture focuses on ergonomics and overall health. Using a Gaiam stability ball chair like this one offers you the chance to have a small workout while you work. Your core muscles remain engaged while you're sitting, and your posture steadily improves over time.
Without a backrest or armrests, you won't be able to slouch or fall back into this chair. For some that may be a bad thing, but this freedom of movement is more beneficial for your health.
The design is a great mixture of a traditional office chair and a balance ball chair. The locking wheels on the base also ensure that it won't slide out from under you when you're working.
The smaller ball diameter also makes this a comfortable choice for people sitting at desks as it leaves room for your knees.
When you're not using the chair, you can remove the ball and use it for exercise or yoga, which is a great option as well!
Some people need to slowly integrate a ball chair like this into their routine. If you're not used to them, they can be tiring to sit on, as your muscles will be active instead of passive while you sit.
Overall it's a very simple and affordable design that gives you exactly what you need to get started with a Gaiam Balance Ball Office Chair.
---
Gaiam Balance Ball Chair Review – Final Verdict
Our Gaiam balance ball chair review is directed at anyone who wants an affordable option for trying out this unique and active way of sitting. The locking wheels on the base make it perfect for an office setting, while the removable ball gives you the option to use for exercise.
There are other models that include things like a backrest and armrests, but this particular chair will give you a better range of movement overall.
---
References & Resources