In a Nutshell:
The Giantex Recliner combines plenty of features we like to see for chairs that relieve lower-back pain, but the material isn't as durable as we would like for long-term use. For the price, this is a very feature-rich recliner.
Recliners are some of the most inviting chairs you'll find on the market. When you see one, all you'll want to do is sit down and relax. This review examines the Giantex Recliner Chair, a massage chair with heating and, of course, plenty of room to recline.
Join us as we break down this chair's features, along with the pros and cons that such a recliner offers.
Giantex Recliner Massage Sofa Chair Overview
The Giantex brand on Amazon has a massive selection of furniture and appliances for the home. Their furniture garners positive reviews from countless customers, so it's fair to assume that this recliner is another hit.
The Giantex Recliner Chair makes a great first impression with its PU leather exterior and a long list of features. A standard recliner is one thing, but when you add massage and heat, it becomes something greater.
While this chair's dimensions aren't ideal for taller people, the ample padding and reclining mechanism both ensure that you'll be very comfortable while sitting in it. The massage feature also has several settings to target various parts of the body.
Let's take a look at the features in greater detail to see exactly what this chair offers.
Giantex Recliner Chair Features
If you took a passing glance at this Giantex recliner, you would be forgiven for thinking that it's just a standard seat. When we look beneath the surface, however, we find that this recliner has a lot more to offer than a place to lay back and relax:
High-Quality Sponge Padding
Both the seat and back of the chair includes sponge padding to offer plenty of padding when you're sitting for long periods of time.
Iron Frame
The interior frame of the recliner is made from solid iron with a steel base. This allows the chair to support up to 330 pounds.
Massage and Heating
The massage feature in this Giantex recliner has 8 vibrating nodes, along with a heat function as well. The massage zone selection can be done individually, which allows you to choose between your back, lumbar, or leg regions.
Easy-to-Use Remote
The included remote lets you change massage modes quickly and easily.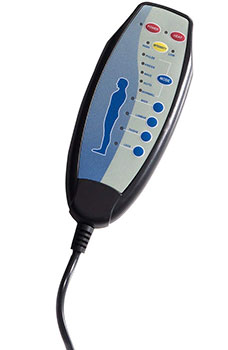 Giantex Recliner Product Specifications
Pros and Cons of Giantex Massage Sofa Chair
A recliner like this offers a lot of potential relief for someone with back pain, but it also helps relieve stress and muscle tension as well. Here is a look at the pros and cons:
Any recliner that includes both massage and heating features is immediately a cut above the rest. These two additions elevate a chair from a piece of furniture, to something far more useful. Anyone who has used a massage chair knows how much they can help with back pain and muscle tension.
The thick sponge padding in this recliner also keeps you comfortable, especially when you're sitting for long periods of time or taking a nap. All of this doesn't come at the cost of ergonomic support, however, as the chair includes an option for lumbar massages.
All of this is combined into a very impressive recliner, but it does have a few downsides. For starters, the PU leather looks and feels like the real thing, but it's not quite as durable under the test of time.
The chair's width and height are also great for shorter people, but those who have above average heights may find that this chair doesn't quite meet their needs.
Final Verdict – Giantex Recliner Review
This Giantex Recliner Chair is a beautiful piece of furniture with some very welcome features in the form of massage and heating functions. While the material isn't quite as durable as we would like, the overall package is very impressive.
---
References & Resources