In a Nutshell:
The GoPlus Outdoor Orbital Lounger is a great-looking, fun design that boasts a futuristic look, zero-g seating options, and rocks too! Recommended for anyone weighing up to 400 pounds, who is also a fan of the futuristic aesthetic this design offers.
* Brand Reliability is a measure of the strength and longevity of the brand, which by extension, is a measure of the level of support you can expect.
** While aesthetics is a matter of taste, Aesthetic Flexibility is a measure of how easily a given design would fit into a wide range of home or office décor schemes.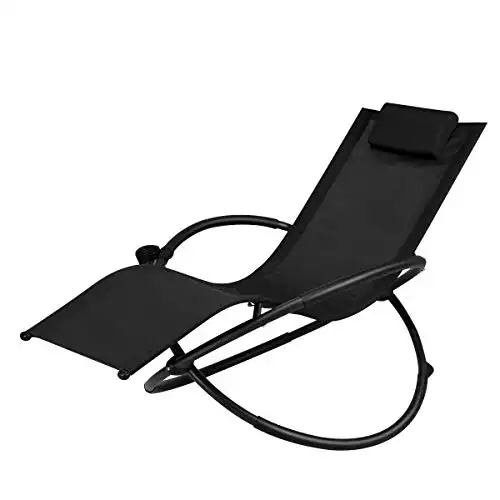 Are you in the market for something a little different to give your outdoor spaces a bit of flair? Are you a fan of futuristic-looking furniture? And most importantly, are you a heavier individual?
If you answered yes to those questions, then you're going to like what you see in this review.
Finding good quality furniture, whether for indoor or outdoor use, can be a daunting challenge if you weigh more than 300-pounds. Below that weight threshold, you'll find so many options it can sometimes paralyze you with indecision. Above that line and the number of options open to you begin to drop off quickly.
While many of the mainstream furniture brands have shied away from making furniture for heavier folk, it has created an opportunity happily embraced by a variety of smaller brands you may not have heard of. Goplus is one of those, and their Zero-G Orbital Lounger is a fantastic example of their work.
We'll readily admit that the GoPlus Outdoor Orbital Lounger is not a perfect chair. In the sections that follow, we'll tell you everything this model gets right, and why it may not be the best choice for some people. That way, you'll have all the information you need to make an informed purchasing decision. If that sounds good to you, let's jump right in and see what this chair has to offer!
An Overview of the GoPlus Outdoor Orbital Zero Gravity Lounger
The first thing you'll notice when you see the GoPlus Outdoor Orbital Lounger for the first time is its futuristic look. You honestly can't help but notice it. The chair legs aren't legs at all, at least not in the accepted sense of the word, but rather, a pair of interlocking rings that serve as both legs and chair arms. They create a cradle that the seat rests in and the means by which it can be collapsed for transport and storage.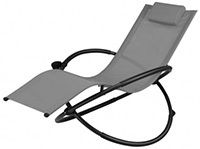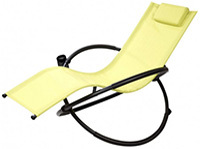 Also note that if you decide you want one of these, you can get yours in either gray or very pale green. Both are good colors, with the gray being a solid choice for someone looking for a neutral color that will blend politely into the background, while the green option is a great choice for people looking for a chair that will visually pop and stand out, making it an eye-catching centerpiece.
Before we take a closer look, let's press pause for a moment and check out this chair's core stats. Here are the basics: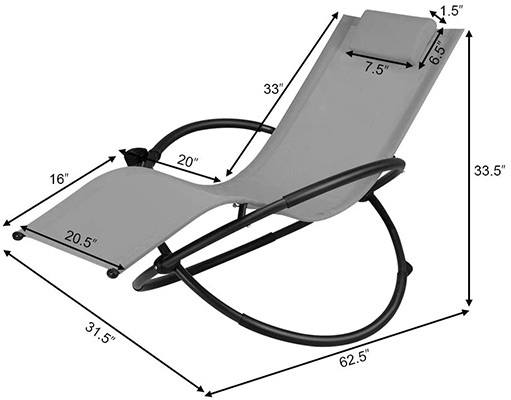 These are generally good numbers. The GoPlus lounger is long enough to be able to accommodate taller users well. It sits high enough off the ground that getting into and out of it won't be much of an issue, even if you suffer from mild mobility issues.
The chair is also light enough that if you wanted to fold it up to take it with you to the beach, or just get it out of the way when you're not using it, doing so won't be a challenging task.
Adjustability and Comfort
There's actually more to talk about in this section than initially meets the eye, but let's start with the stuff you can see.
If you decide you want one of these, the first thing to make a note of is that it comes with a detachable headrest pillow that measures 7.5″ W and 6.5″ for added lounging comfort. The fabric covering the pillow is the same fabric used in the rest of the chair, which is a fast-drying, weather-resistant synthetic made of polyester filament. The pillow is padded with 1.5″ of conventional block foam and attaches to the chair via a Velcro strap.
Here, we would have rather seen some type of memory foam in use for the padding, which would have taken the headrest comfort to the next level, but block foam is the standard, and we understand that by utilizing it here, the company was able to keep the cost of the chair low. It's a bit underwhelming, but it's certainly not uncomfortable.
The next thing to talk about here is the surprisingly cunning design of the seat. When you sit in this chair, the way the seat is shaped is going to cause you to rock back slightly, putting you in a Zero-G seating position with your knees elevated slightly above your heart.
Zero-G is often found in massage chairs and sometimes found in recliners. You seldom see it in lawn furniture, and it is surprisingly well-implemented here. In our view, this is the single best feature of the chair and its strongest selling point, other than the cool aesthetic if you're a fan of the futuristic look.
We hadn't expected to see such a good implementation of this feature offered by a relatively unknown company, so kudos to GoPlus for the pleasant surprise!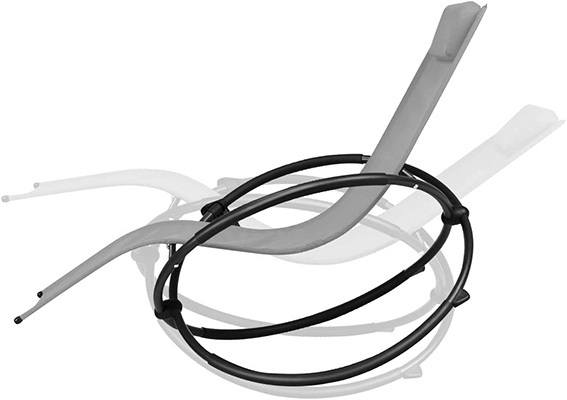 Finally, owing to the fact that the GoPlus Outdoor Orbital Zero Gravity lounger sits on two interlocking steel rings, it rocks! If you're a fan of rocking chairs and you're also a fan of loungers, this gives you the best of both worlds, while simultaneously sitting in a chair that's surprisingly good for your back, thanks to its Zero-G design. That's quite an accomplishment!
Comfort-wise, other than the aforementioned pillow, there's no padding on this chair. That's not a huge surprise. Most poolside or outdoor loungers don't offer much, if any, padding. Still, the Zero-G feature makes this model more comfortable than you might expect.
If you decide to spend a leisurely afternoon lounging in this chair reading your favorite book or watching the world go by, you won't be uncomfortable while doing so.
Minor Assembly is Required
Most of the furniture you can buy online these days doesn't come assembled, and this one is no exception. Fortunately, the assembly process is incredibly simple and straightforward. All you have to do is set up the interlocking rings and place the seat in the cradle it creates, then fasten it in place.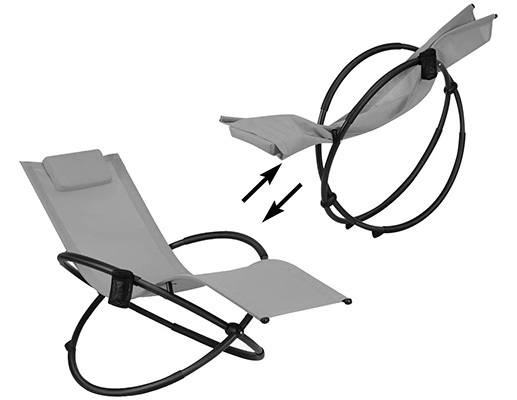 Once that's done, you'll be able to set it where you want it and enjoy, and collapsing it down for storage or to move it about is a simple, one-step process. It will probably take you longer to get the pieces out of the box than it will to get the chair ready for first use. Again, kudos to GoPlus for making this as simple as possible.
---
Pros and Cons of GoPlus Outdoor Orbital Lounger
We like almost everything about this chair, but there are three potential negatives to bring to your attention as a prospective buyer:
First, as we mentioned, the seat width should be fine for most people, but if you're near the chair's 400-pound weight limit, you'll want to measure yourself before spending money to be sure it's a good fit.
Second, while we love the futuristic aesthetic the GoPlus lounger brings to the table, we readily admit that it's not going to be for everyone. Depending on how your outdoor spaces are decorated, this chair could wind up sticking out like a sore thumb.
Finally, be aware that the rings that serve as both the arms and legs for the chair are steel. While it's technically possible to use this indoors, if you're planning to use it on a hardwood floor, or other types of flooring that are prone to scratching, you're going to want to pad the portions of the rings that hit the floor or risk scuffing it when you rock.
---
GoPlus Outdoor Orbital Lounger Review Conclusion
The futuristic look of the GoPlus Outdoor Orbital Lounger marks this as a bit of a niche product in our view. It's just not going to be something that everybody is going to be interested in owning. If you're fine with the aesthetic, though, you'll find that this chair has a lot to offer. It's surprisingly well-made, more comfortable than it looks, and it's one of the few ergonomically engineered loungers available on the market today. Given all of that, we provisionally recommend it.
---
References & Resources: