In a Nutshell:
The Guide Gear Oversized Rocking Camp Chair is a decent looking, if minimalist rocking chair designed to support a generous amount of weight and be used almost anywhere. Recommended for anyone weighing 500 pounds or less who loves the great outdoors and rocking chairs and wants to put those two things together.
* Brand Reliability is a measure of the strength and longevity of the brand, which by extension, is a measure of the level of support you can expect.
** While aesthetics is a matter of taste, Aesthetic Flexibility is a measure of how easily a given design would fit into a wide range of home or office décor schemes.
Do you love camping and spending time in the great outdoors in general?
Do you weigh more than three hundred pounds?
If you answered yes to those questions, you've probably struggled against one of the big limitations of the market.
Most of the companies selling camping gear, camp chairs included, design the vast majority of their products to accommodate people who weigh up to three hundred pounds. While that works for some 90% of the market, what about that other ten percent? If you're in that group, you'll find that your options are few.
The good news is that Guide Gear is one of the companies that cater to that often overlooked 10% of the market, and the Oversized Rocking Camp Chair is an excellent example of the kinds of products they produce.
We'll be quick to admit that this chair won't be for everyone, but come on. Even if it's something you wouldn't admit in public, lots of people enjoy rocking, and this chair gives you the best of both worlds. You can rock to your heart's content, and you can do it just about anywhere. What's not to like about that?
If your interest is piqued, read on, and in the sections that follow, we'll tell you everything this well-priced chair has to offer. Even if you decide it's not the camp chair you're looking for, we think you'll be impressed by this one. Let's take a closer look.
An Overview of the Guide Gear Oversized XXL Rocking Camp Chair
A ruggedized, rocking lawn chair. That's the first thing that's likely to enter your mind when you initially set eyes on the Guide Gear Oversized Rocking Camp chair, and those are valid observations, with the key being 'ruggedized.' Lawn chairs have a reputation for being notoriously flimsy, which is an issue this chair definitely does not suffer from. Its tubular steel construction can support up to five hundred pounds of user weight, which is impressive. And, it's not bad to look at, either, blending in seamlessly with most camp settings.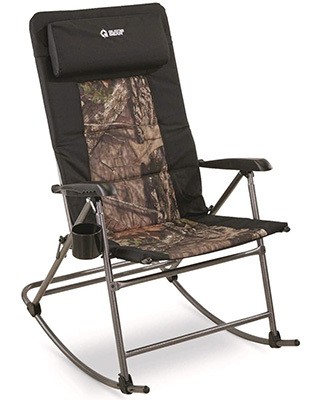 Guide Gear offers this model in two color configurations. You can get yours in either blue, trimmed in black, or camo, trimmed in black. Whichever option you buy, the chair comes with a black pillow for your head and neck, allowing you to sit back and take in the open sky as you're rocking. In terms of basic statistics, here's what you're looking at where this chair is concerned:
These are good numbers. The seat is wide enough for most bigger folk and is a good compliment to the supported weight limit. Even better, the frame is light enough that it's not an ordeal to pack the chair in with you, even if you've got quite a hike ahead of you before you reach your campsite.
Unfortunately, this chair doesn't come with a carrying strap or bag, so you'll need to get a little creative when it comes time to merge the collapsed chair with your other gear to pack it into wherever you happen to be going, but that's certainly not an insurmountable problem.
While this model doesn't feature any type of built-in storage, there is a handy cupholder attached to the left armrest of the chair, allowing you to enjoy a cold drink while rocking the day away.
As with the lack of a carrying strap, the lack of storage is easily remedied. Simply buying a mesh drawstring bag and a D-Ring, then attaching it to the crossbar running across the front of the chair, will fix you up for storage without getting in the way of the rocking action of the chair.
Adjustability and Comfort
While most camp chairs aren't adjustable in any way, the Guide Gear Oversized XXL Rocking Camp chair is one of the exceptions to that. You can adjust the armrests, choosing from three different positions. Doing so also changes the angle of the seatback, allowing you to lounge back slightly if you prefer.
Note, however, that the armrests are hard plastic and not padded, and there have been some user complaints about them breaking easily. This is the one genuine weak spot in the design, and we hope that the company provides more robust chair arms in some future model upgrade. Even so, if you're careful with them, they should serve you well enough. Just don't try to force the armrests into some new position, or you'll risk breaking them.
Comfort-wise, the material is breathable, and the pillow on the headrest enhances the overall comfort of the chair. It's definitely not what we'd call plush.
Still, it's comparable to sitting in a mesh task chair at your desk, with the added advantage that you can rock your troubles away while you're sitting in it.
No Assembly Required
As with most of the camp chairs sold today, the Guide Gear XXL Rocking Camp chair will arrive at your doorstep in collapsed form, but otherwise ready to use. Just take it out of the box, unfold it, and have a seat. That's all there is to it.
Pros and Cons of Guide Gear XXL Rocking Camp Chair
We really like this chair, but we don't quite love it. In our view, it falls just shy of being a great design. It's rugged and versatile and supports a lot of user weight, but we do wish the armrests were better and as durable as the rest of the chair. Even so, as we mentioned earlier, as long as you're mindful of the fact that they're somewhat fragile and are careful when adjusting them, they should serve you well enough.
We'd also have preferred to see some built-in storage here. It would have been easy enough for the company to add a storage pouch or pocket running along that front crossbar, which would save you a step and a bit of DIY engineering, but this is hardly an insurmountable issue or a deal-breaker.
Guide Gear Oversized Rocking Camp Chair Review Conclusion
On the whole, the Guide Gear Oversized Rocking Camp Chair is a good chair, but it's also somewhat self-selecting. Unless you're specifically looking for a rocking camp chair, you probably won't be all that interested in this model. If you are looking for an outdoor rocking chair, though, and you weigh more than 300-pounds, this is one of the very few that exist on the market today that's big and robust enough to support you properly. On that basis, we provisionally recommend it.
---
References & Resources: