In a Nutshell:
The Herman Miller Sayl is a beautifully designed, highly adjustable chair, offered by a well-respected company in the industry. Recommended for anyone under 6' tall, who doesn't mind a chair with a low seat back, assuming the price doesn't scare you off.
* Brand Reliability is a measure of the strength and longevity of the brand, which by extension, is a measure of the level of support you can expect.
** While aesthetics is a matter of taste, Aesthetic Flexibility is a measure of how easily a given design would fit into a wide range of home or office décor schemes.
Do you spend several hours of every day in front of a computer? Do you have a home office and find yourself in need of a top-quality office chair? Has your search for the "right" chair left you frustrated to this point? If you answered yes to any of those questions, you're going to be intrigued in our Herman Miller Sayl chair review.
Most people looking for a good office chair tend to dismiss task chairs as being too bare-bones and basic. That's often true, but not always. The Sayl task chair will almost be a pleasant surprise. It may even change the way you think about task chairs.
It's an amazing design, but it's not for everyone. In the sections that follow, we'll tell you everything this chair has going for it. We'll also go into the reasons you might decide to go in a different direction. Whatever you choose though, you'll agree – this is a great chair.
An Overview of the Herman Miller Sayl Task Chair
Elegant
Although few people associate task chairs with elegance, it's the first word that springs to mind when you see the Herman Miller Sayl task chair. It makes for a refreshing surprise, and it is a thing of beauty, with its organic, swept design.
The chair is a lot more than something pretty to look at though. It's full-featured and comparable to high-end office chairs.
Here are the model's basic stats:
Adjustability, Comfort, and Extras
The Herman Miller Sayl stool offers a surprising level of adjustability and is as comfortable as it is beautiful. You can adjust:
You won't find many office chairs that offer that many options!
The chair is defined by its spinal support column, which is one of the few elements of the design that is in a fixed position and can't be adjusted. The seatback looks a bit like a rope hammock and is more breathable than mesh. The seat cushion is generously padded and surprisingly comfortable. Even better, it's offered in a wide variety of colors, including:
On top of that, the base and frame can be ordered in either black or white.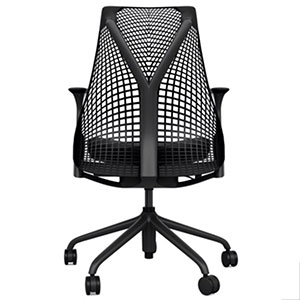 Comes Mostly Assembled
The Sayl work chair comes mostly assembled, so it will only take you a matter of minutes to get it ready for first use when it arrives at your doorstep. The seat, seatback, and arms are all pre-assembled in the box. All you have to do is add the casters and mount the chair on the base.
It will probably take you longer to get everything out of the box than it will to finish putting it together. We guarantee here that it's a piece of cake to complete the assembly on your own. This is one of the few chairs where you won't need having a second person around to help you out.
Pros & Cons of the Herman Miller Sayl
There's a lot to like about the Herman Miller Sayl chair. As we said earlier on, It's gorgeous, comfortable, and highly adjustable.
Even better, it's offered by a company with a legendary reputation in the industry. And as a testament to its quality, it comes with a staggering 12-year warranty.
All of those are unquestionably good things. There are, however, three reasons you may not want to buy this chair. Those reasons are:
For a more precise measure, bear in mind that the seat depth is just 16". If you're planning to buy online, we recommend that you go to the furniture store nearest you and sit in a chair with a 16" depth to make sure it's a good fit.
Herman Miller Sayl Review – Final Thoughts
We love the Herman Miller Sayl chair! It's elegant, beautiful, and has a fantastic feature set. That said, as we mentioned in the last section, it's not for everyone. We recommend it but strongly advise potential buyers to read the pros and cons, and carefully consider whether this chair is a good fit for you.
---
REFERENCES & RESOURCES