In a Nutshell:
The Homdox Ergonomic Mesh Office Chair is a lightweight and comfortable office chair that leverages the breathable nature of mesh materials to provide a chair that doesn't make you sweat in the summer months.
Ergonomics have become a hot topic in recent years due to rising health concerns for people who work long hours sitting on office chairs. Standard chairs can cause back pain, posture issues, and poor circulation.
Our Homdox Ergonomic Mesh Office Chair review will help you decide if this chair is a good fit.
This chair has unique features like a headrest and a mesh back, but are these things enough to make it the ideal office chair? Read on to find out!
Homdox Mesh Office Chair Overview
The Homdox Mesh Office Chair leaves a lasting first impression with its streamlined design. The mesh material used on the back and headrest allows air to flow freely through the chair. Other types of office chairs can be hot as a result of the thick padding and leather.
By comparison, mesh chairs like this one keep air flowing across the head and back, which makes for a cooler sitting experience. The sleek design also allows for a lighter and less cumbersome chair overall.
A scooped chair shape provides lumbar support, while the detached headrest is adjustable to your height and preferred angle. Combine this with a 360-degree swivel and dual wheel casters, and you have a chair that does a lot for a very competitive price.
Top Features of the Homdox Ergonomic Office Chair
When you're shopping for an ergonomic office chair, the most important aspects to consider are the adjustability and support that it offers. The Homdox Ergonomic Office Chair offers several features that make it a solid choice:
Adjustable Height
The height of the Homdox Mesh Office Chair is adjustable using a lever beneath the seat. It moves from 44 to 48 inches. You can also use a knob on the chair to control the forward and backward tilt.
High-quality Material
The material used to make the chair is a high-density polyester in the form of a mesh on the back of the seat. The chair padding is made with soft foam for comfort. The base is made of nylon and features five dual wheel casters.
It all contributes to a chair that feels solid and durable, despite being streamlined and lightweight.
Ergonomic Features
The Homdox Mesh Office Chair has a high back for additional support. The detached headrest has adjustable height and angle settings. The shape of the seat matches the S-pattern ergonomic theory, while the cushion has a waterfall design for improved circulation.
A scooped shape where the backrest meets the bottom cushion allows you to sit comfortably and securely in the chair.
Breathable Mesh
The back of the chair uses a high-density mesh that includes Pellicle suspension. This technology keeps body heat from building up while you're sitting. This ensures that you'll never feel hot and uncomfortable in this type of chair.
Homdox Ergonomic Mesh Chair Specifications
Pros and Cons: The Homdox Ergonomic Mesh Office Chair
The Homdox Ergonomic Office Chair is a unique design with a stylish mesh backrest. Here are the pros and cons of this office chair:
While many ergonomic chairs have thick cushions and large designs, they can be hot to sit on for extended periods. The Homdox Ergonomic Mesh chair utilizes breathable material that keeps heat from building up around your back and shoulders.
The detached headrest is adjustable, which allows people of different heights to use it comfortably. The high back design is also curved to support your back properly, while the dual wheel casters and 360-degree swivel give you portability around the office.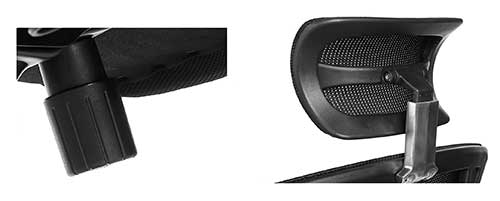 It's a unique combination of form and function. The only downside to a chair like this is the lack of cushion for the backrest. While the mesh is sturdy and comfortable, it doesn't allow for padding.
The padded mesh seat does make up for this somewhat with a thick cushion. While there are adjustable features like the height and headrest, the chair could have done with more adjustable features like lumbar support.
Overall, this chair's mesh design gives it an edge over other options, but it lacks some of the high-end features you may want from an ergonomic seating option.
A Unique and Comfortable Chair
Standard ergonomic chairs are usually made with leather or similar materials, but our Homdox Ergonomic Mesh Office Chair review shows that mesh chairs can be a great option if you find yourself getting hot while sitting in a bulky chair.
While the streamlined design may not be ideal for everyone, the price is very attractive for the features you're getting.
---
REFERENCES & RESOURCES