In a Nutshell:
The Homelegance Bayshore Swivel Counter Height Chair is a stylish, casual design that looks great just about anywhere and can support an incredible amount of weight, offered by a company you may have never heard of. Recommended for anyone, but especially bigger, taller, or heavier folks as these chairs were specifically designed to support them.
* Brand Reliability is a measure of the strength and longevity of the brand, which by extension, is a measure of the level of support you can expect.
** While aesthetics is a matter of taste, Aesthetic Flexibility is a measure of how easily a given design would fit into a wide range of home or office décor schemes.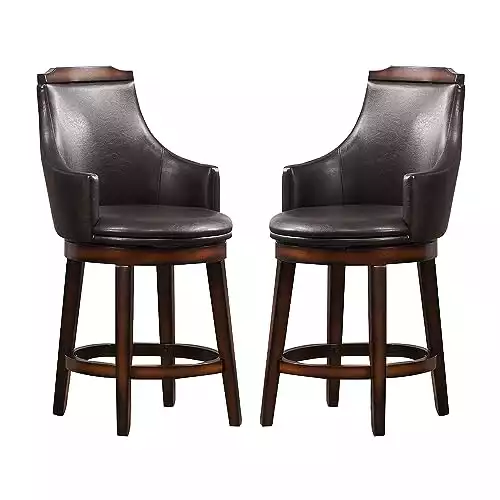 Are you big-boned? A bit on the heavy side? If you are, then you know how frustrating it can be to find furniture that's built with you in mind.
Most of the major brands selling on the market today make furniture with a supported weight limit that ranges from 250- to 300-pounds. That makes business sense, given that about 90% of consumers fall within that range. Unfortunately, if you're in that roughly ten percent segment of the market, you'll find it difficult to find great options.
The good news is that several smaller, lesser-known brands have moved into the big and tall segment of the market and offer surprisingly good products that run the gamut of home furnishings. The Homelegance Bayshore swivel counter height chair is an excellent example of this.
Haven't heard of Homelegance? A lot of people haven't, but they've been in the furniture business for many years. Despite their lack of a prominent national footprint, they make some surprisingly good products offered at fair prices.
In the sections that follow, we'll tell you everything that the Bayshore bar chair has to offer, and by the time you reach the end of this review, even if you decide they're not for you, we think you'll agree. These are surprisingly great chairs! If your interest is piqued, read on and let's take a closer look.
An Overview of Homelegance Bayshore Swivel Chair
Casual elegance. That's the first phrase that's likely to spring to mind when you see these bar chairs for the first time. It's no easy feat, but the Homelegance Bayshore swivel counter height chair does manage to walk that fine line.
Even better, they actually look comfortable, which is a rarity in the world of bar chairs. Before we start talking about particulars, though, let's take a quick look at the core stats that define this model. Here they are:
Chair Specifications
The amount of weight these chairs can support is just nuts (and we mean that in a good way), but there's a catch. The seat width is a rather modest 17". So, you'll want to take careful measurements of yourself before committing to a purchase as the seat width may not be sufficient to accommodate you.
Assuming it is, note that you can't buy these counter chairs individually. You'll have to buy them in pairs. Usually, that's not a huge deal, but there have been a few complaints from people who only wanted one.
Chair Options
If you decide these are the chairs for you, you'll be able to choose from either counter or pub height, which adds to their versatility. You can choose between chocolate fabric upholstery or dark brown vinyl.
We're a little underwhelmed by the color selection and the upholstery materials used. Still, we can't say either of these are serious complaints. Two color choices are more than you get with many furniture offerings, and the upholstery was explicitly chosen to help keep the price low.
In both cases, the material is attractive but not very durable, and single stitching is used throughout, which doesn't help where the durability is concerned. The silver lining in that, though, is that after about a year when the upholstery starts showing its age, it's easy enough to spend a little money and have your bar chairs reupholstered in something that will last longer. The frame is certainly rugged enough to make this a good investment.
In fact, while you're at it, it would probably be a good idea to invest in some memory foam for the seats and layer some poly fiberfill over that to make the chairs even more comfortable. Speaking of comfort, we'll be talking about that next.
Adjustability and Comfort
Although there are no adjustable features on offer, these chairs do swivel 360 degrees, and the swivel action is smooth, which is something, at least. The big thing to talk about here, though, is comfort.
While the Homelegance Bayshore swivel chair can't be described as offering a luxurious seating experience, the seats themselves are padded with a generous amount of block foam and are surprisingly comfortable.
The seatbacks and arms are more minimally padded. Still, even so, these bar chairs are significantly more comfortable than you might expect for a chair of this type. We still wouldn't recommend spending half a day or longer sitting in them, but if you're in one for an hour or two at a stretch, you'll be pleasantly surprised.
Some Assembly Required
As is the case with most furniture sold online these days, the Bayshore does not come fully assembled. Fortunately, the production quality is high enough, and the number of pieces you're working with is low enough that assembly is quick and painless. Note that the Bayshore does not come with an expert assembly option, but that's just as well. Given the ease of assembly here, such a service would almost certainly not be worth the money anyway.
Pros and Cons of Homelegance Bayshore Swivel Chair
We love the look and feel of these bar chairs. They're surprisingly high quality, and the only two negatives we can think to point out about the Bayshore are as follows:
You can't buy just one. If you're going to, you have to buy them in pairs. That's usually not a deal-breaker, but if you find yourself in a position where you only need one, it may be off-putting.
The upholstery quality is low compared to the frame. With proper care, you can expect the frame to provide you with years of reliable service and look great while doing so. The upholstery, whether you choose fabric or vinyl, is going to start showing its age after about a year. As we mentioned, that's an easy thing to fix, but just bear in mind that you will have to spend a bit more money down the line to keep these chairs looking great.
Homelegance Bayshore Swivel Counter Height Chair Review Conclusion
The Homelegance Bayshore swivel counter height chairs are amazing. They offer tremendous value for the money, they look great, are surprisingly comfortable, and they support a simply off the chart amount of user weight. We love them, and we think you will too. Highly recommended.
---
References & Resources