In a Nutshell:
A remarkable feat of design and engineering, the Human Touch AcuTouch 6.0 is a chair packed with tons of great features without turning your home into the chiro's office! While it is capable of delivering a powerful, chiropractic-quality massage, it has the look and feel that blend well with any home décor.
Are you interested in having your own massage chair at home but, like most people, you're afraid that your living room would look like a chiropractor's office?
That's a problem with so many massage chairs today—they just don't look like they belong in a living room. But, what if that wasn't the case?
What if there's a company that designed a chair that blends seamlessly with your home's decor and doesn't look like it belonged in the bridge of a spaceship?
Well, there is such a company, and they make a line of massage chairs that look great in any living room!
We've outlined the features of one of their award-winning chairs in our Human Touch AcuTouch 6.0 review to help you decide whether this massage chair will be the perfect fit to your home, lifestyle, and budget.
Human Touch Acutouch 6.0 Massage Chair Overview
We would be remiss if our Human Touch AcuTouch 6.0 massage chair review would not mention the design and aesthetic aspects of this chair. First of all, the company has won the ADEX (Award for Design Excellence) multiple times, and the AcuTouch 6.0 massage chair is a Platinum ADEX award-winning chair.
All that to say that Human Touch has a history of design excellence that spans decades, and has introduced numerous features to their chairs that have gone on to become industry standards.
While the manufacturing is done in China, all of their chairs are designed in the United States, and a big emphasis is placed on making sure that the chairs they produce look and feel right at home in any living room.
The reason is simple: most people don't want their homes to look like a chiropractor's office, no matter how interested they are in owning a massage chair!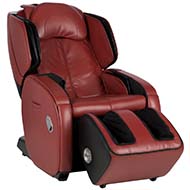 The Human Touch AcuTouch 6.0 Massage Chair is much more than a pretty piece of furniture, however. It is packed with features that even the most discerning massage chair shopper will love. We'll detail those just below.
Features of the Human Touch Acutouch 6.0
Quad Rollers
Human Touch is the first company to introduce quad rollers to their massage chairs, so it's no surprise that they are featured in this design.
​The presence of quad rollers is pivotal because they almost perfectly mimic the feeling of human hands, resulting in a massage experience of unparalleled quality.
Body Scan Technology
The body scan feature works with the quad rollers to ensure proper placement. By aligning the rollers with your pressure points, your overall massage experience is targeted to your needs.
S-Track Design
Another strong point that's well worth bringing attention to is that the chair is built around an S-Track, which allows the rollers to move in three dimensions: Up/Down, Left/Right, and In/Out, following the natural curvature of the spine.
There's an enormous amount of synergy in combining an S-Track design with body scan technology and quad rollers; all work together to improve the overall quality of the chair massage.
Cloud Touch Massage
This is a feature that any Human Touch AcuTouch 6.0 review must make mention of. Compared to other chairs with air massage mode, only Human Touch has a patented, integrated massage system.
Though billed as a full body massage, its Cloud Touch mode is missing one thing– there's no head massage. This is a minor point for some, but worth mentioning.
Patented Leg and Calf Massage System
Another feature that bears a special mention in our Human Touch Massage Chair AcuTouch 6.0 review is the way the leg and calf massage is delivered. In almost every other chair that offers this feature, the leg and calf massage is performed while in air massage mode.
The AcuTouch 6.0 is different. It utilizes a combination of their Cloud Touch (airbag) system and specially positioned rollers designed to provide maximum relief for people suffering from chronic leg pain and those who have jobs that see them spending most of the day on their feet.
Plenty of Customization Options
The AcuTouch 6.0 has more customization options than most other massage chairs in its price range, offering a total of 8 preset programs and 12 different massage techniques to experience.
When combined with five different intensity settings, the result is a simply amazing level of customization that allows you to get exactly the kind of massage you're looking for, every time.
Easy to Use
The chair comes with an LCD remote that controls all of its features in just one touch. It's easy to recline in the chair and set up a totally customized massage experience that can last up to thirty minutes.
Every option is easy to find, and the remote is well designed and laid out so that even someone who has never tried the chair before can enjoy a relaxing massage in a matter of minutes.
Pros & Cons of the Acutouch 6.0 Massage Chair
As many things the AcuTouch 6.0 gets right, it's missing a few things which keeps it from being the perfect massage chair. And our AcuTouch 6.0 review would not be complete if we wouldn't highlight them.
The biggest pros of the chair are its overall design aesthetic, which blends well with your other living room furniture, and the fact that many of the features packed in the chair work so well together to improve the overall massage experience.
What's Missing In the AcuTouch 6.0
Human Touch Acutouch 6.0 Review Conclusion
While there are a few gaps in the chair's overall feature set that prevent it from being the final word in massage chair technology, we have to conclude in our Human Touch AcuTouch 6.0 review that this massage chair would be an outstanding choice for a significant segment of the market.
The AcuTouch 6.0 is well-engineered and combines a good mix of popular, highly desired massage chair features with a good overall design aesthetic, making it a sensible, attractive choice.
---
References & Resources