In a Nutshell:
A solid, budget-priced massage chair that features zero-gravity seating! If this is a must-have feature for you and you're on a budget, then the Human Touch Volito Massage Chair is just the thing. Recommended for hobbyists, and people who suffer from chronic pain to their legs and calves.
* Brand Reliability is a measure of the strength and longevity of the brand, which by extension, is a measure of the level of support you can expect.
Have you always wanted your very own massage chair with Zero-Gravity seating but figured it was way out of your price range?
Are you looking for a chair that can blend in seamlessly with your existing décor?
If you answered yes to either of these questions, then you may have just found the perfect massage chair for you.
The Human Touch Volito Massage Chair is an oddity among massage chairs, as you'll see when we get into the meat of the review. It's a solid piece of engineering, though, and well worth your consideration.
Human Touch Volito Massage Chair Overview
We have to begin every review of a Human Touch product by mentioning aesthetics. The reason is simple. Human Touch has built their reputation around making stylish massage chairs that are barely noticeable when not in use.
The ZeroG Volito massage chair is no exception. It is undeniably attractive, but its minimalist appearance may not appeal to everyone. If it does not catch your eye, that's not a problem. Human Touch makes a wide range of massage chairs that cater to all tastes and preferences. It's a simple matter of finding another model whose "look" you like better.
Having said all that, let's dig beneath the surface to find out what makes this chair unique.
Human Touch ZeroG Volito Massage Chair Features
S-Track Design
The Human Touch Volito is built around an S-Track which guides the quad-rollers to run along the natural curvature of your spine. ​The S-Track is widely regarded as the standard in massage chairs today, giving a superior back, neck, and shoulder massage experience.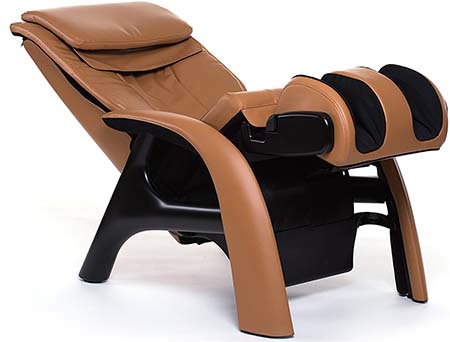 ​Zero-Gravity Seating
This is the Human Touch Volito massage chair's standout feature. To find a budget-priced chair with Zero-G seating is nothing short of amazing. You just don't see it every so often, which makes the Volito something of an oddity in the market today.
Granted, the Volito only offers a single zero-gravity seating position, but the fact that it exists at all is simply remarkable.
Zero-Gravity isn't a therapeutic benefit in its own right, but it enhances the overall quality of the massage experience. It accomplishes this by reclining the chair to a point where the knees are elevated slightly above the heart.
In this position, most of the body's weight presses against the rollers, which in turn increases the intensity of the massage. At the same time, you get the feeling as if you're floating.
"Volito" actually means "hover" in Latin, so in that regard, the chair is aptly named.
Basic ​Massage Options
Given that this is a budget-priced massage chair, it's to be expected that there wouldn't be a ton of massage options, but it's got the basics covered, including a few pre-programmed, 15-minute massage programs:
Massage Techniques
Massage Programs
If you wish to customize your massage experience, you can do so via the included remote.
​Adjustable Rollers
Human Touch is known for doing things differently, and their method of roller adjustment is no exception. Where most companies use 3D Body Scanning Technology, Human Touch uses a more hands-on approach.
You can adjust the position of the rollers and set the width of the area to be massaged via the remote. Some people prefer the convenience and automation of a 3D Body Scan. So if that's important to you, you may not enjoy the Human Touch methodology.
On the other hand, technology can also get wrong sometimes. So why not spend a few extra seconds to manually set the rollers, and you're guaranteed to get a perfect massage every time.
​Zone Massage Function
If you suffer from chronic back pain, you know that your back has specific trouble spots, based on your lifestyle.
Good thing, the Human Touch Volito massage chair comes with a Zone Massage Function. When the rollers hit your trouble spot, simply press the button to instruct the chair to pay extra attention to the six-inch area around the position of the rollers when the button was pressed.
This offers substantial therapeutic benefit. The instant you lift something heavy or twist the wrong way, you'll be very glad this feature is available.
​Hide-Away Ottoman
The key design feature that allows the Human Touch Volito massage chair to pass for just another recliner is the hide-away ottoman. When the massage chair is not in use, the leg massage ports fold underneath the chair where they are hidden from view.
This revolutionary design is featured in almost every chair that Human Touch sells today, and has caught on to the point that it's starting to be copied by a few of its competitors.
​Calf and Foot Massage
This is another feature of the chair that provides significant therapeutic benefits. Human Touch once again takes an approach to the foot and calf massage that's different from most other companies.
Where their competitors use a simple roller system for the foot massage and airbags to deliver the calf massage, the ZeroG Volito massage chair utilizes the company's patented "Figure-8 Paddle System" to provide the foot and calf massage, and the approach is widely considered to give superior results.
The massage feels fantastic, and will probably be one of your favorite features of the chair, even if you don't suffer from chronic leg or foot pain.
While the back massage rollers' speed or intensity cannot be adjusted, the calf and foot massage feature has two different speed modes and one auto-massage mode to choose from, all accessible via the remote.
If the ottoman had one failing in this model, it would be the absence of a leg extension function, which means that if you're taller than 6′, you can't get an optimal foot and calf massage from this chair. That's unfortunate, but not altogether uncommon in chairs at the lower end of the price range.
Simple Remote
The remote that accompanies the Human Touch Volito massage chair is simpler than the remote you use to control your television. There are just fourteen buttons altogether, all of which are clearly labeled, so you'll be able to use it and enjoy your first massage just minutes right after you set it up.
Pros & Cons of the Zero Gravity Volito Massage Chair
As you can see, the Zero Gravity Volito massage chair is surprisingly robust for an entry-level chair. It would be unfair to call it purely a hobbyist's chair because it does contain a couple of features that offer therapeutic value.
On the other hand, to include two features for people who suffer from chronic pain isn't quite enough to properly call this a therapeutic chair either, which is another thing that makes it an oddity.
And as a budget-priced chair, there are, of course, a number of features you just don't get.
What's Missing in the Human Touch Volito Massage Chair
What you get is a fantastic basic massage and a zero-gravity massage chair at an affordably low price.
The thing is, while zero-gravity is a great feature, there just aren't that many people who regard it as a critical feature for a massage chair. This is why it's also a bit surprising to see Human Touch build an entire chair around it.
Personally, we think they did it just because they can, which is really cool when you think about it.
Human Touch Volito Massage Chair Review Conclusion
Having read our in-depth Human Touch Volito massage chair review, you can probably see why this chair isn't for everyone. If you don't like the minimalist design, if Zero-G is a "nice to have" feature, and not really a "must-have" for you, and if you're taller than 6', this isn't the chair for you.
On the other hand, if you're on a budget and are looking for a chair that can deliver a great massage at a rock bottom price, and comes with some basic therapeutic options too, then it's going to be incredibly difficult to find a better value for your money.
The Volito offers such a great value for money, that some people who have bought it supplied their own lumbar heat by plugging in a heating pad and resting against it while getting a massage.
Is that as good as an integrated heat system?
Not really. But when you're shopping at the budget-end of the price spectrum, sometimes you need to get a little creative. It's not that much different from using a smartphone and plugging some earbuds to deal with the chair's lack of MP3 player support. It's practically the same approach.
In any case, people who love this chair are going to be head over heels for it. Those who don't will likely be completely put off by it. There will be relatively few who will regard it with indifference. It tends to evoke strong opinions, one way or the other. So, which camp are you in?
---
REFERENCES & RESOURCES