Are you one of those people who love the idea of having a massage chair in your home, but you're worried that it'll take up too much space and make your living room look like a doctor's office?
Apparently, that's what stops a lot of people from making a purchase. But if you're in the same boat as these people, then you're going to love our review more than any other Human Touch Wholebody 7.1 reviews out there.
Human Touch does one thing better than many other companies in the massage chair industry. That is, they make beautiful, feature-rich massage chairs that blend in seamlessly with any home décor.
In this piece, we'll take a closer look at two of Human Touch's popular massage chairs: WholeBody 5.1 and 7.1. Both are what you would call entry-level massage chairs designed for those on a budget.
But before we get into the meat of our review, we'll highlight the key differences between the two models:
Speed & Intensity Settings:

Speed & Intensity Settings:

Available Colors :

Black SofHyde, Bone SofHyde, Espresso SofHyde
Our Pick
Speed & Intensity Settings:
Available Colors :
Black SofHyde, Bone SofHyde, Espresso SofHyde
Speed & Intensity Settings:
11/27/2023 04:05 am GMT
Human Touch WholeBody 5.1 & 7.1 Massage Chair Overview
As you can see from the chart above highlighting the differences between the two models, the 7.1 model is more advanced and generally more robust than the 5.1. In fact, all of the features of the 5.1 are also found in the 7.1.
So, consider the first part to be our Human Touch WholeBody 5.1 massage chair review detailing the key features of the 5.1 model, which are, in fact, the same basic features found in the 7.1. When we get to the next part though, we'll just focus on the features that are unique to the 7.1.
Design and Aesthetics
You can't talk about Human Touch massage chairs without underscoring the company's excellence in design.
When you compare Human Touch chairs with every other chair in the market today, the one thing you'd notice immediately is how beautiful they are and how they're looking less like a typical massage chair.
This is true of the identical-looking Wholebody 5.1 and 7.1., both of which can easily pass for a gaming chair, a recliner, or an executive office chair.
They even swivel just like an office chair does! Granted, it doesn't turn all the way round, but it still can swivel up to fifty-five degrees, which is something no other massage chair can do so far.
Both models feel as great as they look, but of course, aesthetics is only one dimension.
Ultimately what makes a massage chair great are the combination of features that make you feel great and provide many therapeutic benefits, which we'll outline just below.
Key Features of Human Touch WholeBody 5.1 Massage Chair
S-Track Design
Both models are built around an S-Track system, so that the chair's quad rollers can follow the natural curvature of the spine, resulting in a more relaxing, higher quality massage.
Zero-Gravity Seating Position
Zero Gravity is an attractive feature and a bit of a surprise for an entry level chair. Though the 5.1 and 7.1 only offer one Zero-G position, the fact that this feature is available in this price range is nothing short of astonishing.
As a matter of fact, if you read other Human Touch WholeBody 7.1 reviews online, this feature always gets mentioned with some surprise because it is relatively uncommon at the price point this chair is offered at.
Automatic Recline Feature
This feature is a bit more common in entry-level chairs. Nevertheless, it's still a great addition, perfectly in keeping with Human Touch's mission to design chairs that not only look great but offer little accent features like this that just make them a joy to own and use.
From a therapeutic perspective, if you suffer from chronic back pain, sometimes even the simple act of manually reclining the chair can be painful. Save yourself the trouble with either model. Simply push a button, and back you go.
Roll-Away Ottoman
One of the mainstay features that's always mentioned in Human Touch Wholebody 7.1 reviews is the roll-away ottoman, a big deal especially for entry-level chairs. Then again, it's one of the hallmark features of Human Touch design.
The single most noticeable thing that makes a massage chair to stick out like a sore thumb are the leg massage ports. To deal with this, Human Touch has designed most of their chairs such that the ottoman can be rolled back to hide the leg ports when not in use.
You can opt to keep them hidden from view and simply relax in a reclined position while enjoying a back massage, or roll the ports into view and get a nice calf and foot massage (which we'll talk about in more detail later).
FlexGlide Technology
One of the common issues that some people complain about a massage delivered by a chair is how the massage rollers would sometimes pinch and rub uncomfortably.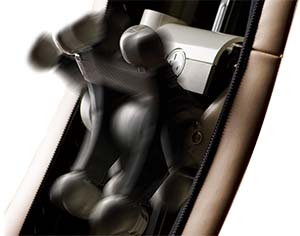 Using this unique technology by Human Touch, its massage chairs are designed to make sure that doesn't happen, further enhancing the quality of the overall massage experience that its chairs deliver.
Roller Position Adjustment
While neither of the two comes with an automatic body scan, the massage rollers can still be re-positioned using the remote so you can enjoy many of the same benefits without having to pay a hefty price tag.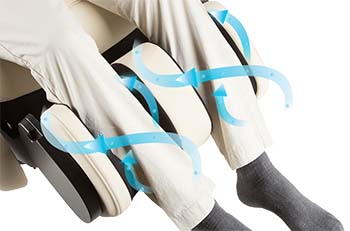 It may take some tinkering to get the rollers to hit the right spot, but it's well worth the effort!
Calf and Foot Massage
While a calf massage is a standard feature even in entry level massage chairs, the inclusion of a foot massage is much less common. To deliver the massage, Human Touch uses a patented Figure-Eight CirQlation technology, which is widely regarded as superior to the standard calf and foot massage offered by other manufacturers. One more thing that sets Human Touch apart from the rest!
Simple To Use Remote
The remote, while basic, is clearly and cleanly laid out, with all massage options easy to find. Even someone who has never seen a massage chair before can start enjoying the benefits in a matter of minutes.
Basic Timer
Both chairs come with a 15-minute timer that cannot be adjusted. Note, however, that mid-range chairs allow for more time customization.
Human Touch WholeBody 7.1 Massage Chair Bonus Features
As you can see, the two models are closely related and have major features in common. There are, of course, some key differences. In this portion of our review, we'll go over the features unique to the Human Touch WholeBody 7.1 massage chair to help you make an informed decision about which of the two may be the right one for you.
BodyMap PRO
This is probably the most talked-about feature in all the Human Touch WholeBody 7.1 reviews on the web.
As mentioned above, neither of the two models comes with body scanning technology. And, although both models have a means of adjusting the exact position of the rollers via the remote, the WholeBody 7.1 model takes it a step further.
By adding BodyMap PRO in the 7.1 model's remote, a diagram of the human torso divided into zones shows up on the screen. Simply press the zone you want to be massaged and you'd get instant relief in that area. A very nice touch!
Lumbar Heat
An unexpected treat in an entry level massage chair and is one of the key differences between the 5.1 and 7.1 models.
Using Human Touch's patented warm air technology (as opposed to the standard heating elements in other chairs), the 7.1 model adds heat to soothe the lower back during a massage. As sufferers of chronic back pain can attest to, this provides tremendous therapeutic benefits.
Intensity and Speed Adjustments
This is a nice addition to the 7.1 model because with the 5.1 variant, the massage speed and intensity only have a single setting. That's all there is, although removing the back pad can increase the intensity indirectly.
The great thing about the 7.1, both speed and intensity can be adjusted up to three levels, and of course, the back pad can still be removed for further intensity.
Different Massage Techniques
WholeBody 5.1 Massage Techniques
WholeBody 7.1 Massage Techniques
"Flex" is the functional equivalent of "kneading", while "Tone" is comparable to that of a "compression". Basically, you can enjoy the same massage techniques in both models. However, the 7.1 model adds "tapping" into the mix.
Another difference I'd like to mention at this point is that where the 5.1 chair offers only 3 pre-programmed massages, the 7.1 offers 5 in total, which are perfectly in line with what you'd expect to find in entry level massage chairs.
Pros & Cons of the Human Touch WholeBody 5.1 & 7.1
No Human Touch Wholebody 7.1 review would be complete without going into some of the features strikingly absent from the design. Make no mistake, both models (5.1 and 7.1) are very good at what they do, that is, to give a great massage. However, there are some things they lack.
The first thing to note is the fact that this is a relatively small massage chair. With no leg extension feature, people taller than six feet cannot get an optimal massage from the design. That matters a lot if you are tall.
But really, the major thing that's missing from this chair are airbags. Most massage chairs, even at the low end of the price spectrum, come with a good number of airbags and an air massage mode.
It's easy to see why the feature was left off of the WholeBody design, though. First, it adds considerably to the price of the chair, and second, the presence of airbags make it virtually impossible to design a smaller chair that blends in with your home's décor and incorporates air bags.
Another thing that's lacking is 3D Body Scanning technology, which locates pressure points and re-positions the rollers accordingly.
While it is true that both models can be manually operated to reposition the rollers, it's an extra step you simply don't have to worry about in other chairs, because they can do it for you automatically. Although not a usual deal breaker, it may be for some.
Finally, it's worth mentioning that although both the 5.1 and 7.1 look like they can be used as gaming chairs, the chairs do not have built-in speakers or MP3 player support.
This is hardly ever a deal breaker for people because it's easy enough to place a smartphone on the lap and use earbuds to listen to some music. But since it is a feature common to many other chairs, its absence needs to be noted here.
Human Touch WholeBody 7.1 & 5.1 Reviews Conclusion
No matter how many Human Touch WholeBody 7.1 reviews you read, any of the two models would make a handsome, excellent addition to your home. Although, for a small increase in price, the 7.1 really does offer some great additional features that make it, overall, an all-around superior chair.
Plus, it's important to remember that these are both entry level massage chairs, which are designed with as much emphasis on aesthetics as functionality. Both can give a good basic massage, however, the 7.1 model delivers a much better massage overall andoffers more therapeutic benefits than the 5.1.
As long as you're not taller than six feet, this would be an excellent massage chair for you or anyone who needs a relaxing massage after working or spending several hours on their feet, where the foot and calf massage will provide welcome relief. The 7.1 model is also a great value-priced chair for people who suffer from chronic lower back pain. Thanks to the addition of the heated lumbar region.
In our final analysis, we're giving the Human Touch WholeBody 5.1 massage chair a rating of 4 stars out of 5, while the 7.1 model, 4.5 stars out of 5. Then again, if you stand 6-foot-something tall, then you might want to consider other massage chairs by Human Touch.
---
REFERENCES & RESOURCES