In a Nutshell:
The Humanscale Freedom Chair is a beautifully designed, well-appointed office chair, brimming with features you'll love. Recommended for anyone 300 pounds or less, and up to 6'6" tall.  This is a superb chair by any reckoning.
* Brand Reliability is a measure of the strength and longevity of the brand, which by extension, is a measure of the level of support you can expect.
** While aesthetics is a matter of taste, Aesthetic Flexibility is a measure of how easily a given design would fit into a wide range of home or office décor schemes.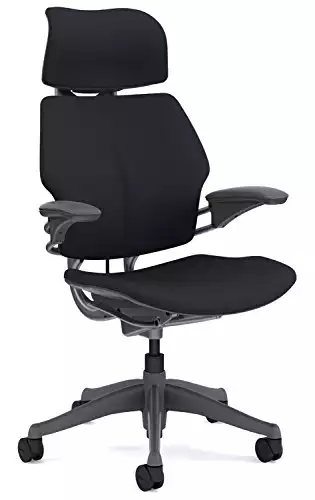 Are you unhappy with your current office chair? Is it not as comfortable as you'd like? Is it just a bad fit for you personally? If you answered yes to any of those questions and you're in the market for something new, you're going to love our Humanscale Freedom Chair review.
Humanscale is not one of the industry Titans. They're not a huge company, and they go about their business quietly. Their business is making exceptional office furniture, and the Freedom Chair is a great example.
Niels Diffrient is an exceptionally talented designer, and the Freedom Chair is a unique creation. Not only is it designed with style and grace, but it's got extremely well-implemented ergonomic features and a variety of finishing touches you're almost certain to enjoy. In fact, once you've experienced the Freedom Chair, you'll probably find yourself wondering why their various flourishes aren't standard features on all of the office furniture on the market today. Best of all, it's proudly made right here in the US of A!
If you're intrigued by what you've read so far, keep reading! In the sections that follow, we'll outline everything this amazing chair can do and let you know about its few shortcomings, so you'll have all the information you need to decide if this is the right office chair for you. Let's jump right in and see what the Freedom Chair has to offer.
An Overview of the Freedom Chair by Humanscale
Elegant, modern, and stylish. Those are the words most likely to enter your mind when you see the Freedom Chair for the first time. It's all of those things and more. Before we start talking about the ergonomic features and finishing touches this model brings to the table though, let's start much more simply here in our Humanscale Freedom Chair review by taking a quick look at the core statistics that define the model.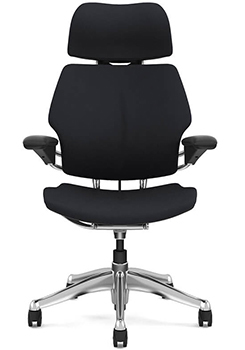 Chair Specifications
There are a couple of points to draw your attention to here. First, the chair is delightfully lightweight and easy to maneuver about. Although the maximum supported user weight isn't spectacular, it's actually surprisingly high, given the modest weight of the chair itself.
The 300-pound weight limit, paired with the seat height adjustment range makes it unsuitable for bigger users, but this configuration makes the chair an attractive option for a very broad swath of the market and is a good fit for people ranging from about 5'2" to 6'6" or so.
Upholstery
In addition to that, the production quality is off the charts good, and the chair is offered in a variety of fabric options and colors, or, if you prefer leather upholstery, you can order that option instead.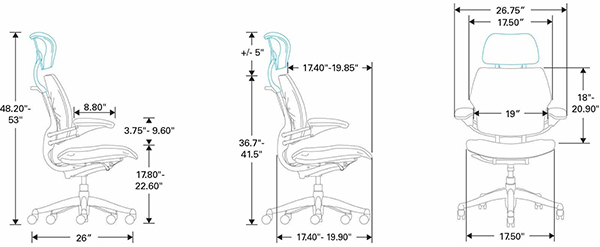 It would almost be an insult to upholster a chair like this with cheap bonded leather, so the company simply doesn't offer it as an option. If you want leather, you'll get high-quality grain leather that's as supple as it is durable, and you can order your Freedom Chair in either Graphite, Titanium or Polished Aluminum finishes.
Warranty and Replacement Parts
If that wasn't enough, the chair comes with an impressive fifteen-year warranty.
Best of all, the chair sports a modular design, so if one of the components should fail or begin showing its age, you can replace it piecemeal. The company has taken pains to ensure that this is the last office chair you'll ever need, and we regard that as a very good thing.
Comfort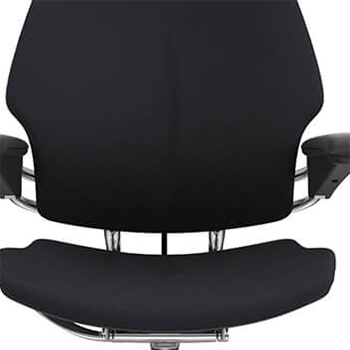 At first glance, you might not think that the Freedom Chair by Humanscale is all that comfortable, but appearances can be deceiving. Most people are accustomed to seeing office chairs padded with block foam and quite a lot of that is needed to deliver a comfortable seating experience.
Seat Padding
This model though uses liquid (Technogel) padding. A gel that provides comfort easily on par with memory foam. It's simply delightful to sit in, but there is a catch. This isn't a pet-friendly chair! Dog or cat claws will do more than wreak havoc with your upholstery; they'll also cause the gel padding to begin to ooze out.
Of course, that's almost never a problem in a corporate setting, but in a home office, it could be an issue, so be mindful of that before you buy. Note that the seatback and headrest are similarly padded, which provides a consistent level of comfort to anyone sitting in the chair.
Adjustability
Before we move onto ergonomic features, let's talk about finishing touches and flourishes. There's a lot to like here, and one thing we regard as a good attempt but ultimately a miss.
Once you start studying the chair more closely, one of the things that will jump out at you is the fact that it lacks most of the control knobs and levers so common on the vast bulk of office chairs on the market today.
That's intentional. The chair was designed to minimize their need. When you sit down, the amount of lumbar support you get from the chair depends on how much pressure you exert on the seatback as you lean back in it. The same is true for reclining. The chair does recline back, but the maximum angle of recline is floating and again, dependent on how much pressure you apply.
Back and Head Support
The seatback itself is cunningly designed to offer not just lumbar support, but whole back support and the height-adjustable headrest (one of the few manually adjustable features on the chair) can be tweaked to provide perfect head and neck support. It's as comfortable as the seat itself, being filled with that same delightful gel padding.
Casters
One thing that may take you by surprise though is the fact that when you sit in the chair, the wheels lock into position. We understand the designer's intent here, but we're not as happy with this feature. It limits your freedom of movement in the chair.
If you're used to scooting over to grab something off of the printer, you'll need to adjust your habits slightly. The only way to get the wheels to re-engage and roll freely is to start standing up; then you can move.
How much you love or loathe this feature is going to be a function of how often you tend to scoot around in your chair to reach peripherals. If that's a rarity given the particulars of your workspace, then it probably won't be an issue for you. If your workspace is more spread out, it's going to take some getting used to and will probably leave you grumbling under your breath until you acclimate to your new reality.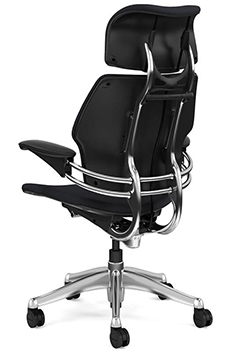 Mobility
You'll also find a convenient handle on the back of the chair. That, combined with its light weight and free-rolling casters when nobody's sitting in it makes it easy to move the chair from one place to another. You'll even find a convenient coat hanger on the back of the chair if you want to shed your jacket while you're working.
It's this kind of attention to detail and these sorts of finishing touches that make the chair a joy to own. Even the locking caster feature isn't horrible, once you get used to it.
Editor's Note: The locking casters come on the chair by default, but it is possible to order yours with a different type of caster. If you know upfront that you're not going to like that feature, be sure to switch to a different caster option!
Ergonomic Support
In terms of ergonomic support, there's no good way to mention lumbar on its own. The lumbar support is, of course, exceptional, but as we mentioned earlier, the entire seatback is designed to provide optimal, dynamic, whole back support.
In addition to that, the Freedom Chair offers an ergonomic:
Armrests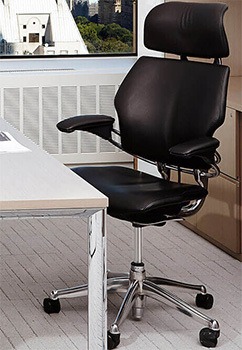 While all of these are outstanding, the armrests deserve a special mention. They're designed such that they connect to the seatback and "float." When you apply pressure to the seatback to recline, the position of the armrests adjusts dynamically, again, to provide constant optimal support depending on how you're sitting in the chair. You can even remove them entirely if you wish.
Assembly is a Breeze
Although the Humanscale Freedom chair doesn't come assembled, given the insanely high quality of the materials used in its construction and the amazing overall production quality, the assembly process itself is a lesson in simplicity. It's such a lightweight piece of furniture that you won't even need an extra pair of hands to put it together, and all the tools you need are, of course, provided with the chair itself.
Pros & Cons of the Freedom Chair by Humanscale
Other than price, there really aren't any negatives we can talk about. It's an amazing piece of engineering and thanks to its long warranty and modular design; it really is the last office chair you'll ever need.
Some users have complained about its lack of adjustability, but it seems obvious that these users simply don't understand how the chair was designed. It's actually amazingly adjustable; it's just such an unconventional design that some buyers fail to grasp how to get the most out of the chair. That's unfortunate, but not really Humanscale's fault.
Sure, we'd love it if the default casters weren't auto-locking and we'd love to see a more robust model that supported 400-450 pounds of user weight, but these are best categorized as nits and aren't truly negative aspects of the design. It's a wonderful chair from top to bottom.
Humanscale Freedom Chair Review Conclusion
As long as the weight limit isn't an issue for you, we recommend the chair without reservation. As mentioned in the previous sections here in our Humanscale Freedom Chair review, it's got a number of thoughtful finishing touches that make it a joy to own, and the Technogel provides an amazing level of comfort, especially when paired with its stellar ergonomic features. Yes, it's pricey, but this is definitely a case of getting what you pay for. We love it, and you will too.
---
References & Resources:
The Importance of a Good Office Chair, Ergoizeit.